The new film, Victoria, has a simple premise: Girl meets Boy; Girl hangs out with Boy and his friends; Trouble ensues. To complicate it, the Girl is a young Spanish woman named Victoria who moves to Berlin, Germany, meets a group of young men at a club—including the Boy, Sonne—decides to hang out with them, and soon finds herself in the middle of a bank robbery.
To further complicate proceedings, the 138-minute, improvised film was shot in one take. That's two hours, 18 minutes of improvisation taking place in several locations in Berlin with no edits whatsoever. What makes it more impressive is that the resulting film is good. It's engrossing and exciting and very, very human.
Credit goes not only to director Sebastian Schipper for pulling off this feat, but to Laia Costa, who plays the titular Victoria, a woman who has broken with her troubled past in search of a new beginning in a country where, even after three months, she doesn't fully understand the language.
The Nerd Element recently spoke to both Costa and Schipper in separate interviews during what was for them a whirlwind press tour prior to the limited release of the film (Victoria should be in wide release by the time you read this).
My first conversation is with Costa, a young actress from Spain who made her film debut in 2012's Tengo Ganas De Ti, and whose previous credits include the Spanish television series "Bandolera" and "Polseres Vermelles" (the latter was remade for American television as "The Red Band Society").
Costa is a charismatic presence on-screen, and her charm and enthusiasm for the film comes through in her voice as she discusses what drew her to the film and what went into acting in an improvised, one-take movie (her enthusiasm was most evident when I mentioned I loved the film and she exclaimed, "Say it to your friends, say it to everyone!")
Warning: The following contain some spoilers for the film.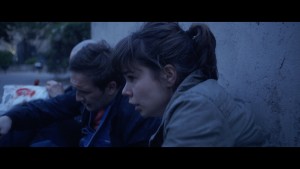 The Nerd Element (TNE): What aspect of Victoria made you want to play her?
Laia Costa (LC): Well, at the beginning, when I did the audition, I had very little information. It was going to be a bank robbery, and it was going to be one take. The film was not called Victoria—it came later.  Victoria was at the end of the process, and I think she was not even the lead role, so I was not able to think about things like why I want to play Victoria because we found her during the rehearsals.
TNE: Was it just the story in general that made you want to be in it?
LC: Yes, it was the one take—that was really like, "Oh, that's gonna be cool! I've never done this." Also, Sebastian [Schipper, the director] was asking us from the beginning to improvise. You know, that's a quite different way of acting because you don't have a text and you're not getting direction all the time. [O]ne of his rules was you cannot repeat a sentence, you cannot repeat an action, you cannot fix anything. So, for me, that was my challenge…and that was my main motivation for the film.
TNE: How much preparation did you have to do before you shot the one-take?
LC: We did one month more or less of rehearsals, and then we did the three one-takes on different days, and maybe the whole process was a couple of months. [W]e were doing all the open creative process all the time.
TNE: How difficult was it to shoot the entire film more than once?
LC: For me, it was not that hard. A lot of journalists are asking me, "How could you deal with all that pressure?" and it's a question I don't have in my mind because I was not really feeling pressure. I was feeling safe; I was very comfortable in that process, and I was confident because we worked before a lot. I mean, I've never rehearsed that much in any of my other projects. So I had the feeling like the homework is done; now we can be alive and real for the story.
Maybe the hard thing, the thing I found was most difficult for me was to be able to think at the same time of the technical aspects because you are acting, you are improvising, you are focused on your story and your role, but you have to also remember—for example, I was driving and I had to remember all the streets and…I had to stop if I have a red light. I was like, "What? I cannot stop. I'm running away from a bank robbery. You want me to stop at a red light? It makes no sense!" I was [driving] faster than ever [but] you have to stop because if the real police stopped us, the one-take is fucked up.
Also it was difficult to know when to keep going; for example, when to change from one location to another because for me, when Victoria is having fun at the party after the robbery—she wanted to be there for hours.
At one point, I could hear Sebastian's voice saying, shouting to us, "Go! Go!" in the middle of the party, and I say in the film, "I don't want to go! I don't want to go!" That's what I was saying to him because I really didn't want to go. [laughter]
TNE: Why do you think Victoria goes from being afraid of what is happening to wanting to help four men she barely knows? What draws her into their world?
LC: That's something I really liked about the film. We worked a lot on her background. … You can see it a little bit in the piano scene when she opens her heart a bit, but she doesn't want to do it. She's ashamed.
But then she finds these guys, and she sees them so free. They don't care; they are free, and they are not just friends, but family. That is something she has never found before. She's a girl that has been playing the fucking piano for 17 years, eight hours every [day]. I was watching a lot of documentaries [about] genius children who are three years old playing the piano like Mozart, and their life is very hard. [W]hen I have a child, I don't want him or her to do that.
If you understand that, you understand Victoria is the opposite. The little princess is not the princess anymore because one day they say to her, "You can go. You cannot continue what you are doing." She suddenly realizes that she has done nothing that she really wanted to do without her parent's permission. She runs away from that life because she's not happy and she's still young, and she has to find out what's going on with her life, to find a reason to fight for. When she meets this guy [Sonne, played by Frederick Lau], she has been three months in Berlin alone. You can see from the opening scene that she is a girl with a big loneliness. She sees them and she flirts with Sonne; she has a very special chemistry with him, which she loves because maybe this is the first time she has felt like this. [S]he sees the friendship [between Sonne and his buddies], where the friendship is not, "Oh, let's do something today or maybe tomorrow." No, the friendship is like, "I'm fucked up. I have real problems. Are you gonna be with me or not?"
There's a moment in life where friends can be more important than family, or at least you have the experience, and for her, that's the moment because she finally found family with freedom. They are a mirror of what she wants to be—that's why she goes with them.… I think she has been waiting for this night for all her life.
TNE: I noticed that they call each other "brother" and they start calling her "sister," so they bring her into the family right away.
LC: Yeah, exactly. [S]he is happy that night; she is happy, you know?
TNE: What else would you like our readers to know, either about the movie or your acting in general?
LC: It is a special film, it's a different way of film-making. I think [the story is] very close to the young people, because young people…have been following the rules. I follow the rules; I was studying in college, I've been good. Some of my friends got degrees and they have no work. We have been good, so where is [the] promised land? There is no promised land.
That's something you can see in the film from Victoria and from the guys. [T]here's a sad disappointment in all of them. [I]t's like society doesn't care about them anymore. Victoria explains something that young people right now in Europe are feeling.
Victoria is in general release.
Here's the interview we did with Sebastian Schipper who directed the movie : http://www.thenerdelement.com/2015/10/23/victoria-an-opportunity-for-freedom-part-two/