After a downhill spiral last season, Sleepy Hollow gained its momentum with a new apocalyptic threat marking the second Tribulation, several new additions to the cast and a new show-runner in Clifton Campbell (The Glades). While the Sleepyhead fandom rose up in protest after the
season two debacle that left some running for the nearest exit, it is the fandom as a whole that banned together, voices at a high pitch, clamoring for season three. The network responded ten-fold and crafted a chapter of the historical thriller that finds our two Witnesses recommitting to their biblical roles, a brand new villainous couple hell-bent on "bending this world to our will" and the long-awaited burgeoning relationship between the leads, Ichabod Crane (Tom Mison) and Abbie Mills (Nicole Beharie) (aka) "Ichabbie".
It has been a season full of anxiety, speculation and debate, as we've tried to decipher the bread crumbs dropped within each episode. Here's what's happened thus far…
Pandora's Plan
The first half of the season focused on Pandora (Shannyn Sossamon) as she brought forth a new entity each week to extract specific types of fear onto Sleepy Hollow.
In the first moments Pandora recites a poem, "One for sorrow, two for mirth, three for a wedding, four for birth, five for silver, six for gold, seven for a secret never to be told." In the Sumerian version of Pandora she brings seven items with her into our realm.  This is a twistory of sorts as it originates from a children's nursery about magpie birds.  Written in England in 1780, it speaks of an old superstition- how many magpies (or in some cases crows) you see, actually determines if you'll have bad luck.
Each rose that bloomed on her "tree of fear" represented the following: secrets, chaos,  loneliness, innocence lost, death and fear itself.  This was her work around to gain access to the catacombs where The Hidden One (Peter Mensah) had been banished.
The Hidden One & Pandora- A Love Story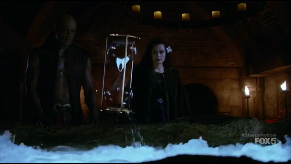 In episode 13 "Dark Mirror", we learn exactly what happened to Etu Illue and how he met Pandora.
The story begins thousands of years ago when Gods ruled the world.  The Hidden One was banished by his brother to the Underworld, tasked with guarding the Pithos that held all the evils in the world.  While the "good" Gods ruled above, The Hidden One remained isolated below.  Every day Pandora gifted the Gods with an offering from her people to show their loyalty to them.  One day she brought The Hidden One a single flower, though it was forbidden.  Realizing he could manipulate her into releasing him from life down under, he tells her the story of his banishment and gives her the Pithos of Evil.  With the her people behind her, believing she could be with her true love, she unleashes all the evils back into the world effectively destroying the Gods. Though reunited for a brief moment with her hearts desire, humans immediately banish him back to the Underworld!
A few thoughts…
Elements of both the Greek and Sumerian versions of the the fabled tale of Pandora and her box have been used to craft this story.  This version involving The Hidden One pits brother against brother in their quest for ultimate power.  I think the Witnesses rose up against Pandora and sent The Hidden One back to the catacombs, which I believe is depicted on the Sumerian tablet. Question is, were Ichabod and Abbie the only Witnesses through time, continually being reincarnated to stop each new threat of apocalypse? That is a theory many believe and it is plausible. From the moment they met there was an innate trust between them, which is very difficult for Abbie to do.  It was like they knew deep down in their souls who they were to each other.
Another question is how did Pandora get to 21st century Sleepy Hollow?  Many of us have speculated someone or something led Ichabod to that Sumerian tablet in his crypt.  While the debate continues over Ichabod's 9 month walkabout with no contact, I think it's suspect that all of a sudden Ichabod decided to visit his family crypt.  I get that the wanted to find some familial ties but who goes to Scotland and says, "Let me see what's in the family crypt and in my tomb"?
The Symbol
Abbie finally comes clean and admits she cannot let go of the symbol she found on the catacombs.  It has a hold on her so much, that she almost allows Ichabod to die!  As he lay slowly slipping away, the pendant puts Abbie into a trance and only Ichabod's voice snaps her out of it in time.  I think that while Ichabod believes the symbol to be evil, it actually is what brought him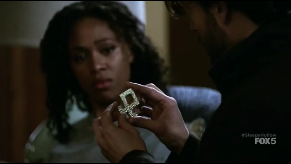 back after the sting of the Scorpion, not the antidote. It was Abbie's love for Ichabod and both of them essentially touching the symbol as Abbie held and kissed him, that enabled him to live. Is it that far-fetched?  Only time will tell.  In the end she finally asks for Ichabod's help dealing with her PTSD.
Here's another theory brought up by Sleepyheads …what if Papa Ezra Mills (James McDaniels) is The Hidden One's brother who represents good and that's why Abbie finds comfort in the symbol? It's no coincidence that Ezra has returned to Abbie's and Jenny's lives now after leaving them so many years ago. Did he tell our Sleepy Deep Throat Jack Wilson (Michael O'Keefe) that Abbie was not doing well after her ordeal?  Could they know she was trapped in the catacombs? Does Ezera know Abbie is a Witness, therefore asked Sheriff Corbin to mentor her, putting her on the right track after he left his family?  There are still so many questions!
Danny Reynolds and Sophie Foster
To Abbie's surprise (and Ichabod's obvious disdain) her ex-beau and mentor from the FBI Academy, Danny Reynolds (Lance Gross) unexpectedly arrives in Sleepy Hollow as her new boss.  Though at first it appears that Abbie is down with having dinner, maybe picking up where they left off at the academy, she realizes it's better to keep things on a professional level.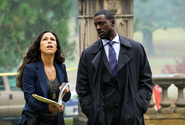 Although she has been quite clear, prompted by Walters to maintain his grip on Abbie, he continually attempts to regain their connection.
Sophie Foster (Jessica Camacho) initially arrives on the scene working with Sheriff Corbin's ex-associate, Atticus Nevins (Bill Irwin), the focus of an FBI case to crack an artifact theft ring.  We soon learn, to Abbie's dismay, she's actually been undercover…working for Reynolds!  Once Abbie disappears Foster joins our Scooby gang, embracing the supernatural, believing it is how her archaeologist parents disappeared from a Mayan ruin they were excavating years ago.
There are still many questions that remain…
Who exactly are these "others" that have been watching Abbie and her rise within the FBI? Does it include Ichabod? We know that, according to Ben Franklin (Timothy Busfield) in "Tempus Fugit", there are levels of individuals that are fighting this secret war.  Is this why Reynolds was placed to mentor Abbie in the Academy and now work with her in Sleepy Hollow?  It's obvious he has no idea she's a Witness and even though Foster is working with them, I don't think she knows who Ichabod and Abbie are- the two Witnesses foretold in Revelations.  Does our Sleepy Deep Throat Walters know they are the Witnesses?  Why did he want the 9 secret locations of artifacts from Nevins before killing him? Does Foster's parent's disappearance have any connection to The Hidden One or Pandora?  Things are never as they seem in Sleepy Hollow!
Jenny and Joe
Among many of the discussions on social media during the long hiatus, chatter turned to one character in particular, Joe Corbin, portrayed by Zach Appelman. Introduced in the season two episode titled, "And the Abyss Gazes Back", Sleepyheads got their first look at Sheriff August Corbin's (Clancy Brown) son Joe, who became the unfortunate
victim of a curse conjured by Ichabod's 'Horseman of War' off-spring, Henry Parrish (John Noble).  The curse turns him into a Wendigo, blood as the trigger, which causes the creature to crave human flesh! Thankfully, after a spine-tingling nail-biter, the curse is broken by Team Witness and Joe is promptly sent off to join the Marine Corps.
Though killed off in the pilot, Sheriff August Corbin remains one of the endearing characters that fans long to see return via flashbacks now that Joe has picked up his father's torch and joined Team Witness.  While we wait with anticipation for glimpse of a father and son reunion of sorts, it's important to point out that once again it was the fan's voices that asked for Joe Corbin's return.  Many felt it only made sense that he'd be part of the team- he grew up in Sleepy Hollow, with the Mills Sisters, whom Sheriff Corbin groomed to become the kick ass, apocalyptic fighting women they are!  Not only is "Ichabbie" on the horizon, but Joe and Abbie's sister Jenny (Lyndie Greenwood) are
making a go of it, both trying to navigate a relationship in between fighting evil.
For the most part "Joenny" (smush name for Jenny and Joe) have made quite an impression, though there was a tiny bit of backlash due to the fact they got together much quicker than Ichabod and Abbie! (We're still waiting)
Betsy Ross
All season we've seen the backstory of Betsy Ross (Nikki Reed) and her involvement in George Washington's spy ring, working along side Ichabod.  Several entities brought forth by Pandora had a connection to Betsy and Ichabod's escapades.  While some within the fandom scoffed at the pairing, I found it interesting because it shows a connection between Betsy and Pandora. When Abbie was stuck in the Catacombs for 10 months trying to find a way home, it wasn't until Ichabod recognized the cutlass Abbie found as Betsy's.  Luckily Abbie figured out how she used it to make it back- but why was she there? How did Betsy end up in the Catacombs and meet Pandora?  We should get our answers soon.
Now with only five episodes left, we still have no clue exactly what Etu Illue and his wife will do to purge his world of humans who have "spread unchecked like locus".  The one thing that is glaringly clear, is the fact that this "God" believes his wife is completely on his side, willing to endure whatever punishment he sees fit.  I think he's about to be schooled on woman power- by both Pandora and Abbie!
Earlier this week Beharie posted an Instagram video, carrying an assistant while literally running her lines, in which she appears to be talking about using her house to hold a God.  My educated guess is that she's talking to Pandora, who has caged her old-world hubby, seemingly neutralizing his power.  Even more intriguing was the photo Shannyn Sossamon (Pandora) tweeted out, depicting what appears to be another realm with a very health tree- the tree of life perhaps?
The final five episodes are titled as follows:
03×14 "Into the Wild"- airs March 11
03×15 "Incommunicado"- airs March 18
03×16 "Dawns Early Light" – airs March 25
03×17  "Deleware"- airs April 1
03×18 "Ragnarok"- Season Finale, airs April 8
We still have a lot of story left to tell, including will Ichabod and Abbie finally say the scary words "I love you", making them official?  I guarantee you the Sleepyhead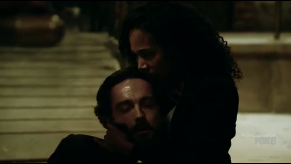 fandom will cause pandemonium on social media and I can't wait!
Don't miss another thrilling episode of Sleepy Hollow "Into the Wild", Friday March 11 at 8:00 p.m. on FOX!
Join us for the latest news in the world of Sleepy Hollow and chat w/panel of hard-core Sleepyheads on Hollow Hangout, immediately following at 9p ET.
Check out Sleepy Hollow Addicts website for exclusive interviews and videos.