Thunderbirds Are Go, a "reinvention" of the original 1960's Thunderbirds TV series, is debuting on Amazon's Prime Video service on April 22nd, having already presented its first season in New Zealand last year. Back for adventure are the five Tracy brothers—Gordon, Scott, John, Virgil, and Alan—who all work for International Rescue, a sea, land, air, and space rescue team with a global support network and reach.
Instead of the original's classic "Supermarionation" (marionettes controlled by wires and solenoids), the new series uses a mixture of CGI animation and live-action models. It all makes for a strange viewing experience if you're a fan of the original series, but will probably satisfy the children the show is clearly aimed at.
In the two-episode premiere, "Ring of Fire Parts 1 & 2," we first see International Rescue (IR) saving a son and father, then moving on to rescuing members of an undersea lab, where seaquakes make it difficult to save them and where Gordon's ship, the Thunderbird 4, also gets trapped. Gordon (voice of David Menkin) notices a machine that may be causing the quakes, leading IR, with the help of its spy allies, Lady Penelope (voice of Gone Girl's Rosamund Pike) and her ex-con chauffeur, Parker (voice of David Graham), on a quest to find out who's causing the quakes and why.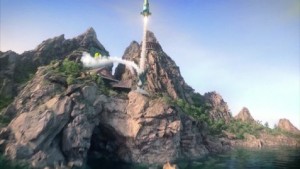 It doesn't take long for the Thunderbirds' arch-villain, The Hood (voice of Andres Williams), to take credit for the disasters and demand from the World Council that the Thunderbirds be turned over to him. It's a classic Thunderbirds set-up which borrows heavily from the original stories, as do some of the other episodes, even as this new series forges its own identity.
What that identity is, though, is harder to pin down. While the show has touches here and there from its progenitor, something is missing, a certain je ne sais quoi. Then again, the feelings I had while watching were probably colored by my nostalgia for the original.
One thing Thunderbirds Are Go does better than, say, the rebooted Powerpuff Girls cartoon, is replicate the tone of the original series, even as it updates the concerns of the characters to more modern themes. Unfortunately, it shares another of PPG's flaws: The animation doesn't look right.
The CGI replicates the herky-jerky movement of the supermarionated Thunderbirds, but to what end? A reminder to older viewers of the original puppets will be lost on young children who are most likely not familiar with the series. Weta Workshop does a great job on the live-action sets and blending in the CGI, but to children who are used to more kinetic action (such as on Teen Titans Go!), this technique may not be appreciated. I normally favor advances and bold choices in animation techniques, but here I could only ask myself, "Why not just use puppets?"
No matter, though, if kids take to it, as the show's message of cooperation and familial ties is positive, and even if the science is a bit wonky, let's face it: kids will probably enjoy astronaut Alan's "space surfing" on a hoverboard instead of questioning the physics of it as I did. Additionally, the voice work is uniformly good, even if at the beginning of the series, the personalities of the brothers Tracy aren't very distinct.
Problems in the original (such as engineer Brains' stuttering) have been de-emphasized, and having more female characters around is also beneficial to the show's prospects in the U.S. (it's already been renewed for two more seasons of 26 episodes each, with Season 2 nearly completed, overseas). So while cranky old-school Thunderbirds fans like myself may nitpick, a new generation of fans appears ready and willing to take up the cause. Will this appreciation translate to good ratings for Amazon? Stay tuned.
A sneak preview of Thunderbirds Are Go's first two episodes ("Ring of Fire Parts 1 & 2") will be available to Amazon Prime members on April 15, 2016, with the first 13 episodes of Season 1 available for streaming on Prime beginning April 22, 2016