It's finally here! AMC's Into the Badlands is back for its third season! Paco Cabezas directed the premiere and Matt Lambert, Kristy Lowery, creators Alfred Gough, and Miles Millar are listed as writers.
Here is the synopsis of the season premiere, "Enter the Phoenix:"
Sunny returns to the Badlands, seeking a cure for his son Henry. The Widow and Chau wage a bloody civil war. A new threat emerges.
This premiere episode we spend a little time playing catch up with the main characters and introducing some new ones.  I do appreciate the time jump of six months to feel the repercussions of decisions made last season.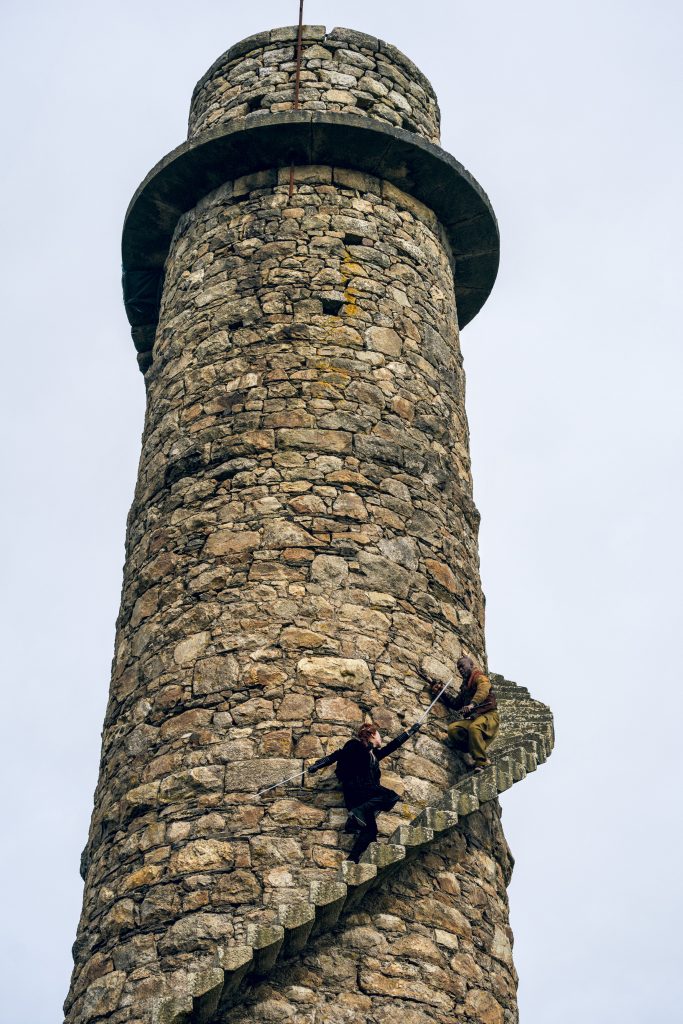 I noticed a sharpness to the cinematography this episode. Some of the sweeping shots of land, which was gorgeous, and the dialogue scenes made it more noticeable. I didn't mind it as it still gave a movie quality to the episode.
The title of the premiere has several potential connotations which I enjoy.  It could mean the Pilgrim (Babou Ceesay) that made an entrance by using two teens to make a statement.  Henry could also represent the phoenix in his powers manifesting.  Or even Sunny rising from the ashes of grief to raise his son.  The possibilities are endless!
Overall, I felt the show had a solid premiere teasing major plot points of the season while still incorporating the lavish fight choreography that the show is known for.
Speaking of Choreo
I'm starting to see a pattern with the fights.  For example, the scene of Tilda (Ally Ioannides) retrieving the supplies was fun, but I've seen it before in earlier seasons.  The Widow aka Minerva (Emily Beecham) fighting someone showing her mad skills in heels and the camera periodically getting close-ups of them.  One of the new characters, Nix (Ella-Rae Smith), fought Chau soldiers at a checkpoint. She sliced them up with her daggers like The Widow did those clippers at the oil factory in season 2.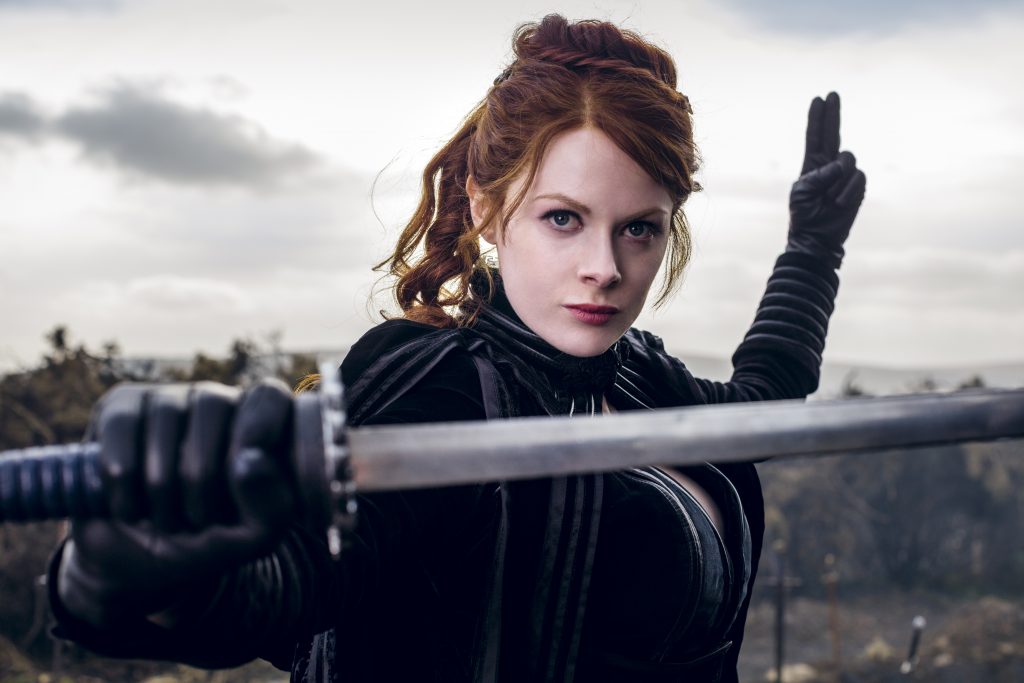 Also, just the fact that when you see people with "the gift" they go on a killing spree to show the scope of that power.  Those were just the some of the similarities I caught in this episode alone.   I liked the fight between Nathaniel Moon (Sherman Augustus) and The Widow but it dragged after the first few minutes.  However, that transition between one to two swords was nice.  Also Augustus was looking good fighting with his claw hand.
I did appreciate the initial battle scene featuring one of The Widow's butterflies.  I was hoping we would see more of her but alas, was killed by Chau's men.  That scene introduced some advanced weaponry being used in the war and the devastation that is causing on both sides.  It also came full circle when The Widow went to comfort the mother of the butterfly.  We started to see the beginning of Minerva's leadership decisions in season 2 and now it appears we will be seeing the continued growth of that leadership this season.
What I don't want to see happen is the fight scenes lose a sense a freshness.  With expectations so high it makes me wonder what hasn't been done yet?
Poor Sunny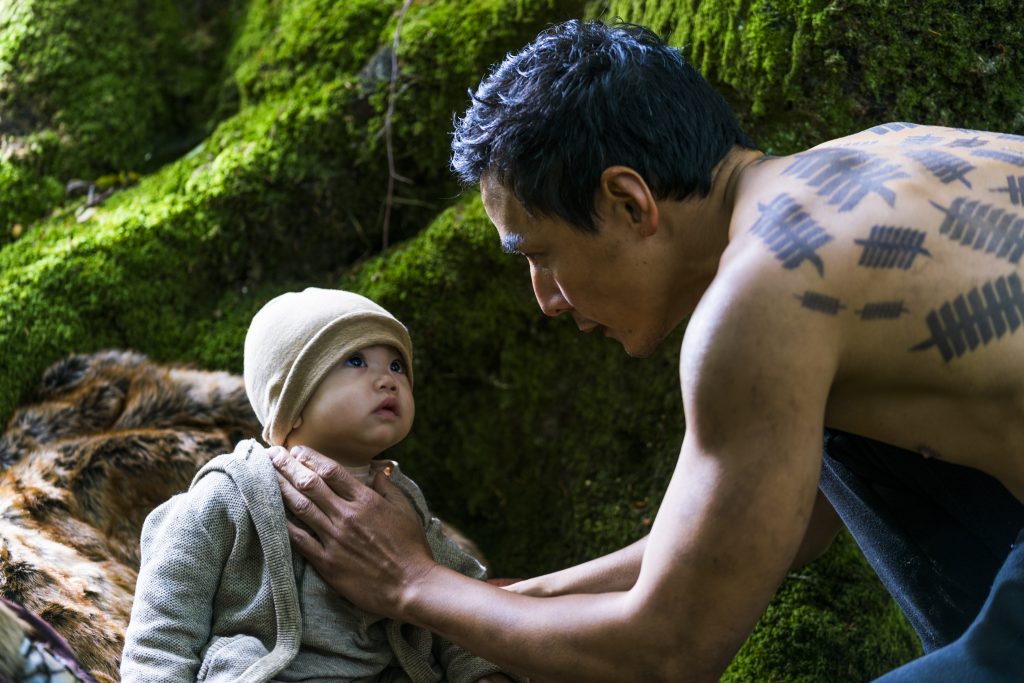 Sunny (Daniel Wu) can't catch a break.  People will sell him out just to support their family.  Feeding Henry is a struggle since seeing a doe and a buck reminds him of his lost love Veil (Madeleine Mantock).  Tears may have wanted to come down when Sunny was reading to Henry. I wanted to give Sunny a hug!
One of the few fights I liked was when those bandits attached Sunny in the trailer.  The motivation was protecting Henry, but I also felt Wu aptly portrayed the frustration and anger in Sunny from how he ruthlessly handled those men.  The contrast with that and then showing mercy to the father that ratted him out showed a growth in Sunny in starting to think like a father vs a clipper.
Baby Henry getting sick is the catalyst that brings Sunny in contact with Lydia (Orla Brady) who is running the refugee camp.  Reuniting with Bajie (Nick Frost) went as expected.  I enjoyed the chemistry between Wu and Frost last season, so it is nice that they are working together again.  Sunny sharing scenes with Lydia also made me happy which makes me hope that more are coming.  Random thought: Bajie looked good in purple so nice wardrobe choice!
Petty Tilda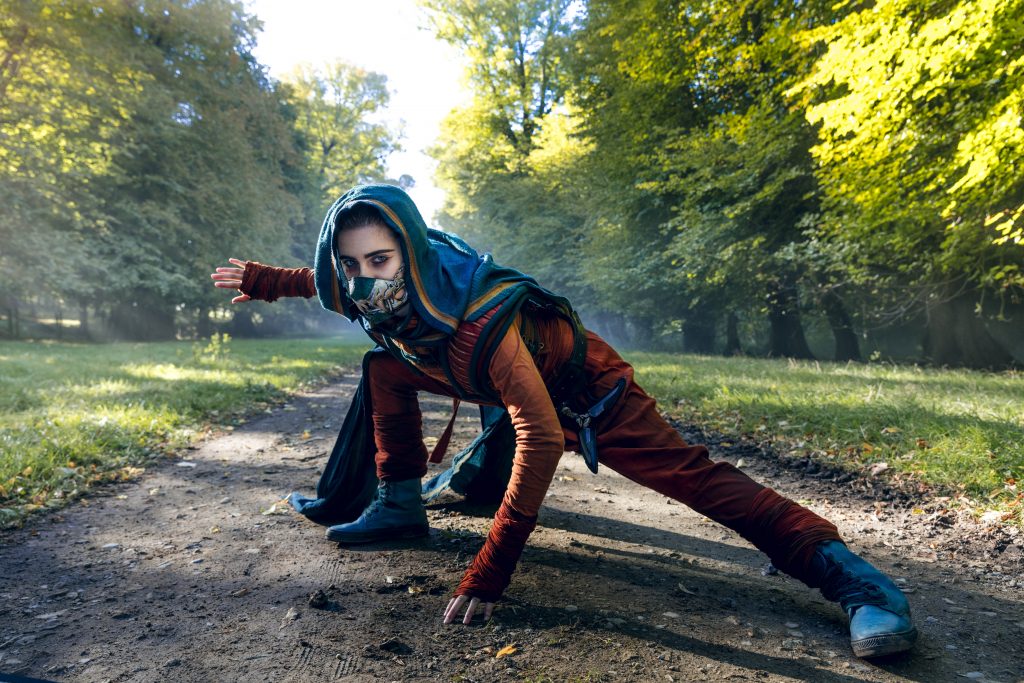 Tilda is being petty as hell robbing the Widow her supplies. Is she also stealing from Baron Chau? Since the war has affected the refugees on both sides I would think she would be an equal opportunity thief.  The mask she wore playing robber reminded me of Sub-Zero from Mortal Kombat and Bane from The Knight Rises at the same time.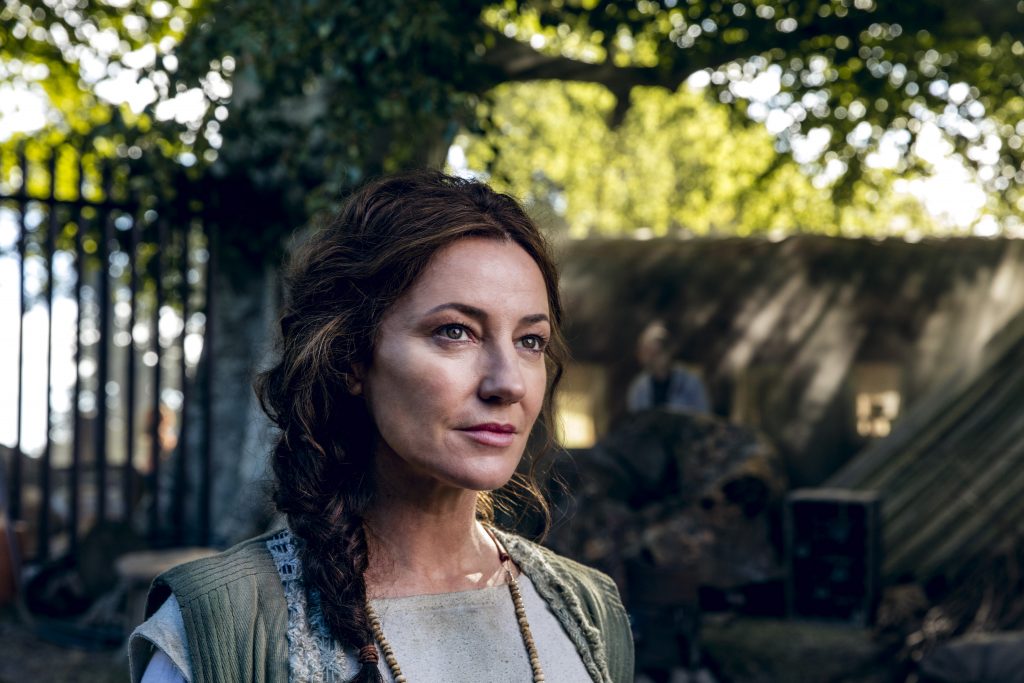 I will give this to Tilda.  She exudes a confidence now that we were just starting to see when she became regent for The Widow.  Seeing Lydia and Tilda in scenes together was something I didn't even realize I needed. I like that they are working together.  With the wardrobe choices, I thought it was a smart for Lydia to be wearing lighter colors and Tilda to change her colors from blue/purple and black to an orange and teal combination.  If I recall correctly, wasn't the rabbit one of the other baron's banners?
WTF MK?
MK (Aramis Knight) is a prisoner of the Widow to figure out how to get "the gift" back. It bothered me that there were two girls in his bed.  How old were they? I'm assuming it was consensual otherwise the Widow would've shut it down.  I thought the Widow was against women being used by men for sex? MK is looking rough from smoking that opium.  He just seems so hopeless now.  Sunny not coming for him has not helped matters.
Knight seems to have a knack for bringing a vulnerability to MK and at the same time an annoying arrogant recklessness that makes me roll my eyes.  I have no sympathy for MK's situation though. Now that he blocked his gift he now wants it back? I may have to rewatch last season because it seems to me that he went back and forth about having the power instead of just staying at the Temple to get answers.  A part of me wants to see the Master (Chipo Chung) again, but I'm not holding my breath.
The Gift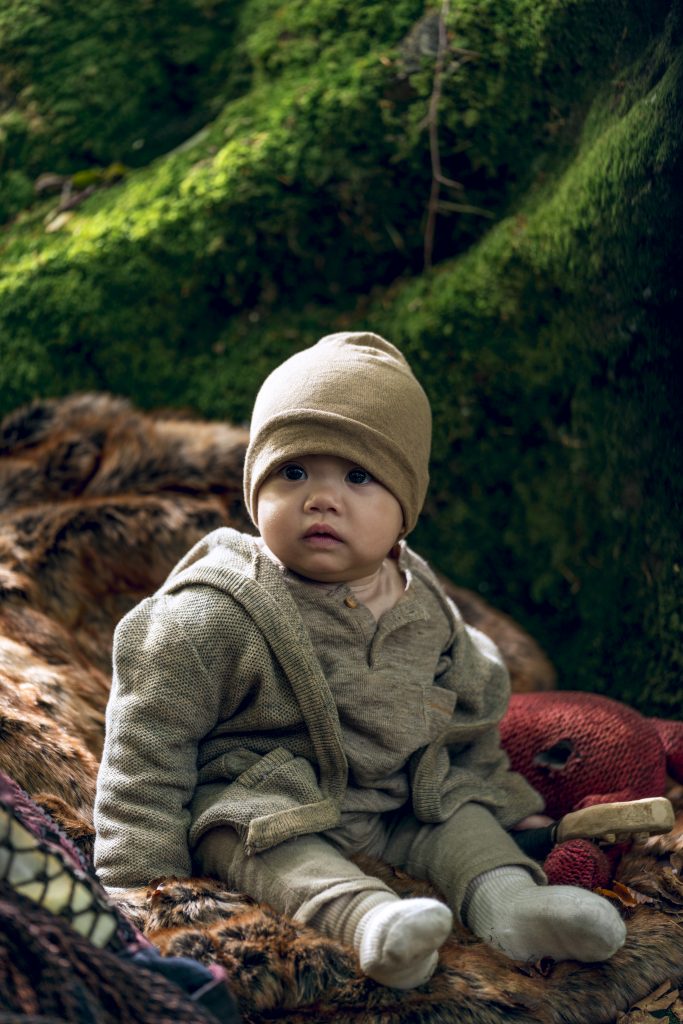 The whole "gift" plotline has been a consistent presence of the show.  Each season brings new questions and potential answers into how the gift works. Henry being the youngest (last season it was The Widow) now to display the black eye effect of "the gift" brings another element to the situation.
I found interesting that Henry's fever started manifesting when Sunny was fighting the bandits.  Did Henry instinctually sense the danger? Was switching to the "gift" his way of trying to protect Sunny? More questions that hopefully get answered.
You may recognize Dean-Charles Chapman who plays new character Castor.  Remember King Tommen from Game of Thrones? Yep, he's grown into a badass now! I am already wanting him fighting MK at some point in the season because you know that must happen right?
Chapman and Smith's interaction displays a closeness that makes me think the characters at minimum grew up together.  What is their relationship with the Pilgrim though?  Something tells me that Castor changing back while in "gift" mode will change that dynamic with a quickness.  Does the Pilgrim also have powers? I hope we get answers sooner rather than later.
If the Widow finds out about Henry, I wonder if she will regret giving Veil up to Quinn (Martin Csokas)?  Knowing Minvera she will probably think Henry is the key to figuring out how to get her "gift" back.  She is just that obsessed with it!
Since the Pilgrim and Cressida (Lorraine Toussaint) are now appearing, if they cause too much trouble in the Badlands, the Temple fighters would have been a good ally to have around.  Thanks, Bajie and MK for ruining that!  If Castor and Nix are the only two in the whole group that have powers, then Bajie, the Widow, Sunny, and MK can handle it.
I'm looking forward to seeing where these stories go. Sound off in the comments your thoughts about the episode!