It is that time of year again folks! While we are less than two months away from Comic-Con International: San Diego, taking place Thursday July 20-Sunday July 24, major exhibitors like Diamond Comic Distributors Inc have released their Convention Exclusives.  Attendees will be able to preview the items at their booth #2401 and purchase from several retailers in the exhibit hall.
"Diamond will be showcasing the con exclusive items at the PREVIEWS booth, and then we'll guide fans to retailers who have the exclusives available for purchase on the show floor," said Diamond's Director of Marketing, Dan Manser. "These items are extremely limited and a big reason why fans look forward to coming to Comic-Con International: San Diego each year."
This will be a two-parter folks.  First up are the Comics and Graphic Novels.
SDCC 2016 OUTCAST BY KIRKMAN & AZACETA #19
(W) Robert Kirkman (A/CA) Paul Azaceta, Elizabeth Breitweiser
Answers are given and secrets are revealed, as the start of a new story arc finds Kyle and Sidney having a conversation that will change everything. Kyle has never been in more danger. (MAR168714) Limited to 5,000 copies.
SDCC ROM #1
(W) Chris Ryall, Christos Gage (A) David Messina (CA) J. H. Williams
We've been invaded and only a Space Knight can save us! First there was his epic return in this year's FCBD #0, and now the ongoing tale of ROM begins in earnest! Christos Gage, Chris Ryall, and David Messina kick off the wildest new series of the year as Rom's war with the Dire Wraiths hits close to home in "Earthfall, part 1!" 24-page kick-off story plus interviews, bonus sketch material and more!
COVER A (MAR168613) – Limited to 3,000 copies
COVER B (MAR168614) — Limited to 3,000 copies
COVER C (MAR168615) – 1:10 Retailer Cover. Limited to 600 copies
SDCC 2016 CIVIL WAR II #0 COIPEL BLACK & WHITE VARIANT
(W) Brian Michael Bendis (A) David Marquez (CA) Marko Djurdjevic
From the creative team that brought you House of M and Siege comes a blistering first chapter in Marvel's new explosive event. Rated T+. (MAR169021) Limited to 6,000 copies.
SDCC 2016 CIVIL WAR II #1 (OF 7) MICHAEL CHO B&W VAR
(W) Brian Michael Bendis (A) David Marquez (CA) Marko Djurdjevic
A new Inhuman, with the ability to profile the future, emerges and the ramifications ripple into every corner of the Marvel Universe. Lines are drawn, bodies fall, and the Marvel Universe will be rocked to it's very core. The action starts here! Rated T+. (MAR169027) Limited to 7,500 copies.
SDCC 2016 CIVIL WAR II #2 (OF 7) MICHAEL CHO B&W VAR
(W) Brian Michael Bendis (A) David Marquez (CA) Marko Djurdjevic
As the Marvel Universe reels from the events of the first issue, Tony Stark decides to take matters (and the law) into his own hands and declares war on the Inhumans. But not everyone agrees with Tony's perspective and they are willing to die trying to stop him. Rated T+. (MAR169183) Limited to 7,500 copies.
SDCC 2016 CIVIL WAR II #3 (OF 7) MICHAEL CHO B&W VAR
(W) Brian Michael Bendis (A) David Marquez (CA) Marko Djurdjevic
One of the biggest heroes in the Marvel Universe will fall! Who it is and how and why will divide fans for years to come. Will the heroes of the Marvel Universe survive the unthinkable happening? The fallout to this issue is enormous! Rated T+. (MAR169184) Limited to 7,500 copies.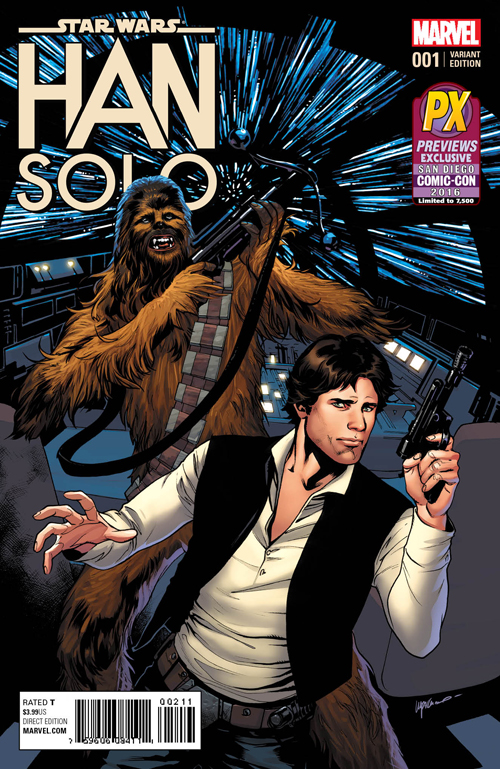 SDCC 2016 STAR WARS: HAN SOLO #1 LUPACCHINO VARIANT
Everyone's favorite scoundrel gets his very own series! Han is given a top-secret undercover mission for the Rebellion – rescuing a number of informants and spies. His cover for the assignment? Only the biggest and most infamous starship race in the galaxy! You know – the race Han has dreamt of winning his entire life. Will he keep his mind on the mission? And can he manage to pull it off while keeping the lead? Rated T. (MAR169182) Limited to 7,500 copies.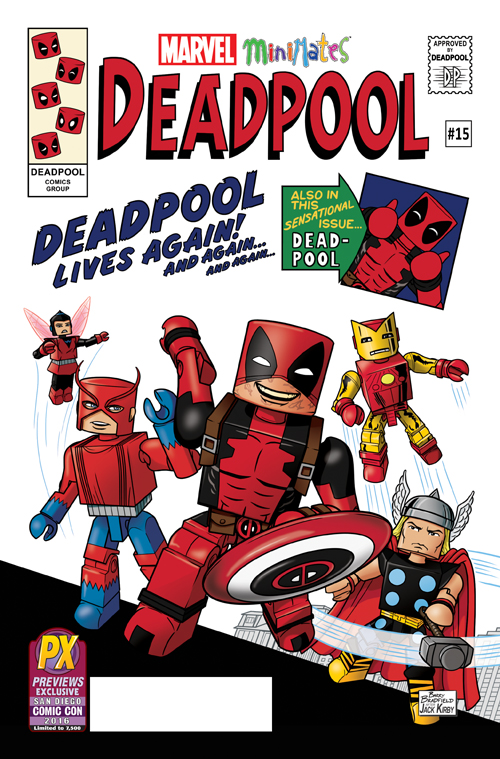 SDCC 2016 DEADPOOL #15 MINIMATES VARIANT
(W) Gerry Duggan (A) Mike Hawthorne (CA) Rafael Albuquerque
Civil War II Tie-In! The Mercs for Money hate Deadpool and want out! Wait … isn't there a new Mercs for Money series launching? How is that going to work? Parental Advisory. (MAR169181) Limited to 7,500 copies.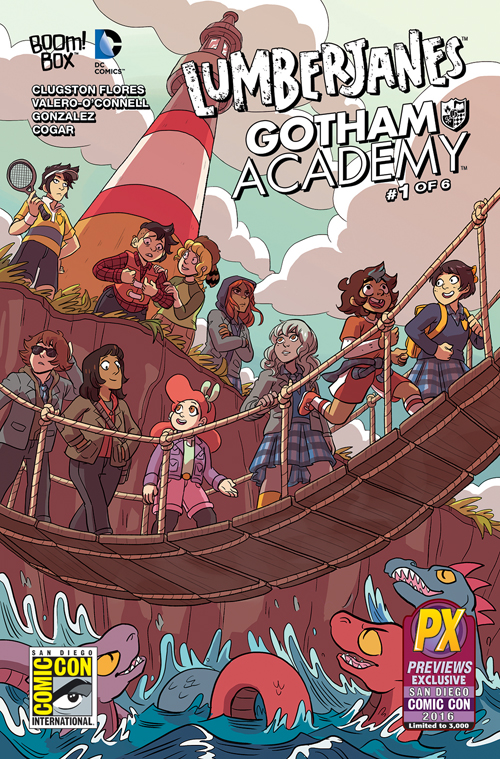 SDCC 2016 LUMBERJANES/GOTHAM ACADEMY #1
(W) Chynna Clugston-Flores (A) Rosemary Valero-O'Connell (CA) Mingjue Helen Chen
What's to Love: We adore DC's Gotham Academy and it's been on our wish list to have them somehow meet the Lumberjanes. From the great characters to the fun stories, we saw a world in which these two groups could coexist. Fast forward and here we are-the crossover event we've dreamed about and can't wait to bring to you!
What It Is: Something sinister is happening at a mysterious building deep in the woods, drawing the Lumberjanes and the Gotham Academy kids separately to investigate. Is it a weird cabin? An abandoned asylum? The two groups band together to find out what exactly is going on. (MAR168662) Limited to 3,000 copies.
SDCC 2016 DOCTOR WHO: SUPREMACY OF THE CYBERMEN #1
(W) George Mann, Cavan Scott (CA) Alessandro Vitti
For the Cybermen's 50th-anniversary … you will be deleted! Exiled from Gallifrey at the very end of Time, Rassilon, fallen leader of the Time Lords, has been captured by the last of the Cybermen. Now the Cybermen have access to time travel. With it, every defeat is now a victory. Every foe is now dead — or Cyberized. Titan Comics' 2016 Doctor Who event — and the biggest Doctor Who story of the year — begins here! (MAR168663) Limited to 3,000 copies.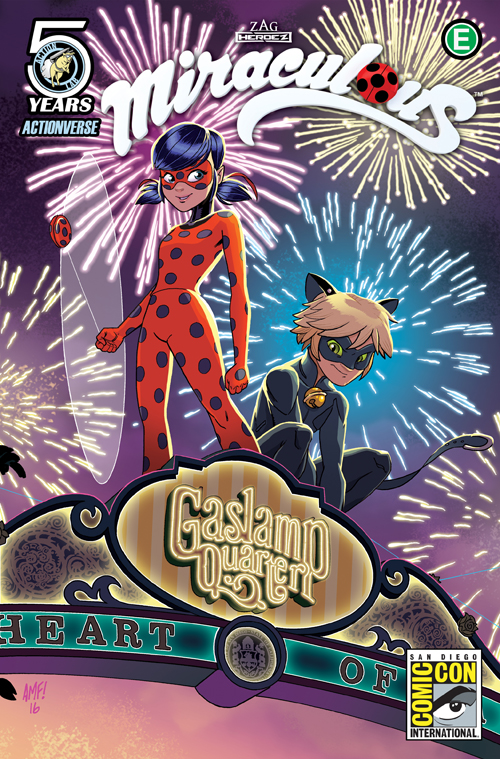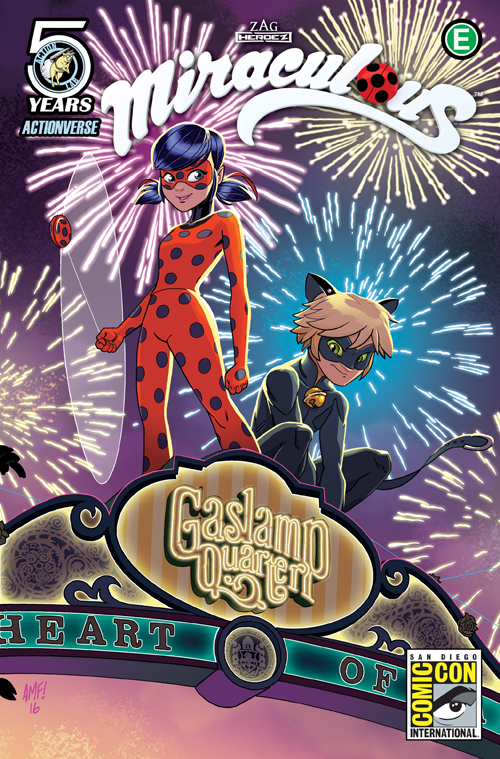 SDCC 2016 MIRACULOUS: TALES OF LADYBUG AND CAT NOIR TPB
Marinette is the sweetest girl in Paris. With a big crush on a boy at school, a big dream of becoming a fashion designer, and a big problem with being totally awkward, she's just your average teenage girl, right? Did we mention she's also the crime fighting superhero, Ladybug? Becoming Ladybug is a complicated process! First, Marinette needs a "Kwami," which is a tiny magical assistant (hers is named Tikki). She also needs a "Miraculous," which is a magical accessory (hers is a pair of earrings). Tikki uses the Miraculous to transform Marinette. But her Ladybug super powers only work for a limited time! When Hawk Moth uses his mind-controlling, moth-like creatures called akuma to turn people into baddies, it's up to Ladybug to capture them and save the day! Well, she gets a little help from her superhero friend, Cat Noir… but she insists she doesn't need him. If only she knew Cat Noir's true identity – her crush, Adrien! Will Ladybug and Cat Noir be able to balance their double lives and keep Paris safe? Will they ever find out each other's true identity, or who's behind Hawk Moth's mask? Until then – there's a whole city of baddies to defeat … spots on, claws out! (MAR169038) Limited to 500 copies.
Be sure to check out the merchandise Diamond will be bringing from Diamond Select Toys!  Which comic are you interested in getting?  Sound off below in the comments below!
*Photos provided by Diamond Comic Distributors Inc.