NBA ALL-STAR KAREEM ABDUL-JABBAR DEBUTS NEW MYCROFT HOLMES COMIC BOOK AT SDCC 2016! 
Read more about it from the press release today.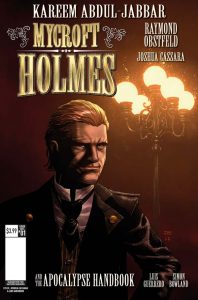 KAREEM ABDUL-JABBAR MAKES SPECIAL APPEARANCE AT SDCC WITH PANEL AND SIGNING TO LAUNCH NEW COMIC!
July 5, 2016 – Titan Comics are excited to announce that NBA legend Kareem Abdul-Jabbar will be unveiling his unique take on Mycroft Holmes at the summer global event San Diego Comic-Con this July!
An all-new comic book adventure, The Apocalypse Handbook – written by Kareem Abdul-Jabbar and Robert Obtsfeld (Joker and the Thief) – sees the diffident, brilliant Mycroft pulled into a globe-spanning adventure at the behest of Queen Victoria and a secret organization at the heart of the British government. A madman is on the loose with futuristic weaponry capable of destroying civilization in the most horrific manner. Can the smartest man in England set aside his idle, womanizing ways long enough to track down the foe that may be his match?
This hotly anticipated comic book – which hits regular stores on August 3 – will exclusively debut at this year's San Diego Comic-Con (July 21-24) with a special never-before-released variant cover by series artists Joshua Cassara (New Avengers, The Troop) and Luis Guerrero (The Twelfth Doctor) – only available to purchase at the show at Titan booth #5537.
As part of this special SDCC appearance, Kareem Abdul-Jabbar as well as series artists, Joshua Cassara, Luis Guerrero, and Mycroft Holmes and the Apocalypse Handbook editor, Andrew James, will be speaking at an unmissable panel on Thursday July 21 at 12:00PM (room 5AB), taking SDCC attendees exclusively behind-the scenes of the new comic series and revealing special artwork previews.
SDCC attendees will also have the unique opportunity to meet Kareem and the creative team behind the comic book straight after the panel for a special Mycroft Holmes comic book signing at 1:30PM in Autograph Alley AA02.
To keep up to date with Titan Comics and their plans for San Diego Comic-Con, follow on Facebook, Twitter, YouTube, and Tumblr or visit them on their website at https://www.titan-comics.com/