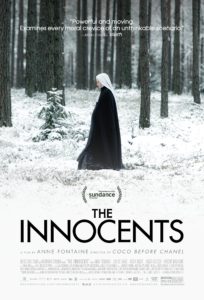 The French/Polish film, The Innocents (Les Innocents), is quietly beautiful, a haunting and tragic examination of the effects war has on a group of women and on their faith—or the lack thereof. Anchored by a trio of exquisite performances, The Innocents will both break your heart and give you hope.
The film opens in Warsaw in December 1945. World War II may be over, but the Soviet occupation of Poland is in full swing. The plot is based on the true story of a group of nuns whose convent was invaded, both by German but more notoriously by Russian soldiers. The latter group repeatedly raped and wound up impregnating some of the nuns, who strive to keep the pregnancies secret.
After listening to the constant wailing of one of the pregnant women, a novitiate sneaks out of the convent and heads to the French Red Cross to seek help. There, she attracts the attention of a sympathetic doctor, Mathilde Beaulieu (Lou de Laâge), who takes great personal risk to accompany her to the convent. Once there, Sister Maria (Agata Buzek), reluctantly allows Mathilde to perform a Caesarean on the woman, all while stating she's a young lady the convent took in because her family threw her out. It doesn't take long before Mathilde finds out the terrible truth.
The pall of shame hangs heavy over the convent. The Abbess (Agata Kulesza) does not want Mathilde to return to assist the other six pregnant nuns, but Sister Maria insists. Mathilde is reluctant to return as well. As much as her oath compels her to, though, it's her growing affection for the women that drives her forward.
The crux of her motivation is her budding friendship with Sister Maria. The two women could not be more different; Sister Maria has dedicated her life to God, while Mathilde doesn't believe in Him, for one thing. However, as their conversations deepen, the two women find more common ground. Sister Maria's crisis of faith propels the two closer together.
The Abbess, in contrast, is more dedicated to her faith than ever, and thus more stringent in her actions to protect her convent and its tenants. While her attitude is understandable, it brings tension to every interaction she has, not just with Mathilde, but the other sisters. What happens because of what these three women all choose to do is the heartbreaking center of the film.
The Innocents begins slowly and builds carefully upon its relationships and the various types of tension they engender. Anne Fontaine's assured direction, deliberate pacing, and eye for framing, especially close-ups of Sister Maria's face as she grapples with her own feelings, have produced a film that allows its scenes to breathe enough that the punches to the gut have maximum emotional impact.
All three of the main actresses give powerful performances that play well off each other and drive the narrative in interesting directions. Laâge and Buzek have great chemistry; their friendship is beautiful to behold, even when they are at odds because of their personal beliefs. Kulesza plays the Abbess' anguish, fear, and resolve perfectly. Even when her actions appear monstrous, there's always humanity in her eyes.
The trio is aided by other fine performances, particularly Vincent Macaigne as Samuel, a fellow Red Cross doctor with whom Mathilde has a complicated romantic relationship, and Anna Prochniak as Sister Zofia, the first pregnant nun encountered by Mathilde, whose own confusion about giving birth produces a profound change in her own faith.
The Innocents earns every tear cried and every emotion felt. It's a truly remarkable achievement from all involved.
The Innocents is opening in limited release in Los Angeles and New York.  In French and Polish with English Subtitles.