Funko is bringing a "Pop! up shop" to San Diego Comic-Con and with it a few new, very limited items.
See info below courtesy of Funko's blog
When: Thursday-Sunday (July 21-24), 10:00am-3:00pm
Where: 448 West Market Street in the Marina District
Directly across from the Grand Hyatt Manchester

What: The Funko-Shop.com Pop! Up Shop will have the following exclusive items!
Freddy Funko SDCC Type Tee (100 LE)
Freddy Funko vs. The World Tee (100 LE)
Pop! Ad Icons: Bob's Big Boy (480pc LE)
Big Boy was the very first product Funko ever sold, in Wacky Wobbler form. We are thrilled to finally have him available as a Pop!
Old school Funko collectors will recognize the next couple of characters! Spastik Plastik was a line filled with original characters dreamed up by Funko's designers. Carlos and Otto are now back as Pop!s!
Pop! Spastik Plastik – Amazing Carlos (Blue – 3000pc LE)
Pop! Spastik Plastik – Otto (Purple – 3000pc LE)


Pop! Spastik Plastik – Otto (Orange – 480pc LE)
Pop! Spastik Plastik – Otto (Red – 480pcLE)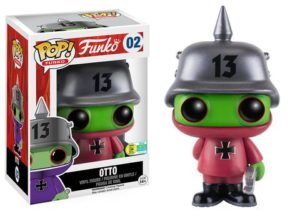 Last but certainly not least, as part of the ongoing celebration for Captain America's 75th Anniversary, you'll be able to take home a supersized Cap Dorbz!