Today Diamond Comics Distributors released their monthly report of top selling products for the previous month.
On the comic book side Civil War II #1 despite its $5.99 cover price was the #1 seller last month, followed in the top 3 by 2 Batman titles (Batman #1, Batman Rebirth #1).  Star Wars: Han Solo #1, Civil War II #2, Dark Knight III: The Master Race #5, Dark Knight Returns: The Last Crusade #1, Superman Rebirth #1, Wonder Woman #1, and Superman #1 rounded out the top 10.
Over on trade paperbacks Saga Volume 6, Dark Night: A True Batman Story HC, and Sex Criminals Vol. 3: Three The Hard Way TPB made up the top 3.  You can see the full top 10 list of trade paperbacks, as well as the top 10 books, top 10 toys, and top 10 games lists in the press release Diamond released below.
(BALTIMORE, MD) — (July 8, 2016) —
An Inhuman with the power to predict the future brings conflict to the heroes of the Marvel Universe in Brian Michael Bendis and David Marquez's Civil War II from Marvel Comics, the best-selling comic book of June 2016 according to information provided by Diamond Comic Distributors, the world's largest distributor of comics, graphic novels, and pop culture merchandise.
Their sales powered by Civil War II, Marvel Comics was June's top publisher with a 40.08% dollar share and a 44.17% unit share. With strong Rebirth sales, DC Entertainment was the month's number two publisher with a 29.93% dollar share and a 31.69% unit share. At number three was Image Comics with a 7.88% dollar share and a 7.64% unit share. IDW Publishing was fourth with a 5.22% dollar share and a 4.15% unit share, followed by Dark Horse Comics with a 2.81% dollar share and 1.76% units share.
Marvel Comics had three of June's best-selling comics; beyond Civil War II #1, Marjorie Liu and Mark Brooks' Star Wars: Han Solo #1 ranked #4, and Bendis and Marquez's Civil War II #2 ranked #5. DC Entertainment took the other seven spots in the top ten, led by Tom King and David Finch's Batman #1 at #2; Tom King, Scott Snyder, and Mikel Janin's Batman Rebirth #1 at #3; Frank Miller, Brian Azzarello, Andy Kubert, and Klaus Janson's Dark Knight III: The Master Race #5 at #6; Miller, Azzarello, John Romita, Jr., and Peter Steigerwald's The Dark Knight Returns: The Last Crusade at #7; Peter J. Tomasi and Doug Makhke's Superman Rebirth #1 at #8; Greg Rucka and Liam Sharp's Wonder Woman #1 at #9; and Tomasi and Patrick Gleason's Superman #1 at #10. Among the premier publishers, Robert Kirkman's The Walking Dead #31 was Image Comics' top book for June at #31. Teenage Mutant Ninja Turtles: Bebop & Rocksteady Destroy Everything #1, the first part of a new mini-series, was IDW Publishing's top book at #119. Finally, Hellboy in Hell #10, the final chapter of Mike Mignola's Hellboy saga, ranked #140 as Dark Horse Comics' top-selling comic book.
A new era opens in Brian K. Vaughan and Fiona Staples' Saga Volume 6 from Image Comics, the best-selling graphic novel of June and one of their three titles in the top ten. DC Entertainment had five titles in the top ten, led by Paul Dini and Eduardo Risso's original graphic novel Dark Night: A True Batman Story at #2. Marvel Comics' adult coloring book Color Your Own Young Marvel by Skottie Young ranked #5. Rounding out the top ten, Dark Horse Comics' graphic novel Neil Gaiman's How to Talk to Girls, an adaptation of Gaiman's short story by Fabio Moon and Gabriel Ba, ranked #10.
IDW Publishing's Danger Girl: Permission to Thrill Coloring Book was June's best-selling book for June. Scholastic's young adult novel, Harley Quinn: Wild Card, ranked #2.
An alternate universe Deadpool joined Diamond Select Toys' Marvel Gallery line-up with June's Marvel Gallery: Lady Deadpool PVC Figure, the best-selling toy product of June and one of Diamond Select Toys' two products in the top ten. DC Collectibles had six products in the top ten, led by the Batman v. Superman: Armored Batman Statue at #2.
IDW Games' Back to the Future: Adventures Through Time Board Game, based on the fan-favorite movie trilogy, was June's best-selling game product. Also in the top ten from IDW Games was The X-Files: The Board Game at #2. Also of note, Diamond Select Toys' Back to the Future Monopoly, a custom version of the venerable board game, ranked among June's top ten games at #4 for the month.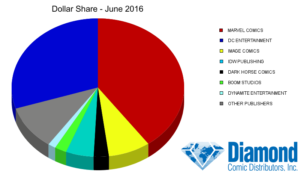 TOP COMIC BOOK PUBLISHERS
PUBLISHER DOLLAR SHARE UNIT SHARE
MARVEL COMICS 40.08% 44.17%
DC ENTERTAINMENT 29.93% 31.69%
IMAGE COMICS 7.88% 7.64%
IDW PUBLISHING 5.22% 4.15%
DARK HORSE COMICS 2.81% 1.76%
BOOM! STUDIOS 2.23% 2.18%
DYNAMITE ENTERTAINMENT 1.45% 1.17%
TITAN COMICS 1.09% 1.07%
VIZ MEDIA 0.97% 0.34%
VALIANT ENTERTAINMENT LLC 0.75% 0.84%
OTHER NON-TOP 10 7.58% 5.00%
COMPARATIVE SALES STATISTICS
DOLLARS UNITS
JUNE 2016 VS. MAY 2016
COMICS 34.90% 37.59%
GRAPHIC NOVELS 25.16% 49.68%
TOTAL COMICS/GN 31.77% 38.59%
JUNE 2016 VS. JUNE 2015
COMICS 23.06% 19.75%
GRAPHIC NOVELS 14.37% 17.55%
TOTAL COMICS/GN 20.26% 19.55%
YEAR-TO-DATE 2016 VS. YEAR-TO-DATE 2015
COMICS -3.84% -8.38%
GRAPHIC NOVELS 6.58% 6.30%
TOTAL COMICS/GN -0.73% -7.26%
SECOND QUARTER 2016 VS. FIRST QUARTER 2016
COMICS 18.04% 18.05%
GRAPHIC NOVELS 12.48% 17.06%
TOTAL COMICS/GN 16.22% 17.96%
SECOND QUARTER 2016 VS. SECOND QUARTER 2015
COMICS -4.21% -7.71%
GRAPHIC NOVELS 1.69% 0.80%
TOTAL COMICS/GN -2.42% -7.02%
TOP 10 COMIC BOOKS
RANK DESCRIPTION PRICE ITEM CODE VENDOR
1 CIVIL WAR II #1 $5.99 MAR160703-M MAR
2 BATMAN #1 [*] $2.99 APR160286-M DC
3 BATMAN REBIRTH #1 [*] $2.99 APR160284-M DC
4 STAR WARS: HAN SOLO #1 $3.99 APR161034-M MAR
5 CIVIL WAR II #2 $4.99 APR160857-M MAR
6 DARK KNIGHT III: the MASTER RACE #5 $5.99 FEB160127-M DC
7 DARK KNIGHT RETURNS: THE LAST CRUSADE #1 $6.99 DEC150208-M DC
8 SUPERMAN REBIRTH #1 [*] $2.99 APR168695-M DC
9 WONDER WOMAN #1 [*] $2.99 APR160310-M DC
10 SUPERMAN #1 [*] $2.99 APR160278-M DC
TOP 10 GRAPHIC NOVELS & TRADE PAPERBACKS
RANK DESCRIPTION PRICE ITEM CODE VENDOR
1 SAGA VOLUME 6 TP (MR) $14.99 MAR160684 IMA
2 DARK NIGHT: A TRUE BATMAN STORY HC (MR) $22.99 FEB160250 DC
3 SEX CRIMINALS VOL. 3: THREE THE HARD WAY TP (MR) $14.99 OCT150608 IMA
4 DC SUPER HERO GIRLS VOL. 1: FINALS CRISIS TP $9.99 APR160322 DC
5 COLOR YOUR OWN YOUNG MARVEL BY SKOTTIE YOUNG TP $9.99 MAR160943 MAR
6 BATMAN: THE KILLING JOKE SPECIAL EDITION HC $17.99 NOV070226 DC
7 PREACHER BOOK 1 TP (MR) $19.99 MAR130303 DC
8 OUTCAST BY KIRKMAN & AZACETA VOL. 3: LITTLE LIGHT (MR) $14.99 MAR160681 IMA
9 HARLEY QUINN VOL. 3: KISS KISS BANG STAB TP $16.99 MAR160265 DC
10 NEIL GAIMAN'S HOW TO TALK TO GIRLS AT PARTIES HC $17.99 FEB160019 DAR
TOP 10 BOOKS
RANK DESCRIPTION PRICE ITEM CODE VENDOR
1 DANGER GIRL: PERMISSION TO THRILL COLORING BOOK TP $9.99 FEB160415 IDW
2 HARLEY QUINN: WILD CARD SC $5.99 MAR161975 SCH
3 ART OF PAINTED COMICS HC $49.99 AUG120975 DYN
4 THE SHADOW DOUBLE NOVEL VOLUME 107 SC $14.95 MAR162009 SAN
5 DC SUPER HEROES: NEED FRIENDS TOO BOARD BOOK $9.99 APR162230 POC
6 GHOSTBUSTERS: PROTON PACK AND WAND $12.95 APR162245 RUN
7 DC SUPER FRIENDS: HOW TO BE A HERO HANDBOOK HC $9.99 APR162229 RAN
8 ART OF DOUG SNEYD TP $19.99 FEB160040 DAR
9 TOBIN'S SPIRIT GUIDE OFFICIAL GHOSTBUSTERS EDITION HC $19.99 APR162246 PUB
10 S IS FOR SUPER HERO BOARD BOOK $12.99 APR162231 HAC
TOP 10 TOYS
RANK DESCRIPTION ITEM CODE VENDOR
1 MARVEL GALLERY: LADY DEADPOOL PVC FIGURE FEB162462 DST
2 BATMAN V SUPERMAN: ARMORED BATMAN STATUE SEP150334 DC
3 DC ICONS: HARLEY QUINN FIGURE AUG150314 DC
4 BATMAN ANIMATED: MAD LOVE THE JOKER & HARLEY QUINN 2-PACK AUG150311 DC
5 MARVEL: BLACK PANTHER FINE ART STATUE OCT152484 KOT
6 DC ICONS: SUPERMAN ACTION FIGURE AUG150313 DC
7 BATMAN V SUPERMAN: SUPERMAN STATUE AUG150304 DC
8 MARVEL GALLERY: LADY THOR PVC FIGURE JAN162257 DST
9 DC ICONS: AQUAMAN ACTION FIGURE AUG150315 DC
10 FINAL FANTASY ADVENT CHILDREN PLAY ARTS KAI: CLOUD STRIFE FIGURE SEP148219 SQU
TOP 10 GAMES
RANK DESCRIPTION ITEM CODE VENDOR
1 BACK TO THE FUTURE: ADVENTURES THROUGH TIME BOARD GAME JAN160391 IDW
2 THE X-FILES: THE BOARD GAME MAY142832 IDW
3 STAR TREK FRONTIERS BOARD GAME NOV152847 NEC
4 BACK TO THE FUTURE MONOPOLY JUL152198 DST
5 WIZKIDS HEROCLIX: 2016 GAMING CONVENTION PREMIUM MAP APR163155 NEC
6 WIZKIDS HEROCLIX: 2016 WIZKIDS OFFICE PREMIUM MAP APR163157 NEC
7 WIZKIDS HEROCLIX: 2016 CENTER PLAZA PREMIUM MAP APR163154 NEC
8 WIZKIDS HEROCLIX: 2016 PARKING GARAGE PREMIUM MAP APR163156 NEC
9 MAGIC THE GATHERING TCG: SHADOWS OVER INNISTRAD BOOSTERS FEB162979 WIZ
10 FINDING DORY: DON'T WAKE GAME JUL158674 BAN
How does Diamond calculate the charts? It all starts at the comic book shop.
Data for Diamond's sales charts — which includes the monthly market shares and all top product charts — are compiled by Diamond Comic Distributors from sales made to thousands of comic book specialty shops located in North America and around the world. Additional sales made to online merchants and other specialty retailers may be included as well.
Unit and dollar market shares are calculated based upon orders for comic books, graphic novels, and magazines invoiced and shipped to Diamond customers during any given month, which comprises pre-orders, advance reorders, and reorders, minus any copies that are received back from a title marked as returnable. Please note that comics marked with an asterisk (*) have had their reported quantities reduced due to retailer returnability, and thus may rank lower on the charts than their actual sales would reflect.
The New Titles Count Chart includes all titles that were invoiced by Diamond to retailers for the first time during the month and is not the official solicited title count for the month. Variant edition comic books and graphic novels at the same price point count as a single SKU. Variant edition comic books, lenticular covers, digital combo packs, and graphic novels at different price points count as separate SKUs for each edition.