I'm Batman
Ok, I'm not. But, for a couple of hours, I was.
I spent the time playing the first episode of Batman: The Telltale Series
For the past few years, Telltale has really been upping their game. For years they have put out point and click adventures that each had a cult following. In 2012, they launched the award-winning Walking Dead episodic series. At this point, they went from makers of cult favorites to mainstream. Now they are regularly releasing episodic versions of popular games and entertainment properties.
This time they caught me by surprise with a Batman game. As people who know me can attest, admitting that I am a devout Batman fan is huge understatement.
I had to check this game out.  And just like a magical fairy, Telltale appeared and asked if I wanted a review copy of the game.
Why, yes I want a review copy. I will take it.  Thank you Telltale!  (Please don't suck, please don't suck, please don't suck…..)
So What's It About?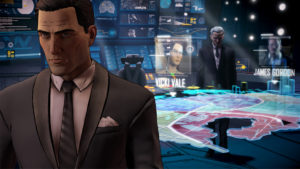 According to Telltale:
"Enter the fractured psyche of Bruce Wayne and discover the powerful and far-reaching consequences of your choices as the Dark Knight.
In this gritty and violent new story from the award-winning creators of The Walking Dead – A Telltale Games Series, you'll make discoveries that will shatter Bruce Wayne's world, and the already fragile stability of a corrupt Gotham City.
Decide the fate of Gotham City. Determine the fate of Bruce Wayne and his dark persona, Batman.
Your choices write a fascinating new chapter in the complex and dangerous lives of the playboy industrialist and the vigilante detective."
The game takes place during the early days of Batman. Gotham City is still trying to figure out who he is. The police aren't sure if he is a friend or foe. His relationship with Jim Gordon, who is not yet Commissioner, is just getting started. And he has yet to meet many of the villains that we are used to seeing.
It is in this setting that we see a pre-Two-Face Harvey Dent running for mayor with the backing of a young Bruce Wayne. We soon discover that not everyone backing Dent is as trustworthy as Wayne.
What's Good?
The best thing about the game is a staple of Telltale design. It's the conversation system. You spend your time talking to various characters in the game, and as the conversations advance, you have to choose your responses.
It sounds boring on paper, but believe me it is not. How you respond to people, and the decision you make dictate the way the game goes. Many times during the game, a pop-up will appear "so-and-so will remember that." Whatever decision it is that you may have made will most assuredly come back to haunt you later. Maybe for the best. Maybe not.
Thanks to this system, you will spend just as much time playing as Bruce Wayne as you spend playing as Batman. And surprisingly, the game is just as enthralling when you are "merely" a millionaire playboy.
If there is one thing that the Arkham Games are lacking, it's the chance to see Batman as the detective that he truly is. The Telltale Batman gives us this opportunity. In some of the quieter moments, you find yourself investigating crime scenes and looking for clues.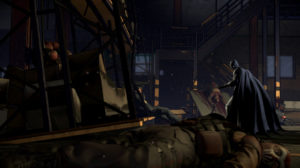 There are some surprise action sequences as well, and believe it or not, they are breathtaking. During these sequences Telltale presents you with an evolved QuickTime Event system where you press certain buttons to initiate actions, punches, or dodges. If you miss one, it's not game over. Batman may actually take a punch, but the game continues.
This is as close as you can get to being Batman, short of actually wearing a cape and cowl, and perching atop a gargoyle.
Telltale is also introducing it's multiplayer system, called Crowd Play. This turns any decision in game into a group effort. Instead of just sitting on the couch and watching someone else play, family members can log in on their phones, tablets, or laptops, and vote on game decisions. Interestingly, this feature is said to work for up to 2000 people on a single session, with Telltale hinting that it may be used for far more in the future.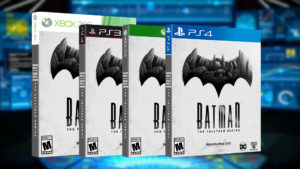 What's Bad?
Honestly, I'm having a hard time finding something bad about this game. I'm sitting here, scratching my head as try to think of something, anything, about the game that I didn't like. For now, the only thing I can think of is I have to wait a whole month for Episode 2 to come out.
I want more. I can't wait until my next opportunity to wear the cape and cowl.
---
James is a co-host on The Grown-Up Gamer Podcast. Tune in to the monthly show for news, reviews, and grown-ups talking about gaming.  Just because we're old doesn't mean we can't play games.  Now get off our lawns!