Barnes & Noble today announced that the voice of Ahsoka Tano (Ashley Eckstein) would be doing a book tour to celebrate the release of her new audio book along with the author of the book E.K. Johnston. The tour kicks off at New York Comic Con on October 7th and continues all over the country after that. More information and pictures below courtesy of their press release.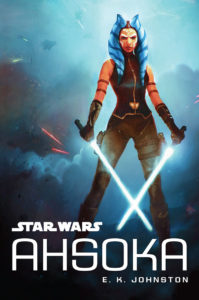 Actress Ashley Eckstein Narrates Star Wars™: Ahsoka Audio Book and Joins Ahsoka Author E.K. Johnston for Book Tour & Fan Meet-Ups
What: Star Wars: Ahsoka Book Tour and Fan Meet-Ups at select Barnes & Noble bookstores and at the Disney Booth #2820 at New York Comic Con to celebrate the release of the new book, Star Wars: Ahsoka, from Disney-Lucasfilm Press.
Star Wars: Ahsoka Book Overview: Fans have long wondered what happened to Ahsoka after she left the Jedi Order near the end of the Clone Wars, and before she re-appeared as the mysterious Rebel operative Fulcrum in the Disney XD TV series, Star Wars Rebels. Finally, her story will begin to be told. Following her experiences with the Jedi and the devastation of Order 66, Ahsoka is unsure she can be part of a larger whole ever again. But her desire to fight the evils of the Empire and protect those who need it will lead her right to Bail Organa, and the Rebel Alliance.
Who: Actress, voice of Ahsoka Tano, Founder of Her Universe and narrator of the new Star Wars: Ahsoka audio book, Ashley Eckstein, will be joining Star Wars: Ahsoka author E. K. Johnston for a book tour and fan meet-ups, which includes autograph signings, Q & A sessions, excerpt readings from the new novel Star Wars: Ahsoka, trivia and more!
When / Where: Celebrate the release of Star Wars: Ahsoka by Joining Ashley Eckstein and E.K. Johnston at these upcoming event locations:
October 7th – 6:00pm :
Disney booth #2820 New York Comic Con
Javits Center
655 W. 34th Street
New York, NY 10001
October 9th – 5:00pm
Barnes & Noble Store
97 Warren St.
New York, NY 10007
October 11th – 7:00pm
Barnes & Noble Store
2418 East Colonial Drive
Orlando, FL 32803
October 14th – 4:00pm
Once Upon A Toy @ Disney Springs Marketplace
1375 Buena Vista Drive
Orlando, FL 32821
October 15th – 2:00pm
Barnes & Noble Store
213 N. Dale Mabry
Tampa, FL 33609
October 21st – 7:00pm
Barnes & Noble Store
10775 Westview Parkway
San Diego, CA 92126
October 24th – 7:00pm
Barnes & Noble Store
313 Corte Madera Town Center
Corte Madera, CA 94925
November 6th – 2:00pm
Barnes & Noble Store
189 The Grove Drive
Los Angeles, CA 90036
Don't miss Ashley's appearance on The Star Wars Show October 5th here.