Warning: Spoilers! I was one of many attendees that previewed the pilot episode of BBC America's Dirk Gently's Holistic Detective Agency at New York Comic Con and met the cast at a signing the same day.  Very pleasantly surprised by how much I enjoyed the episode, titled "Horizons."  Kudos to director Dean Parisot and head writer Max Landis for creating a symmetric chapter with several moving pieces flowing nicely.  After watching the episode again during the East Coast premiere I still have questions.  Here is a summary: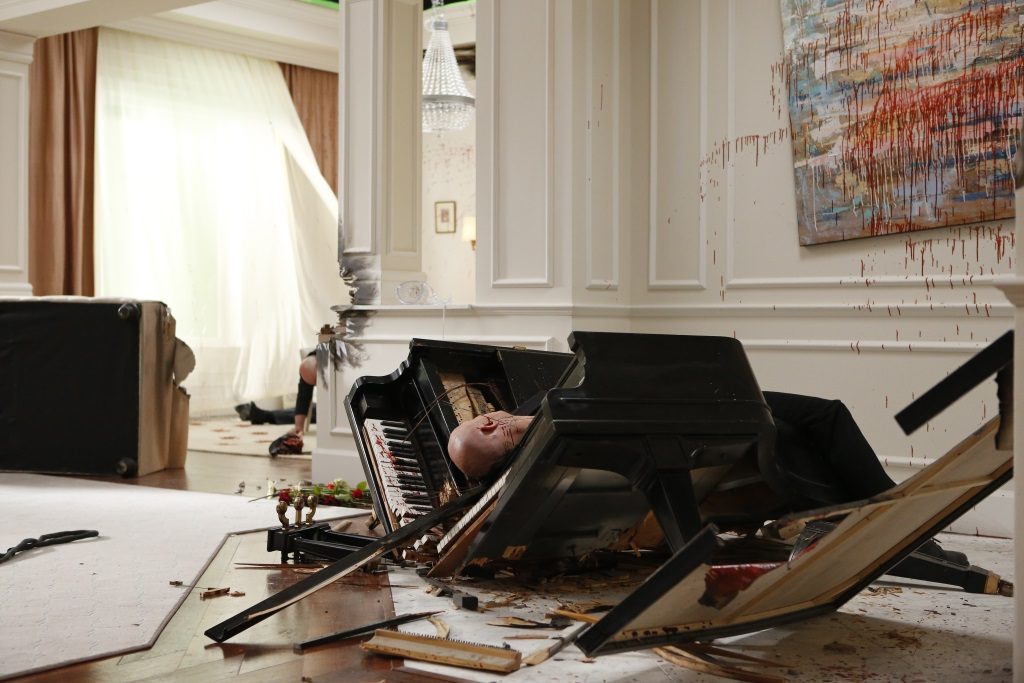 Todd Brotzman (Elijah Wood) has a very bad and weird day when he finds the bloody murder scene of millionaire Patrick Spring and others at the hotel he works at.  Before finding the mutilated bodies, he sees a doppelganger in a fur coat and a lottery ticket on the ground with blood on it.  Detectives Zimmerfield (Richard Schiff) and Estevez (Neil Brown Jr) consider him a person of interest.  After getting fired at said hotel, Todd runs into Dirk Gently (Samuel Barnett), holistic detective, coming in through the window into his apartment.  Dirk believes Todd is connected somehow to the murders but could also be his assistant.  Todd kicks him out but we find out that Dirk is being watched by a few military guys (possibly CIA) while the detectives are monitoring Todd.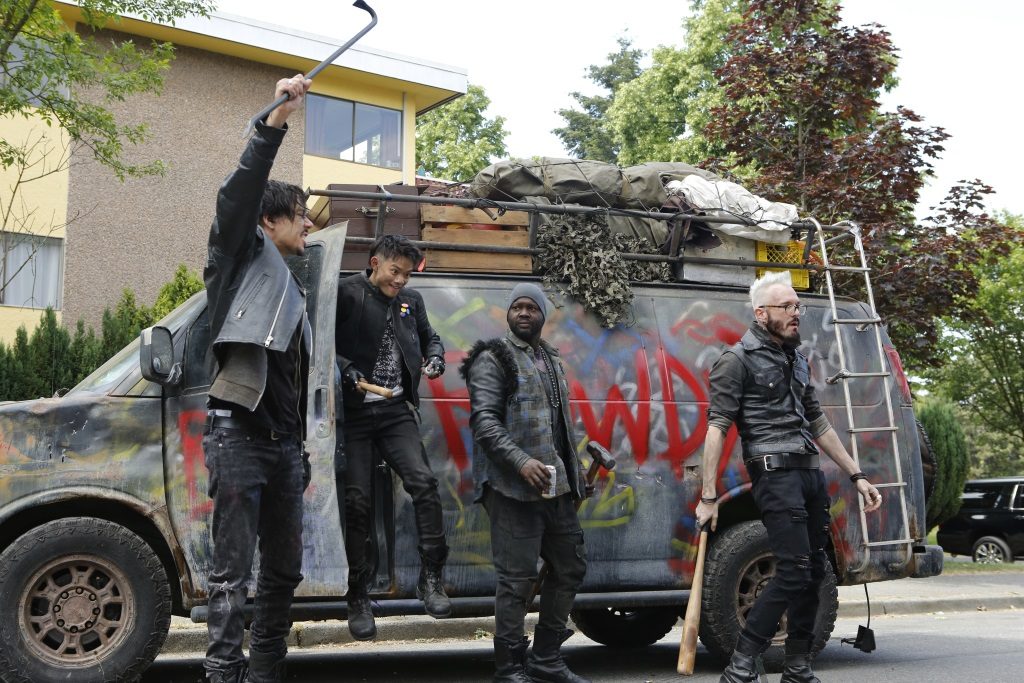 The next day Todd gives the last of his money to his sister Amanda (Hannah Marks) who is suffering from a condition called Pararibulitis so she can buy medication. With the disease Amanda hallucinates ordinary objects as something that could hurt her.  Dirk tags along and learns that the disease is hereditary.  Todd had the disease too but he seems to be doing better.  When the boys are back at Todd's place they are attacked by a group called the Rowdy 3 (Michael Eklund, Osric Chau, Viv Leacock, Zak Santiago) who Dirk seemed to have run into before.  Todd's apartment is severely damaged by the group and they do something weird to Dirk where they suck a white essence from him.  The landlord accidentally kills himself with a ricochet bullet when he threatens Todd about the failure to pay his rent.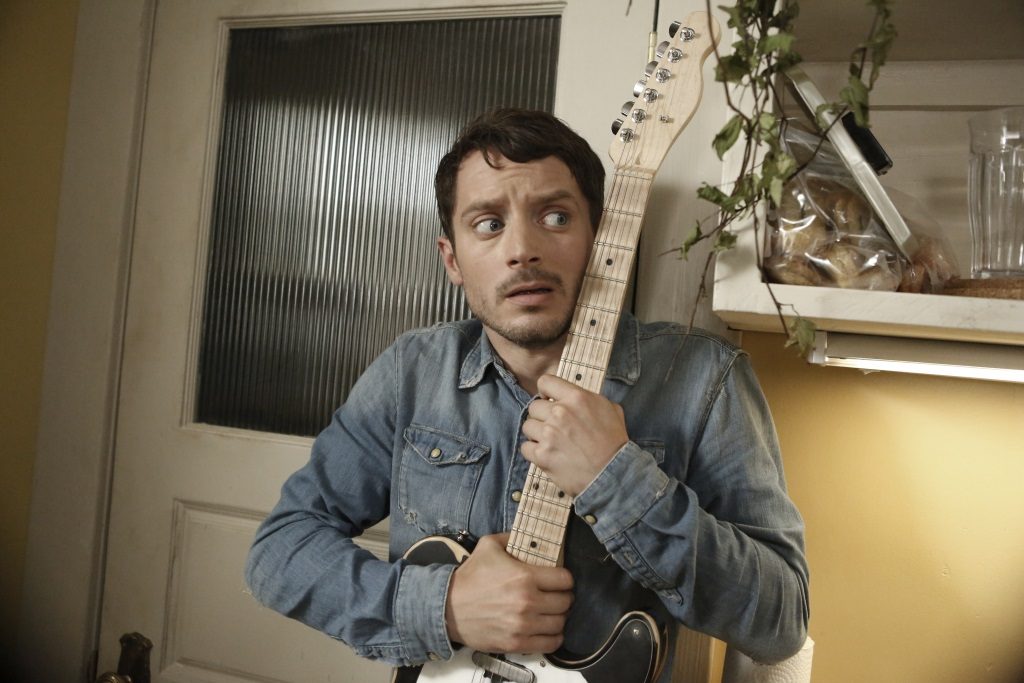 Fortunately, the detectives let Todd go but he is still a person of interest.  Fed up about the latest events, Todd lashes out at Dirk.  On the bus, he sees the same corgi that he's seen throughout the last few days wandering the bus route.  He takes the dog back to his owner.  There is a girl there that could be Lydia Spring, daughter to Patrick Spring, who the news has reported as missing.  Todd comes across a convenient store where the lotto numbers are being announced.  The lottery ticket he picked up has the winning numbers! He isn't penniless anymore!
Todd, Dirk, and Amanda have just scratched the surface with this episode. There are a few side stories going on like an electrician Ken (Mpho Koaho) that was working at a job site when he is almost killed by a holistic assassin named Bart (Fiona Dourif).  She just so happens to be trying to find and kill Dirk.  Ken is forced to travel with Bart while she goes on her assassin spree. There are two guys with markings behind their heads who are looking for a black kitten that was in the room with the dead bodies. They kill Todd's ex-boss when he says he doesn't know anything about the feline.  There is also a young woman named Farah Black (Jade Eshete), a security guard who was supposed to be protecting Lydia Spring, who has been holed up above Todd's apartment.  One of the military guys that was monitoring Dirk incidentally killed her captor but just as she is about to escape someone finds her.  The show's premise was not kidding when saying that everything was connected!
Here is just a little of what my mind was pondering:
How does the Corgi and the kitten play into this? The cute black kitten was found at the crime scene and the cute Corgi seems to be owned by Lydia Spring's kidnapper. Dirk got the kitten from the hotel room by using the Gorilla mask and Todd's stolen master key.  Is that why he stole Todd's key in the first place?  Considering that Dirk got a call from a man saying it was time, maybe the guy was telling him to pick up the cat.  The question is why? And why are those guys looking for the kitty? Who owns the feline?  Nitpick time: how long was the kitten in that black bag?  It seemed like at least a few days. Did Dirk have the bag in the car the whole time?
With the Corgi why didn't anyone notice it walking around the hotel lobby?  The detectives noticed it on the security camera while looking at footage that could help them solve the Spring murder.  Todd seems to be the only person that seems to know there is a wandering dog that coincidentally has been hanging around his bus route. Could Lydia be sending the dog out to get help because someone will bring it back and notice her there?  I love how the show has incorporated the animals because we get cuteness amid some of the seriousness.  I'm looking forward to seeing more of the cuties.
What are the Rowdy 3 exactly?  They seem to not be able to count because there are four of them.  Although they probably started with three and recruited one more but kept their nickname.  Could they be related to Project Incubus?  It seems that way with how the CIA guys seemed to know who they were when they arrived at Todd's apartment. What exactly did they do to Dirk?  Did they suck away part of his soul? I'm worried now that one of them is fixated on Todd's sister.  Vampires have been mentioned in the show's overview, so that maybe what the Rowdy 3 are.  I love seeing Michael Eklund again as one of the Rowdys.  He seems to play bad boys well.
Is Farah going to be okay? The woman has had a rough go of it this first episode.   She spends an inordinate about of time trying to get help but no one thinks to check upstairs with the noise she was making.  Just when it looks like she may escape, someone finds her.  Is this person friend or foe? Are we going to see how she got into this situation in the first place? Maybe by flashbacks? Did she get kidnapped around the same time as Lydia?
Who killed Patrick Spring? Dirk mentioned that the man hired him to solve his murder and seemed to know exactly when it was going to occur.  Why didn't Spring try to prevent his death? Could Spring have faked it?  There was a major surge that knocked out the security feed. Could Spring have been conducting an experiment in his room that could have produced those burns and huge bite marks?  Could the bite marks found in the room be the result of an electrical strike within the room? That could explain the burn areas even if doesn't explain the bodies cut in half although a wire of some kind could do the job.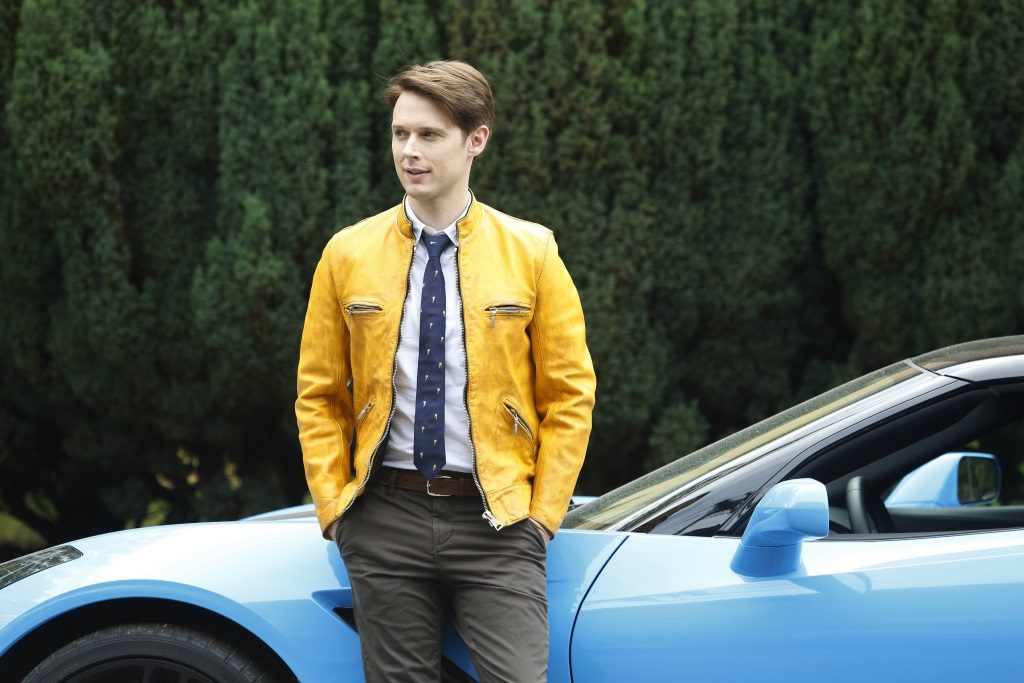 Dirk Gently's Holistic Agency is one of those quirky shows that you need pay attention to because there are several clues that could become important later in the season.  Considering the mind dump we got with just the first episode, I may need to start taking notes.  The cast has great chemistry with each other.  Samuel Barnett is charming as the title character Dirk Gently and I'm looking forward to seeing the parallels between his relationship with Todd vs Bart's relationship with Ken.  While Todd for the moment is reluctant to help Dirk, the likelihood of friendship is a lot higher than what is going on between Ken and Bart.  Ken will probably try to find an opportunity to escape from Bart instead of trying to work with her on her mission.  There is the potential though for Ken to humanize Bart just a little so she doesn't kill as many people as she has been doing before.  Here's hoping.  I also like seeing Mpho Koaho back on my TV screen as Ken as I loved him as Anthony on TNT's Falling Skies and his guest stint on SyFy's Dark Matter.  He was the main reason I was even interested in the show. Sorry Elijah.  I'm really hoping Ken is more developed as a character!
I also love the relationship between Todd and Amanda and feel so bad for her for having that kind of disease.  I wanted to give her a hug when she imagined one of her drumsticks was a knife cutting into her while having a jam session with Todd.  It would be cool if she helps with Dirk and Todd figure out the Spring murder.  She will need help anyway now that Rowdy 3 may go after her.  What if sucking some of her essence it somehow alleviates the symptoms better than medication?  Far-fetched but it's possible. I'm hoping that we see Amanda's symptoms eventually go away as they have so far for Todd.  Could there be the potential for Todd to relapse?  That could be a direction that could happen later in the season.
There were so many one – liners and funny moments I'm hoping this trend continues in a way that doesn't get old.  I also hope the timing of those moments will continue to be on point. Below is the interrogation scene with Todd and the detectives that made me chuckle because of the eyebrows.  I'm here for Zimmerfield's eyebrows.
BBC America has a hit on its hands and I'm looking forward to what this show offers!  I really need to read the book now by Douglas Adams.
Check back every week as we see if any of my theories hold water.   What are your thoughts of the show?  Who is your favorite character so far?  What are your theories as to what is going on? Sound off below in the comments!