Amazon today announced that their new original series, Sneaky Pete, will debut on January 13th, 2017 in a few countries (including the US and the UK). More information below including trailer courtesy of their press release.
Amazon Original Series Sneaky Pete Debuts on January 13 on Prime Video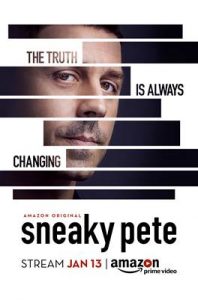 Original dramatic series stars Giovanni Ribisi, Margo Martindale, Marin Ireland, Peter Gerety, Libe Barer, and Shane McRae, with Golden Globe and Emmy award-winners Graham Yost and Bryan Cranston executive producing
SEATTLE—December 15, 2016—(NASDAQ: AMZN)—Amazon today announced its new original dramatic series Sneaky Pete is slated to premiere on Friday, January 13 exclusively on Prime Video in the US, UK, Germany and Austria. Starring Giovanni Ribisi (Avatar), Marin Ireland (Side Effects), three-time Emmy winner Margo Martindale (The Americans), Peter Gerety (Prime Suspect), Libe Barer (Parenthood), Shane McRae (Still Alice) and Michael Drayer (Mr. Robot), Sneaky Pete revolves around a con man, Marius (Ribisi), who gets out of prison only to find himself hunted by the vicious gangster he once robbed. The series, a co-production with Sony Pictures Television, comes from Executive Producers Graham Yost (The Americans), Bryan Cranston (Breaking Bad), Michael Dinner and Fred Golan (Justified), James Degus (All The Way) and Seth Gordon (Horrible Bosses). Prime members will be able to stream the series exclusively via the Amazon Prime Video app for TVs, connected devices including Fire TV, mobile devices and online. Members can also download the series to mobile devices for offline viewing at no additional cost to their membership.
"We're excited that 2017 will be starting with Sneaky Pete, an inside look at the world of con artists," said Joe Lewis, Head of Comedy and Drama, Amazon Studios. "The remarkable cast, led by Giovanni Ribisi, and innovative producers Bryan Cranston and Graham Yost have made a fantastic series that we're excited to bring to customers."
In Sneaky Pete, con man Marius, with nowhere else to turn, takes cover from his past by assuming the identity of his cellmate, Pete, and then "reunites" with Pete's estranged family—who have no reason to suspect he's not their long-lost loved one. When a gangster holds his brother hostage for ransom, Marius must find a way to free him while at the same time struggling to keep his lies from backfiring. Meanwhile, his new "relatives" are a colorful group who give him a taste of the loving family he's never had, but have secrets and lies of their own that threaten to drag Marius into a world every bit as dangerous as the one he's trying to escape.
Sneaky Pete was part of Amazon's pilot season last year, a unique development process that gives all customers an opportunity to stream and review pilots in order to help choose the next Amazon Original Series that are then available to Prime members. Customers can watch the pilot episode, Amazon's most-reviewed pilot with over 18,000 reviews and a rating of 4.7 stars, today, before the full season's remaining nine episodes air on January 13. Below are what customers have said about the pilot:
"Take an awesome cast, an excellent director, and a completely captivating storyline that results in a winning combination."
"Great show, great cast, great premise and great team behind it."
"Ribisi owns every scene."
"Great actors like Ribisi and Martindale sinking their teeth into some juicy material here, and with a cameo from co-producer Cranston."
"The pacing and tempo of the show was crisp and the writing was clever, and when you top it off with an ending like that with BryanCranston it surely wants to make me see more."
The entire first season of Sneaky Pete will be available for Prime members to stream and enjoy using the Amazon Video app for TVs, connected devices including Amazon Fire TV, and mobile devices, or online atAmazon.com/originals, at no additional cost to their membership. Customers who are not already Prime members can sign up for a free trial at www.amazon.com/prime. For a list of all Amazon Video compatible devices, visit www.amazon.com/howtostream.
About Amazon Video
Amazon Video is a premium on-demand entertainment service that offers customers the greatest choice in what to watch, and how to watch it. Amazon Video is the only service that provides all of the following:
Prime Video: Thousands of movies and TV shows, including popular licensed content plus critically-acclaimed and award-winning Amazon Original Series and Movies from Amazon Studios like Transparent, The Man in the High Castle, Love & Friendship and kids series Tumble Leaf, available for unlimited streaming as part of an Amazon Prime membership
Amazon Channels: Over 80 video subscriptions to networks like HBO, SHOWTIME, STARZ, PBS KIDS, Acorn TV and more, available to Amazon Prime members as add-ons to their membership – to view the full list of channels available, visit www.amazon.com/channels
Rent or Own: Hundreds of thousands of titles, including new-release movies and current TV shows available for on-demand rental or purchase for all Amazon customers
Instant Access: Instantly watch anytime, anywhere through the Amazon Video app on TVs, mobile devices, Amazon Fire TV, Fire TV Stick, and Fire tablets, or online. For a list of all compatible devices visit www.amazon.com/howtostream
Premium Features: Top features like 4K Ultra HD, High Dynamic Range (HDR) and mobile downloads for offline viewing of select content
In addition to Prime Video, the Prime membership includes unlimited fast free shipping options across all categories available on Amazon, more than two million songs and thousands of playlists and stations with Prime Music, secure photo storage with Prime Photos, unlimited reading with Prime Reading, unlimited access to a digital audiobook catalogue with Audible Channels for Prime, a rotating selection of free digital games and in-game loot with Twitch Prime, early access to select Lightning Deals, exclusive access and discounts to select items, and more. To sign-up for Prime or to find out more visit:www.amazon.com/prime.
About Amazon
Amazon is guided by four principles: customer obsession rather than competitor focus, passion for invention, commitment to operational excellence, and long-term thinking. Customer reviews, 1-Click shopping, personalized recommendations, Prime Fulfillment by Amazon, AWS, Kindle Direct Publishing, Kindle, Fire tablets, Fire TV, Amazon Echo, and Alexa are some of the products and services pioneered by Amazon. For more information, visit www.amazon.com/about.