This is a review of the first two episodes of the Apple TV+ sci-fi series, Foundation. View the trailer for the show below:
Based on the award-winning novels by Isaac Asimov, Foundation chronicles a band of exiles on their monumental journey to save humanity and rebuild civilization amid the fall of the Galactic Empire. Dr Hari Seldon (Jared Harris) leads his followers, including Gaal Dornick (Lou Llobell) and Raych (Alfred Enoch) on this lifechanging journey. David S. Goyer (The Dark Knight, Flashforward) is the showrunner on Foundation.
The opening two episodes of the series focus on Dr Hari Seldon and his reading of mathematics that he believes proves the upcoming end of the Galactic Empire. Seldon and his assistant Raych bring in Gaal Dornick, someone who has proven her ability to solve complex problems, in order to prove Seldon's theories. Foundation is full of politics at least in the opening couple of episodes.
Jared Harris (Chernobyl, Mad Men) is great as Hari Seldon, you don't really know if you can trust what he is saying or not. Is the Galactic Empire in trouble and if so, does Seldon really know how to slow down that inevitably? Perfect casting for such an enigmatic role.
Relative newcomer Lou Llobell (Voyagers) does a good job as Gaal Dornick. She portrays many different emotions throughout the opening episodes, being vulnerable, strong and intelligent. Gaal is a bit of a fish out of water but finds her place quickly. She's the emotional connection to the story, with many of the characters being fairly cold and unrelatable.
The Galactic Empire is ruled over by Brother Dawn, played by Cooper Carter (Beyond the After), Brother Day portrayed by Lee Pace (Guardians of the Galaxy, Pushing Daisies) and Terrence Mann's (Sense8, Critters) Brother Dusk. There is a lot of teaching to the young Brother Dawn, which I found a little tiresome. I could have down with less of that, hopefully as the series progresses that is phased out. Pace and Mann are very good in their roles.
The real draw of Foundation is how it looks. The visual effects and cinematography are excellent, the costumes are extravagant and the production design is beautiful. The craft team of Foundation did enough to keep me coming back. The show apparently has a massive budget and it's easy to see why.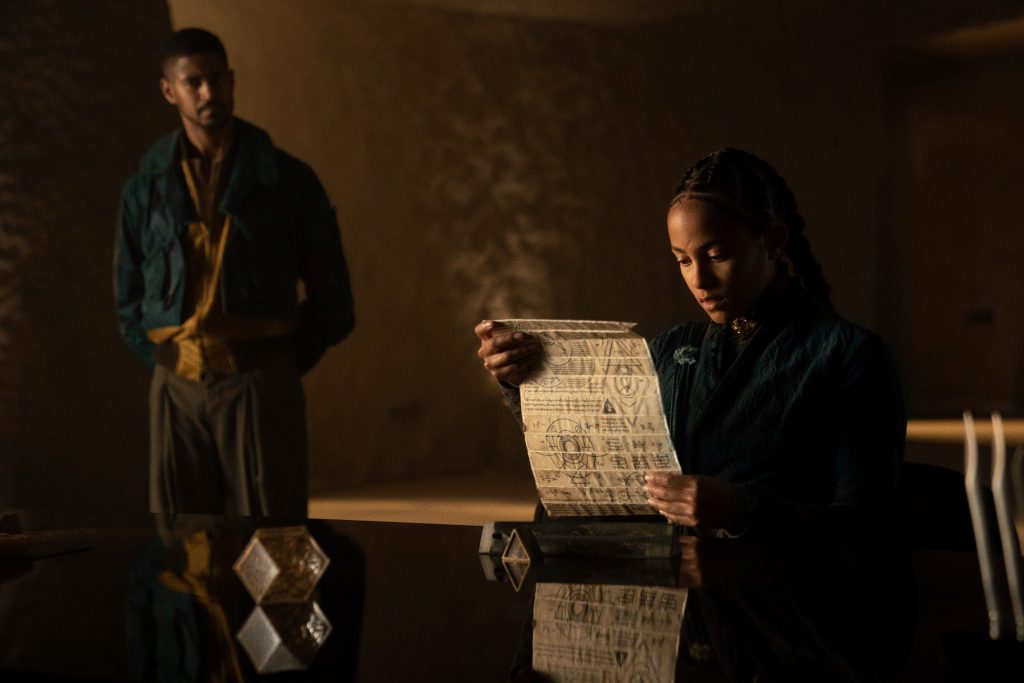 Bear McCreary (The Walking Dead, Godzilla: King of Monsters) is the composer for Foundation. The score isn't overused, they're not afraid of letting the script speak for itself. When it does appear, the score is pretty typical of space/sci-fi content. McCreary is a veteran of television and film and does a good job once again.
Both episodes have a dramatic conclusion, pushing you to tune in for the next episode. However, I did find that the episodes, both over an hour in length, dragged a bit. Both could have been edited down to help them flow and keep me hooked.
There is enough in the first two episodes of Foundation to get me to come back for more. I'm not completely sold on it due to the slowness of the episodes. It looks fantastic though and the cast is great. It's better than it should be for a show that has a base in mathematics.
The first two episodes of Foundation are released September 24th on Apple TV+, with a drop of one episode a week following that.