Marvel Comics today announced that their will be a Marvel chatbot giving fans the opportunity to get first looks, exclusive content and more. The release of the chatbot will coincide with the release of Marvel Comics' SECRET EMPIRE which will be released on May 3rd. More information below along with pictures courtesy of their press release.
Marvel Comics' Chatbot Allows Fans to Converse with some of their Favorite Marvel Super Heroes and Become Part of the Story
Marvel's chatbot offers quizzes, puzzles, first-looks, exclusive content, and helps you find your local comic shop through Facebook Messenger and Twitter DM
New York, NY—April 20, 2017— Today, Marvel is excited to announce, an all-new way to interact directly with the Marvel Universe, with Marvel's first chatbot. Timed with the release of Marvel Comics' SECRET EMPIRE fans will have the ability to directly chat with some of their favorite Marvel Super Heroes and be a part of the Marvel Universe through Facebook Messenger and Twitter DM. Powered by Conversable, this new chatbot experience presents a bold and exciting new way for fans to interact with some of Marvel's most popular heroes who are directly in the throes of Marvel Comics' SECRET EMPIRE!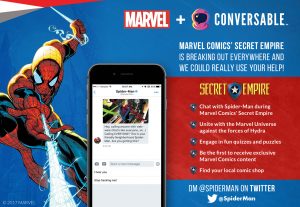 At launch, in support of Marvel Comics' SECRET EMPIRE event, the Marvel chatbot will allow fans the ability to converse with everyone's favorite neighborhood wall-crawler, Spider-Man!  Fans will also be able to engage in fun quizzes & puzzles, receive exclusive first-looks, and find their local comic shops.
"Marvel will always be on the forefront of exciting new ways for fans to experience the Marvel Universe," said Julie Gerola, VP/GM Marketing & Digital Operations. "We are so excited to debut a brand new way for our fans to engage directly with some of the Marvel characters during the events of SECRET EMPIRE and have the added ability to have their local comic shop's location sent directly to fans so that they can further explore the entire Marvel Universe."
The chatbot, produced in partnership with Conversable Inc., leverages natural language processing (NLP) and machine learning to engage users with an entirely unique adventure written by Eisner Award-winning author, Jim McCann.
"When it comes to loyalty and engagement, Marvel stands out as a leader. As consumers move to new platforms, it's more important than ever for brands to meet their audience where they are," said Ben Lamm, CEO of Conversable. "What Marvel is doing is a truly original way for such a creative organization to engage customers and tell stories through new mediums. Through the power of conversational intelligence, fans can go from bystander to fully immersed in the Marvel Universe and become part of the story."
All of this, plus much more, will be delivered directly to fans' mobile devices and desktops through Facebook Messenger and Twitter DM. What will you say to Spider-Man? What kind of Easter eggs will you be able to find? Find out this spring from Marvel Comics during the launch of SECRET EMPIRE in comic shops May 3rd.