Moebius Models are returning to San Diego Comic-Con, and once again they are bringing some pretty nice looking exclusives with them. You can find them at SDCC at their usual booth, #2946..
Update -They will be taking pre-orders for pickup at SDCC, the link to do it is not up yet, but if anyone wants to be on the list to be contacted when ready for order just drop then a line at moebius.specials@gmail.com 


Updated 6/12 
The Moebius Models Frazetta's DEATH DEALER Lapel Pins info was released today. It's a set of four and retails for $35 USD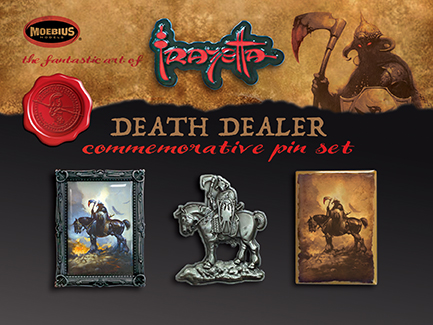 Based on the classic painting by legendary fantasy artist FRANK FRAZETTA, Moebius Models commemorates the famous DEATH DEALER painting with a set of four metal lapel pins, offered on a full-color card back. Each pin is crafted of high-quality metal and features a secure clasp on the back for attaching to clothing, purses and backpacks. The Frazetta signature pin features a black nickel finish with raised, high-gloss red letters, and is nearly 2" wide. The Death Dealer gothic frame pin features a dark metal finish frame surrounding a full-color image of the famous painting, and is a little over 1½"high. The Death Dealer sculpted pin features a low-relief, miniature sculpture of the famous image and is 1½" high. The exclusive Death Dealer parchment pin features the famous image rendered in antiqued sepia tones with a touch of red, on a bronze-colored metal backing and is 1½" high.
First up is  Frazetta's DEATH DEALER Signature Edition. It's a 1/10 Scale Model Kit and will go for $70 USD.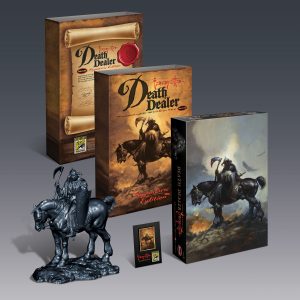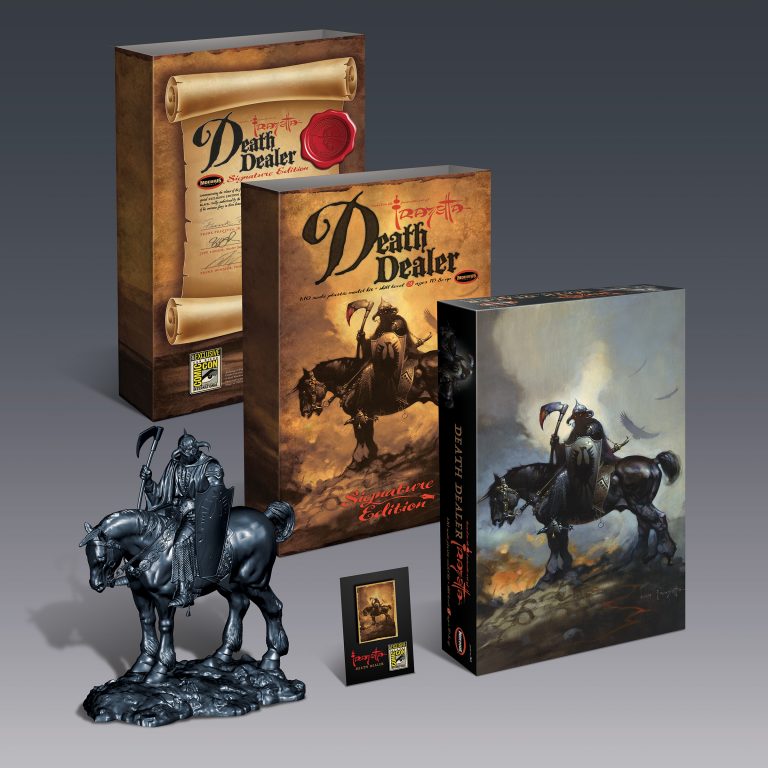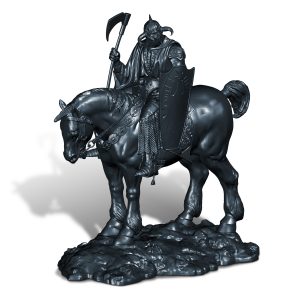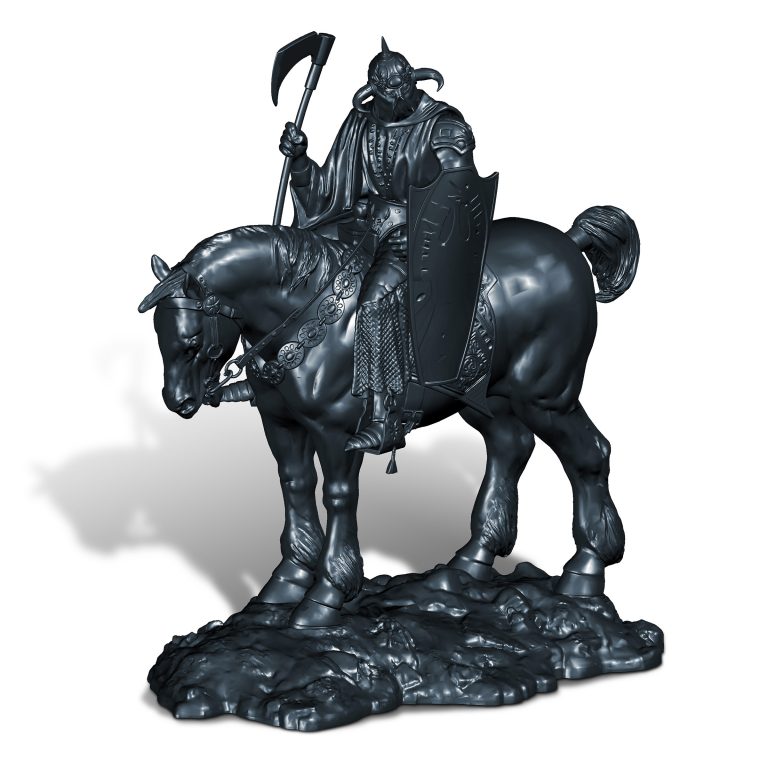 Based on the classic painting by legendary fantasy artist FRANK FRAZETTA, Moebius Models' styrene kit of the DEATH DEALER is a faithful recreation of the ominous character on his mighty steed, fully rendered in three dimensions. This exclusive SIGNATURE EDITION is part of an extremely limited release molded in Midnight Black, and includes a unique numbered signature sleeve signed by Frank Frazetta, Jr., son of the legendary artist; Jeff Yagher, master sculptor; and Frank Winspur, president of Moebius Models. Purchase includes an exclusive lapel pin featuring the DEATH DEALER in sepia-tone on a bronze-colored metal backing. This 1:10 scale, precision-tooled kit is approximately 10 inches tall fully assembled. The kit includes a detailed display base, real metal chains and complete assembly instructions. Cement and paint are required for assembly — not included.
This year they are bringing some SDCC exclusive pins, a Frazetta Death Dealer pin set (no pictures/details available of it yet, as soon as they are we will post them) and a 2001: A Space Odyssey HAL9000 lapel pin.
2001: A Space Odyssey HAL9000 Lapel Pin will sell for $8 USD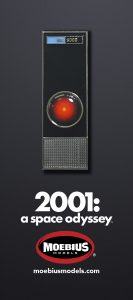 "Open the pod bay doors, Hal." The HAL9000 lapel pin commemorates Moebius Models' upcoming release of model kits based on the sci-fi classic 2001: A Space Odyssey. This precision-tooled metal lapel pin features accurate detail of the HAL9000 interface as seen on the spaceship Discovery, and is highlighted by an epoxy-coated red "eye" and enamel surface coatings. This detailed, 2-inch high lapel pin features a secure butterfly clasp — attach it to your clothing, laptop case, purse or backpack!
Lastly for their 2017 SDCC exclusives is a Batman v Superman BATWING 1/25 Scale Prefinished Model which will sell for $150 USD. 
No assembly required — this fully-painted and assembled styrene model of the BATWING is ready to display right out of the box! Based on digital visual effects files from Batman v Superman, Moebius Models' 1/25 scale model of the BATWING is a highly detailed, accurate recreation of this dynamic new addition to Batman's arsenal. The BATWING prefinished model features authentic details, including cockpit, landing gear and removable forward gun housing. Made of precision-tooled, high-impact styrene and featuring highly detailed, professional paint application, the BATWING is over 17 inches long and 17 inches wide. Purchase of this exclusive item includes a durable, reusable screen-printed carrying bag, graphical 2-color outer carton and collectible full-color illustrated packaging.