Earlier today, Telltale Games and Mojang announced that the next episode in their Minecraft: Story Mode game is now in development and is set to premiere with the first episode for download starting July 11, 2017 for Xbox One, PlayStation 4, PC, Mac, iOS, and Android-based devices. More information below and art work courtesy of their press release.
The Cast and Characters Return for Five All-New Episodes of the Adventure Game Series Set in the Minecraft Universe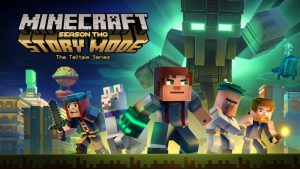 SAN RAFAEL, Calif., and STOCKHOLM, Sweden, June 7th, 2017 — Award-winning developer and publisher of digital entertainment Telltale Games and world-renowned game developer Mojang today announced that Minecraft: Story Mode – Season 2 is in development and set to premiere with Episode 1: Hero in Residence for download starting July 11, 2017 on Xbox One, PlayStation 4, PC, Mac, iOS, and Android-based devices.
Minecraft: Story Mode – Season 2 continues Jesse's saga in a five-part, narrative-driven, episodic game series developed by Telltale in collaboration with Mojang and members of the Minecraft community. Though players' choices from the first season will carry over into season two, this new season will be accessible to both returning fans and newcomers alike. This second season will also include Telltale's unique multiplayer 'Crowd Play' feature, which allows friends and family to engage with the adventure together by helping to decide the direction of the story from any mobile device with an online connection.
Now that Jesse and the gang have vanquished the Wither Storm, saved the world, and become totally super famous heroes, life has gotten a bit more…complicated. With more responsibilities and less time for adventure, old friendships have started to fade — at least until Jesse's hand gets stuck in a creepy gauntlet that belongs to an ancient underwater temple. Together with old pals and new comrades alike, Jesse embarks on a brand new journey filled with tough choices, good times, and at least one temperamental llama.
This season will feature voice work from Patton Oswalt, Catherine Taber, Ashley Johnson, and Scott Porter, as well as cameos from Stampy Cat, stacyplays, and other personalities from the Minecraft community on YouTube. Additional casting details for the season are yet to be announced.
Season one of Minecraft: Story Mode was met with widespread critical acclaim. Polygon declared the series "a grand adventure in the universe of Minecraft," while Wired UK said it "brilliantly channels its source material." Kotaku UK called it "a triumph." The Guardian said the series "will delight Minecraft veterans young and old alike," while GameSpot called it "a charming, winning adventure for both fans and newbies to the world of Minecraft."
Minecraft: Story Mode – Season 2 will be a standalone product separate from both the core Minecraft game and season one of Minecraft: Story Mode. Season two will be available for download on Xbox One, PlayStation 4, PC, Mac, iOS, and Android-based devices. A retail version on disc will become available this fall. The series is currently in development and has not yet been rated by the ESRB.
###
About Mojang
Mojang AB is a Microsoft-owned games studio based in Stockholm, Sweden. We're responsible for the relatively popular video game Minecraft. We also created the card-collecting tactical battler Scrolls, and have dabbled in publishing with Oxeye Game Studio's awesome side-scrolling robo-blaster Cobalt. We're developing more games, too, but we're not ready to talk about those quite yet.
About Telltale, Inc.
Telltale is a leading independent developer and publisher of games for every major interactive platform, including PC, home consoles, and mobile devices. It also pioneered the episodic delivery of digital gaming content.
Founded in 2004 by games industry veterans with decades of experience, Telltale quickly became an industry leader, with numerous honors and awards from the Academy of Interactive Arts and Sciences, BAFTA, IMGA, and more. In 2012, Telltale was named Studio of the Year after establishing a model for successful episodic game creation and digital publishing.
Telltale's reputation for quality has been established across more than three dozen different product releases over the years, earning acclaim from publications like IGN, The New York Times, and Variety, as well as over 100 "Game of the Year" awards. Telltale is a fully licensed third party publisher on consoles from Microsoft, Sony, and Nintendo, and also publishes games on the PC, Mac, and Apple iOS platforms. For more information, visit
www.telltalegames.com
.