I remember meeting last year Bryan, co-Founder of Identity Comic Studios along with his partners Jerry and Penelope Gaylord in Artist Alley at Awesome Con.  Talking to the artists in Artist Alley, especially those that come every year to the convention, is always a highlight for me.
It's so cool to see him featured as a special guest this year!   Turner will be running two panels, one being a workshop for kids for Awesome Con Jr. Here is more detail regarding his panels from Awesome Con's website:
Representation Matters
6/16/2017 / 3:30 PM – 4:15 PM / 152
How important is it to see characters and creators that look like you? Join Identity Comics Studio and the Loading Snacks Crew for a discussion on diversity in media, from the characters in the stories to the creators behind them.  Panelists: Jerry Gaylord, Penelope Gaylord, Bryan Turner
Rated G
Stories and Skills From a Storyboard Artist with Bryan Turner
6/17/2017 / 4:00 PM – 4:45 PM / Awesome Con Jr.
Bryan Turner has worked on several of your favorite animated series including Spider-Man, Guardians of the Galaxy, and DC Superhero Girls. In this workshop, he will discuss the making of an animated series and share some tips on drawing super cool characters.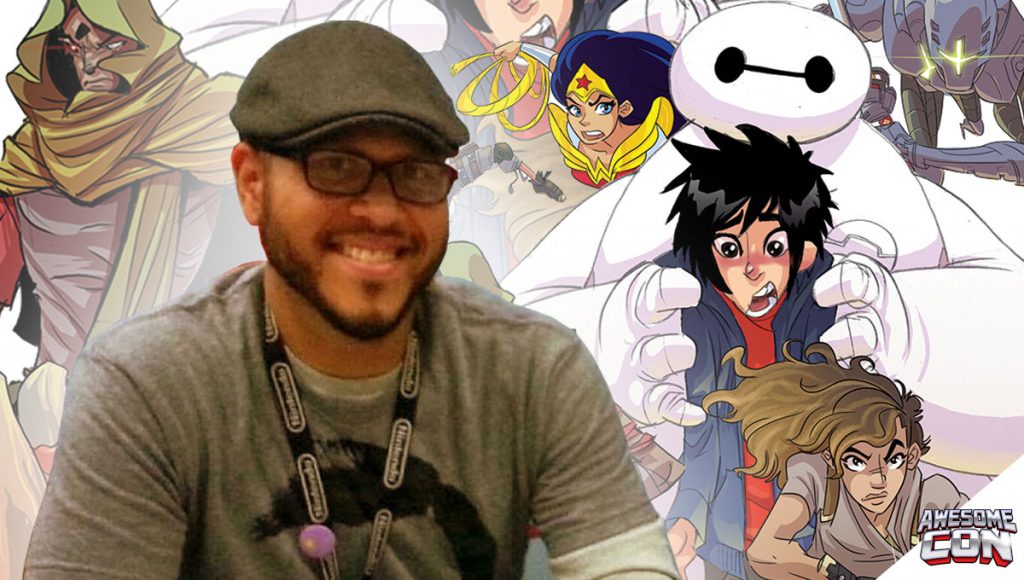 When Turner is not running around the con you can find him with the Gaylords in Artist Alley P3-P5.  Before the craziness of the con, Turner was kind enough to answer a few of my questions. Enjoy!
What did you like about Awesome Con last year?
My favorite thing about Awesome Con EVERY year is the huge swell of fans and con goers! The love and support is really what makes me tick at cons! And again, every year, the Awesome Con fans prove to be some of the most loyal and exciting fans that I encounter throughout the Con season.
Is this your first time holding a workshop for kids? If so what are your expectations?
It is my first by myself! I expect to have a great time with the kids in a good back and forth conversation
Do you think you may learn something from the kids during that experience?
I'm sure I'll lean a lot from the kids! They can always teach us how to be humble and really stay young and enjoy what we love doing!
The Blueprint 2 Kickstarter got funded last year! Congrats! What updates can you give regarding the project?
The Blueprint 2 is selling very well on the Con circuit! We also offer them online. In the book, we have set a timeline for the projects to continue. Currently, my series Return of the Way is in production as well as Hyperboy, by my studio mate Jerry Gaylord. They are both slated for release later this year! You can follow our progress on Identitycomics.com, or our respective, individual social media accounts.
How old were you when you got the drawing bug?
Oh goodness… I've been drawing since I was about 4 years old. Pretty much as long as I can remember. Its all I've done all my life.
What does being a story artist entail vs. being a comic artist? What are the major differences other than one is on TV vs digital/paper?
They are similar but also very different. A comic artist is very locked in on the imagery they have to create to tell the story. So jamming as much information into several panels on a page, using layout, space, and dimension. A story artist has a bit more freedom to explore the space and layout, as they are able to spread the storytelling over many more panels using a more open space and time-frame. In comics you must capture a scene within a limited number of panels.
In story, you have time and frames of animation to develop the scene. At this point, both professions using digital medium to complete the tasks. Comics, obviously, still rely heavily on pencil, ink, and paper, however many artists like myself have turned to digital means, due to quicker turnaround, and the ability to edit in a more productive way. In my experience with Animation, it has ALL been digital. Aside from the notes, or thumbs I may create, when figuring out a storyboard sequence. The end product is digital. With most companies relying on overseas production, digital files are the fastest and most cost effective methods of transfer.
As a story artist, do you usually work on every episode of the animated series or a few?
There are so many episodes in an animated series, that they have to have a TEAM of artists and producers on EVERY episode, in order for it to be timely. So many story artists will tackle one episode, to make the load fair and workable for everyone.
What is the average time to work on an animated episode?
My time as a story artist is roughly 4 weeks per episode. Usually 2 weeks for roughs and notes, then another 2 weeks for cleanups and any additional notes to complete my section.
What was your favorite comic and animated series as a kid?
My favorite comic as a kid was Spider-Man! Spawn was up there for a second… but Spider-Man was always the most fun for me. My favorite animated series would have to be a combination of GI Joe and Transformers. To me they were interchangeable. I would always pit the Joes against the Transformers in my daily toy battles in the dirt and grass of my backyard! Those series were the staples of most boys' childhoods in the '80s for a reason!
How did Identity Comics Studio get started?
Well Jerry Gaylord and I met working at Six Flags around 2004. We were both doing caricatures at the time, and Jerry was ready to start working on his own comics. We immediately had a mutual respect for each other that would ultimately lead to us being best buds.
So we, along with his talented wife Penelope, decided to take our talents to the next level and start our own indie publishing company. The first books we self-published were Hyperboy (Jerry), Bounty Hunter Kai (Penelope), and Return of the Way (me).
Of the guests that will be attending Awesome Con, which one would you want to stop by the Identity Studios booth?
Honestly, I know it would never happen, but… Stan Lee would probably make my entire con season, if he were to stop by! I've had the honor of meeting him before, at another show, and he was such a delight! He just means so much to the industry and to my son, frankly, that it would just be awesome to experience his charm again.
What are you looking forward to the most about attending conventions, Awesome Con in particular?
I'll say again… that it's truly about experiencing the fans, and meeting new fans, and make THEM feel good about being involved in the arts and pop culture. Knowing you had a tiny bit of involvement in THEIR experience makes it all worthwhile!
I'll need to make sure I get a selfie with Turner while I'm there.