DKE has started to roll out their exclusives for San Diego Comic-Con 2017. The first wave is 3 figures from RYCA. More waves will be announced so keep an eye on this page for more updates.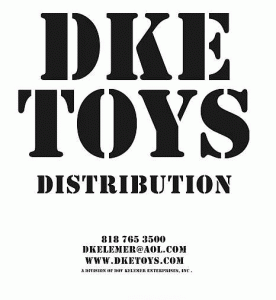 Updated wave 2 – 7/8/17
Yoclops by Little Lazies

This is one of the most special exclusives DKE has ever had. Each piece has been hand sculpted by Leah Lester of Little Lazies. 
No two are exactly the same but they are so close to one another that it's kind of hard to imagine that they aren't cast and she made 50 of them!!! 
They are signed and numbered on the bottom of the figure and carded in a package she designed and are only $55.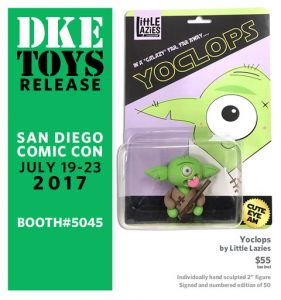 Bio: Little Lazies are weird, little, clay creatures made by Leah Lester, a monster maker living in Seattle, WA. How did it all start? Leah was a full time cake decorator who very much enjoyed sculpting out of edible paste for the cakes she created. One sunny day in June 2010 she said to herself, "I want to make a monster for the top of this cake!" So she did just that… Soon after, her friends started encouraging her to create these characters into clay; something that they could keep for a lifetime. So with that, Leah bought some clay and with lots of practice, experimenting, character developing and imagination her monsters evolved into what they are today – the Little Lazies! Shop link – littlelazies.com 
Instagram @littlelazies
Bio: From Fort Worth, Texas, Jason is an approved Lucasfilm artist (Topps Star Wars sketchcards), Marvel artist (Upper Deck sketchcards), and has done cover work for BOOM!- Studios (Bravest Warriors).  Influenced by early punk rock, Jason employs DIY style that uses hand cut stencils, spray paint, and markers to create unique original pieces.  When he's not spray painting, Jason also works in the custom toy world creating hand poured resin action figures.
Instagram: art_of_jason
Twitter: @artofjason
Website: www.orange-thirteen.com
Boss Vaderus Maximus Pin by DrilOne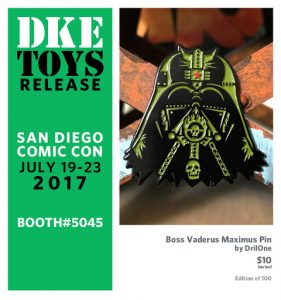 DrilOne made a Vader helmet a few years ago for DesignerCon that was a Mad Max mash up. He turned that image into a pin. This is the "Soviet Era" color way with a red star on the forehead. Limited to 100 pieces. $10 each.
Instagram @DrilOne
Wave 1 – RYCA – 7/7/17
Bio: Ryan Callanan a.k.a RYCA has long since been one of the most sought after artists at artrepublic. He burst onto the scene back in 2006 with his Star Wars inspired print, Reservoir Troopers (red) that sold out at in astonishingly quick time. In May of the same year thieves broke into the gallery and stole the same piece, believing it to be a Banksy. The artist told us at the time that he was quite chuffed with the mistake. He graduated from art school in 2002 and was inspired to create his first print, Ona Islam after visiting the acclaimed London exhibition of Banksy works, 'Santa's Ghetto' in 2006. Other sources of inspiration include cult classics, the Star Wars franchise, Pop Art, and the Renaissance. uDrawing inspiration for his career as a 3D sign writer, RYCA incorporates a wide use of materials including resin and glass into his sculptural pieces. With his in-depth knowledge of materials and craftsmanship he is currently working on new projects with hip-hop song lyrics alongside numerous public commissions. RYCA made headlines when he realized his 'Acid Cup', a handcrafted replicate of the World Cup trophy, to coincide with the 2014 tournament in Brazil. Big Beat DJ and Brighton hero Fatboy Slim loved RYCA's sculpture so much he took one on tour with him as he played a host of huge gigs around the country. He has exhibited worldwide and enjoyed a number of highly successful solo shows, also collaborating with a number of well respected artists including Ben Eine, David Walker and Stik.
========================================================================
I Am A Man by RYCA

UK based street artist RYCA is one of the more prolific artists in the resin game. We never shy away from political statements with what we carry and this is no exception. One of the most powerful pieces we have had.  

Hand cast and painted 3.75″ carded figur

e. Signed and numbered edition of 30. $55 tax included.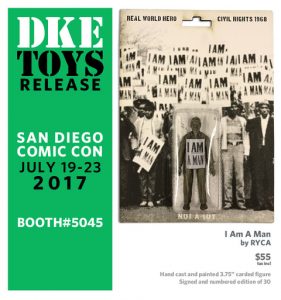 ========================================================================
Wampapi by RYCA

Our third and final entry from RYCA is a blinged out take on the 6″ vintage Kenner toy. A whole lot of resin for $80. Signed and numbered edition of 25.  
Hand cast and hand painted. RYCA also silk screens and die cuts his own card backs as well as make his own blisters. 



Wampapi has real 23.5kt gold leaf and a Swarovski crystal!