What Happened to Monday is a sci-fi action thriller, directed by Tommy Wirkola who is best known for (the critically panned) Hansel And Gretel: Witch Hunters. What Happened to Monday was on the Black List, a list of the best unproduced screenplays in Hollywood. It was originally written for a male lead but Wirkola felt sisters would make for a more interesting film.
The official synopsis of What Happened to Monday is as follows:
In a not so distant future, where overpopulation and famine have forced governments to undertake a drastic "One Child Policy," seven identical sisters live a hide-and-seek existence pursued by the Child Allocation Bureau. The Bureau, directed by the fierce Nicolette Cayman (Glenn Close), enforces a strict family-planning agenda that the sisters outwit by taking turns assuming the identity of one person: Karen Settman (Noomi Rapace). Taught by their grandfather (Willem Dafoe) who raised and named them Monday, Tuesday, Wednesday, Thursday, Friday, Saturday and Sunday – each can go outside once a week as their common identity, but are only free to be themselves in the prison of their own apartment. That is until, one day, Monday does not come home…
The trailer for What Happened to Monday:
The success of a film like this depends a lot on the quality of the visual effects and sadly I don't think they're good enough for a film that is getting a cinematic release in certain territories. Perhaps I have high standards due to Orphan Black's near perfect clone rendering. The visual effects companies working on What Happened to Monday have worked on big films like Captain America Civil War, but having seven versions of Noomi Rapace on screen at the same time is a different task. There are some errors and I didn't believe they were ever in the same place at the same time.
The seven sisters all have different hairstyles (they wear a wig when they go out as Karen) and very different personalities. I did struggle to remember which was which. It would have been better if there were five sisters, so each would get more screen time, but obviously you then lose the weekday name hook. Noomi Rapace obviously spent a lot of time crafting the characters but we didn't get chance to see that hard work and it felt like a wasted opportunity.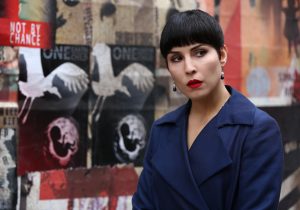 Having said that, it is a credit to the script and Noomi Rapace that I was swept up by the action and really enjoyed the film. There are some obvious twists but also some I didn't see coming. There are some convenient plot mechanisms that didn't make much sense but I didn't care, it was entertaining regardless. As a TV movie, What Happened to Monday gets the job done and is something I would watch again. Noomi Rapace is a kickass lead, she can handle both the action and emotional moments with aplomb.
Glenn Close plays the villain, tapping into her Damages persona to bring a little crazy to the evil. She is a reliable performer and although Close isn't in the film a lot, she makes her presence felt. Likewise, Willem Dafoe has a small but important role in What Happened to Monday as grandfather to the seven sisters. Clara Read who plays the young Monday, Tuesday etc. does a good job in a role that asked a lot technically on top of playing seven different characters.
What Happened to Monday has the theme of overpopulation but doesn't really get into the subject like it could have done. This is a popcorn movie rather than a deep dive on the future of the planet.
I highly recommend What Happened to Monday, it's not perfect but it is much more entertaining than I was expecting. If you go with it and try not to poke holes in the imperfections, you'll find it a lot of fun.
What Happened to Monday is available to stream on Netflix in certain territories on Friday August 18th (including US and UK). The film is getting a cinematic release in some countries (including most of Europe) instead of being released on Netflix. This is due to sales prior to the streaming service involvement with distribution. Also, it has been renamed Seven Sisters in some countries. Check your local Netflix/listings for details.