CBS has provided the deets on the panels and activities they are bringing to Comic-Con!  Some of their panels, like revamped shows Magnum P.I. and CW's Charmed, will include a world premiere screening of the pilot and panel discussion.
CBS's All Access streaming service is bringing Kevin Williamson's new psychological thriller, Tell Me A Story, to Ballroom 20 with a screening and panel discussion with the cast. Meanwhile Star Trek: Discovery, will be in Hall H Friday, with classic Twilight Zone finishing the evening with a marathon of fave episodes in room 6A.
CW's Crazy Ex-Girlfriend ironically will make their debut at Comic-Con to celebrate the final season, including a sold out live concert at the Horton Grand Theatre. So far there is no information about signings. Stay tuned though as we will update as soon as we know.
Check out the panel information and outside activities and promotions down below provided by the press release.  There will be swag! What are you most excited about? Sound off below in the comments!
DETAILS ON PANELS AND EVENTS (in chronological order):
THURSDAY, JULY 19
"CHARMED" EXCLUSIVE SCREENING AND PANEL, 11:15 AM–12:15 PM, BALLROOM 20 – The iconic CHARMED is back just in time to celebrate its 20th anniversary. This reboot of the original series centers on three sisters in a college town who, after the tragic loss of their mother, discover they are powerful witches. Between vanquishing supernatural demons, tearing down the patriarchy and maintaining familial bonds, a witch's work is never done.
Please join series stars Melonie Diaz, Sarah Jeffery, Madeleine Mantock and Rupert Evans, along with producers Jennie Snyder Urman, Jessica O'Toole and Amy Rardin, for an exclusive sneak peek of the first episode of The CW series followed by a panel discussion.
#Charmed #SDCC
"TELL ME A STORY," 12:15–12:45 PM, BALLROOM 20 – Step into the world of TELL ME A STORY, the latest project from the brilliant mind of Kevin Williamson. In this reimagining of the world's most beloved fairy tales, see "The Three Little Pigs," "Little Red Riding Hood" and "Hansel and Gretel" come to life as dark and twisted psychological thrillers interweaving with each other against the backdrop of modern day New York City.
Join executive producer Kevin Williamson, as well as series stars Paul Wesley and James Wolk, for an exclusive sneak peek of the CBS All Access series followed by a panel discussion. Moderated by the editor-in-chief of Entertainment Weekly, Henry Goldblatt.
#CBSAllAccess #SDCC
"MAGNUM P.I." EXCLUSIVE SCREENING AND PANEL, 4:15–5:30 PM, ROOM 6A – MAGNUM P.I. is a modern take on the classic series starring Jay Hernandez as Thomas Magnum, a decorated former Navy SEAL who, upon returning home from Afghanistan, repurposes his military skills to become a private investigator. A charming rogue, an American hero and a die-hard Detroit Tigers fan, Magnum has Juliet Higgins and her Dobermans to keep him in line, as well as his trusted buddies and fellow POW survivors TC and Rick when he needs backup on a job. With keys to a vintage Ferrari in one hand, aviator sunglasses in the other, and an Old Düsseldorf longneck chilling in the fridge, Thomas Magnum is back on the case!
Please join series stars Jay Hernandez and Perdita Weeks and executive producers Peter Lenkov and Eric Guggenheim for an exclusive sneak peak of the premiere episode of the new CBS series followed by a panel discussion.
#MagnumPI #SDCC
"CRAZY EX-GIRLFRIEND": THE FINAL CURTAIN CALL, 5:45–6:30 PM, ROOM 6A – As the critically acclaimed CW series enters its final season, come celebrate and take a trip down memory lane with co-creators Rachel Bloom and Aline Brosh McKenna as they look back on some of the series' most memorable moments and talk about what's ahead for Rebecca Bunch. The panel will be moderated by series guest star Michael McMillian and will include a special performance and never-before-seen footage.
#CrazyExGirlfriend #SDCC
FRIDAY, JULY 20
"STAR TREK: DISCOVERY" PANEL, 1:30–2:30 PM, HALL H – Over 50 years ago, the world was first introduced to what would quickly become a cultural phenomenon. "Star Trek" inspired developments in science and technology, broke social barriers, and transported viewers around the globe to new adventures and uncharted frontiers. Last fall, STAR TREK: DISCOVERY continued that tradition and followed the voyages of Starfleet aboard the U.S.S. Discovery. Join the cast and producers of this CBS All Access series to look back on season one and find out where the crew is headed as it transports into its second season.
Cast members scheduled to appear include Sonequa Martin-Green, Doug Jones, Shazad Latif, Mary Wiseman, Anthony Rapp, Wilson Cruz, Mary Chieffo and Anson Mount alongside executive producers Alex Kurtzman and Heather Kadin. The panel will be moderated by series guest star Tig Notaro, who will appear as Chief Engineer Reno.
#StarTrekDiscovery #SDCC
"THE TWILIGHT ZONE" MARATHON SCREENING, 7:15–9:15 PM, ROOM 6A – THE TWILIGHT ZONE new original series will be coming soon to CBS All Access in a modern reimagining of the iconic series that took viewers to another dimension, a dimension not only of sight and sound but of mind. It was a journey into a wondrous land of imagination for five years on CBS, from 1959-1964. The godfather of sci-fi series, the show explored humanity's hopes, despairs, pride and prejudice in metaphoric ways conventional dramas could not. Please join us for a special marathon screening and a look back at some of the fan-favorite episodes from the original series. Concessions and an exclusive giveaway item will be provided.
#CBSAllAccess #SDCC
SATURDAY, JULY 20
"CRAZY EX-GIRLFRIEND LIVE" STARRING RACHEL BLOOM, 7:30 PM, BALBOA THEATRE – The cast of the CW's award-winning musical dramedy CRAZY EX-GIRLFRIEND is taking their show on the road in this live tour. Join Rachel Bloom, the rest of the cast and the CRAZY EX-GIRLFRIEND songwriters as they bring the show's songs to life in this very special live concert event. This is a ticketed event and is currently sold out. For more info, please visit: https://sandiegotheatres.org/rachel-bloom/
Outside Activities and Promotions
CBS COMEDY CARS – From Thursday, July 19 through Sunday, July 22, CBS will offer complimentary rides throughout the Gaslamp District in branded electric cars. Featured shows will include the new fall comedies THE NEIGHBORHOOD and HAPPY TOGETHER. Trailers of the series will be screened for the passengers in those cars as well. Brand ambassadors will distribute giveaways making their debut at Comic-Con, including a variety of collectable emoji squeezies for THE NEIGHBORHOOD and HAPPY TOGETHER.
"MAGNUM P.I." TAKEOVER – On Thursday, July 19, CBS will cruise the streets of Comic-Con in a branded Ferrari 488 to promote the return of MAGNUM P.I. Brand ambassadors will distribute red sunglasses and Hawaiian leis.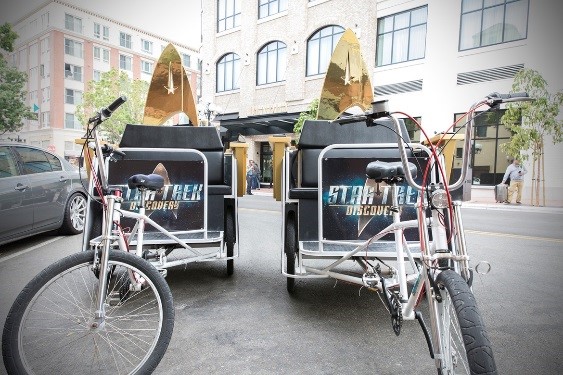 "STAR TREK: DISCOVERY" PEDICABS – From Thursday, July 19 through Sunday, July 22, CBS will offer free "intergalactic" rides throughout San Diego's Gaslamp District in pedicabs inspired by the design of the U.S.S. Discovery's captain's chair. The pedicabs will feature the chair's distinctive stitched black seats as well as video monitors built into its armrests, which in this case will screen trailers for the highly anticipated second season of the show. As an added touch, each vehicle will display an illuminated U.S.S. Discovery delta shield on the back.
"STAR TREK: DISCOVERY" MIRROR UNIVERSE GALLERY TAKEOVER – CBS is creating a fully immersive STAR TREK: DISCOVERY Mirror Universe experience at the Michael J. Wolf Fine Arts Gallery (363 Fifth Avenue, San Diego); Comic-Con badges are not required for entry. The exhibit, scheduled to run from Thursday, July 19 through Sunday, July 22, will feature a photo opportunity with Emperor Georgiou's throne and will showcase props and costumes from the series' Terran Empire. The gallery will also house an official "Star Trek" shop with Comic-Con exclusives.
Exhibit Hours:
| | |
| --- | --- |
| Thursday | 11:00 AM to 9:00 PM |
| Friday | 11:00 AM to 9:00 PM |
| Saturday | 11:00 AM to 9:00 PM |
| Sunday | 11:00 AM to 5:00 PM |