(Part I of our coverage of the new season of Better Call Saul)
Warning: The following contains spoilers for Season Three of Better Call Saul
When we last left the world of Jimmy McGill (Bob Odenkirk) on AMC's acclaimed series, Better Call Saul, Jimmy had won a Pyrrhic victory over his older brother, the meticulous, arrogant Chuck (Michael McKean), who had been trying to get Jimmy disbarred, and had schemed to finally get his share of the Sandpiper settlement. Fellow lawyer and girlfriend Kim Wexler (Rhea Seehorn), having overworked herself, got into a serious car accident and decided to take a leave of absence from work, leading Jimmy to reconsider what he was doing and put her needs first. Jimmy tried to mend the relationships between the ladies at Sandpiper he helped destroy, but they ignore him, which results in Jimmy arranging for the ladies to "overhear" him admitting how he committed fraud. The settlement is canceled, leaving Jimmy without his expected $1 million share. Howard Hamlin (Patrick Fabian) finally forces Chuck out of their law firm. After Jimmy's attempt to mend fences with Chuck is coldly rebuffed by Chuck, Chuck's "allergy" to electrical devices re-manifests, and he winds up committing suicide in a truly awful way.
Meanwhile, Mike Ehrmantraut (Jonathan Banks) began working for Madrigal on the recommendation of Gus Fring (Giancarlo Esposito), while Nacho (Michael Mando), also working with Fring, managed to swap out Hector Salamanca's (Mark Margolis) heart medication with fake pills, and then swap back to real pills when Hector had a heart attack due to stress from his competition with Fring.
It's all very serious, heady stuff for a character who started out as more-or-less comic relief on Breaking Bad, from which Better Call Saul emerged. It's also brought a new theme to the show, that of the ways different people confront and deal with grief, which emerged during a press conference at San Diego Comic-Con 2018 that was attended by co-creators/co-showrunners Vince Gilligan and Peter Gould, and stars Odenkirk, Seehorn, Fabian, Mando, and Esposito (Banks was absent due to having surgery).
For Odenkirk's Jimmy, grief may not be an emotion he will feel upon learning of Chuck's death. "[T]he whole [fourth] season is kind of the reverberations of that incident of Chuck killing himself, and I feel like because of that scene that happens the night before when Chuck told Jimmy, 'I never really cared about you one way or the other—you just never meant much to me at all,' that colors the whole impact of Chuck's death. To Jimmy, I think he walked out of the room and he kind of compartmentalized Chuck and wrote him out of his life the night before he died.
"Chuck said some really cold stuff and he really seemed to mean it—he wasn't emotional or anything, he just seemed to be matter-of-fact about it," Odenkirk continued. "So for me, Jimmy's written Chuck out of his life, and he's not gonna let Chuck's death weigh him down."
Odenkirk admits that Gould might see it differently: "I talked about how I feel like there may be some dichotomy that played out perfectly fine this season, in that I perceived Jimmy as having kind of disowned Chuck when that conversation happened the night before Chuck's death," he said. "Jimmy had kind of compartmentalized Chuck and said 'I'm not going to let this guy ever affect me,' so when Chuck dies the next day, that is where his head is at.
"It is really about how people grieve which is what we talked about; Rhea and I talked a lot about this and people grieve in very unique, idiosyncratic ways and you can't call one way right and one way wrong," Odenkirk said.
"I think that's exactly right," Gould responded. "The greatest moments for me on the show are when the characters surprise me, surprise us in the writer's room, surprise us on the set, and I will say that the way Jimmy grieves, his process, is some of the most surprising material we have ever worked on. It is very complex."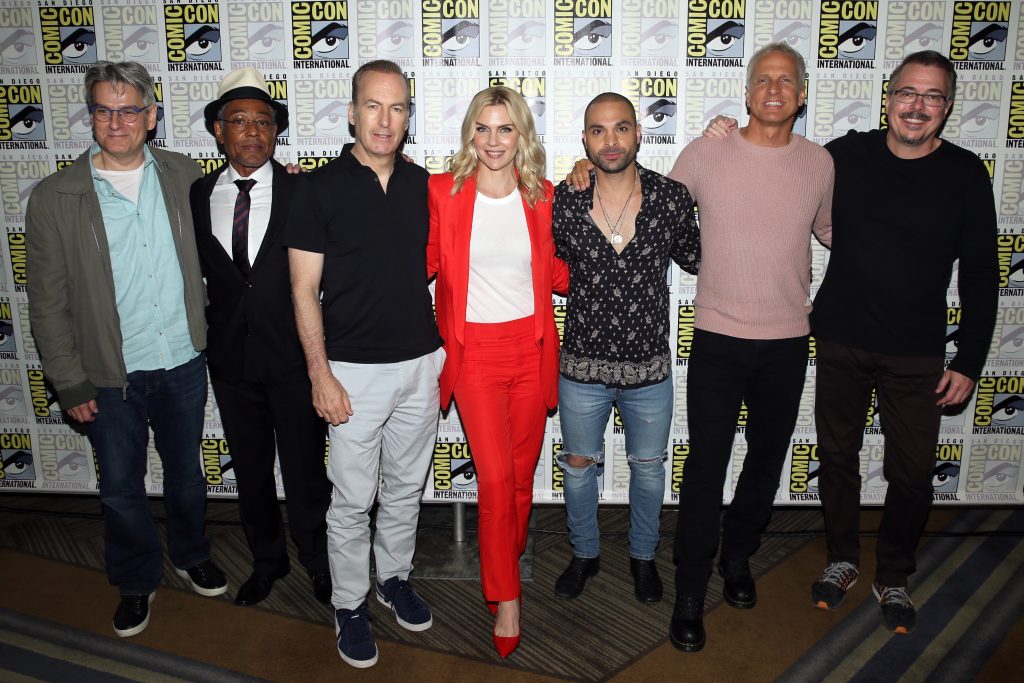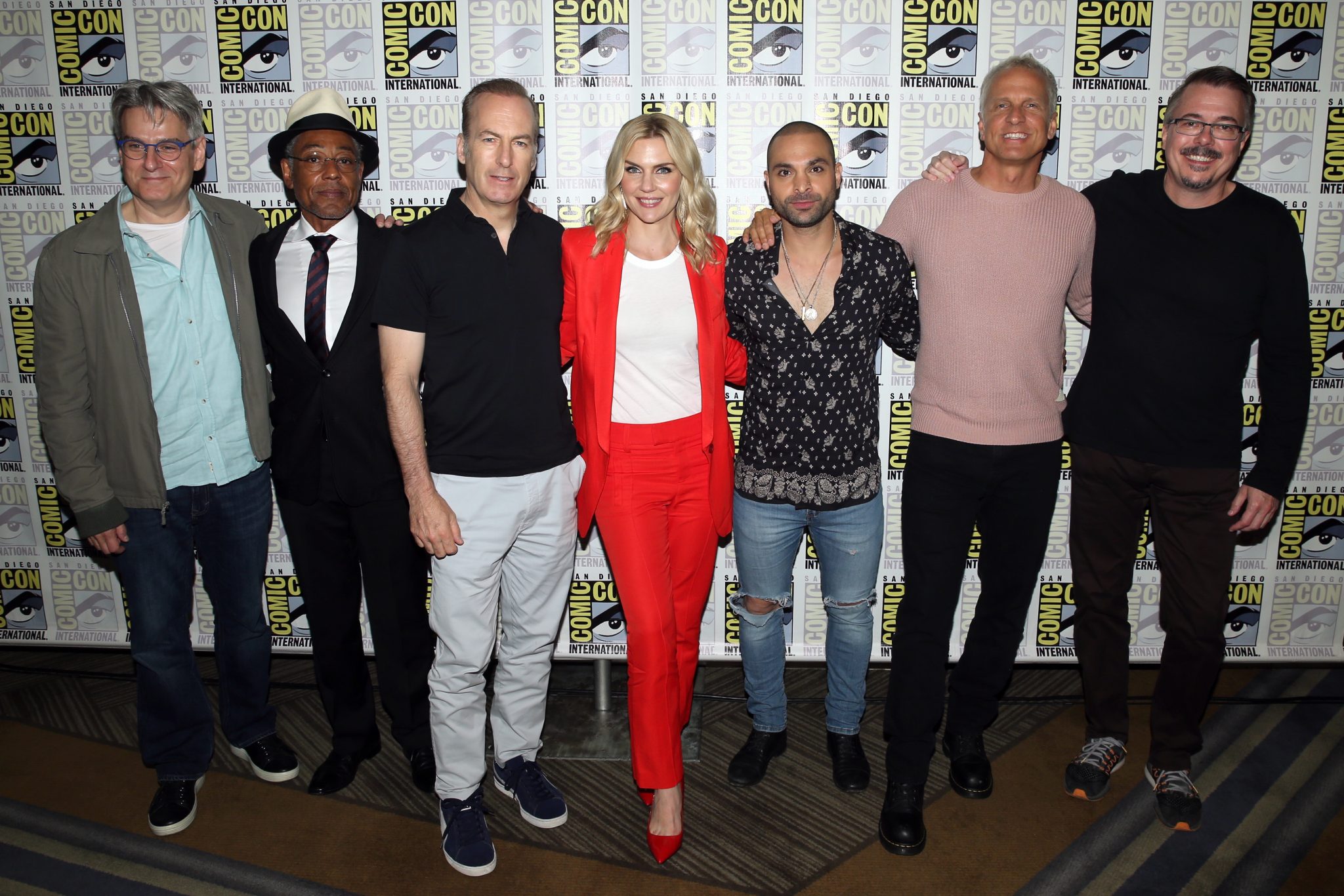 Gould also stated there's something else that "fascinates" him about the new season. "I want to make sure that it doesn't sound too heavy because […] Bob makes me laugh every day in the editing room. [T]his is a very dramatic season, but it is also a season that has, at least part of it, the effect that someone who is dead still has on the living—not in terms of being a literal ghost, but when you lose someone physically, you haven't lost them from your mind, you haven't lost them from your heart. The effects of people who are gone lingers.
"I take some of my own personal experience," Gould said, adding, "My father died, literally, before I was born, and the impact that his life and his work had on me is enormous even though I never met him.  [O]ne of the things that we were all thinking about and talking about in the writers' room, about this effect on Jimmy—and I'll say that Jimmy McGill is, boy, he is a fun character. He is somebody with a zest for life. He is somebody who likes to move, he's someone who has passion, but there is a lot more to him than meets the eye. [I]f we agreed on everything instantly, then we'd be doing something wrong."
Odenkirk said they agree on one thing: that "Chuck's life and death resonates through the rest of [Jimmy's] life—it's never gone from his universes, his interior universe."
Odenkirk also noted that we'll see a lot of Jimmy and Kim in the new season, saying that "the next person in his world that's most important to him is Kim. Chuck was important to her, too, so she has to also deal with Chuck disappearing in flames."
Seehorn concurred. "We did have a lot of conversations about the process of grieving. If you've ever been a supporter of someone who's grieving or their support system, there is a question of when you tell someone that their behavior needs to stop, whatever their coping mechanism is," Seehorn noted. "We had a lot of very interesting conversations, and I think it will be fun to see viewers and fans figure out what is accessible, what is strange, [and] what is odd," she said, adding that "it is also individual to the characters in their states."
Seehorn said that Jimmy is grieving in a way some may find "unacceptable," noting that "because someone is grieving, it starts to open up your mind to how to be someone's support system through that, and what exactly is strange behavior while he is also in this gradual devolution to becoming Saul. It was a very interesting jigsaw puzzle for me to figure out—what is odd behavior and what is not odd behavior—and then for Kim, who is so much of a loner and going through the guilt that I think death can magnify, what seemed questionable […] is suddenly magnified and mythologized. She is going through that while trying to be the supportive person of Jimmy who lost Chuck."
Later in the conversation, Seehorn also noted that Kim didn't really like Chuck, which lends an interesting angle to her grief. "How are you feeling sad about someone who was an ass?" she said. "I found it very complex and interesting that it was." Seehorn also stated that Kim, Jimmy, and Howard have "histories of putting this man on a pedestal in all sorts of ways, and he fell off them long before he died. Kim has her own personal issues with him and everything else, but then the man committed suicide, so I found it very interesting to figure out what we do with the memory of the dead and the legends that we start telling ourselves."
Interjecting a bit of levity in the heavy conversation, Fabian noted something which will amuse fans of the show. "I was just sitting here taking a scorecard," he said, adding that "here we are sitting with these guys and girls up here on this stage, and it seems to me that, without a doubt, Howard Hamlin now occupies the moral high ground in this show." Everyone chuckled at the observation.
"But to Peter and Bob's and Rhea's point," Fabian continued, "the vacuum of Chuck, the vacuum that he leaves among this […] was palpable." Fabian noted that his "last day working with Michael was indeed the final scene where I give him the check and kick him out the door. It was shock end sequence, which is sort of a rarity in television, and so my last image of working with Michael McKean is applauding and then not looking at him as he is gets shown the door. It really didn't dawn on me, even after I saw it and I loved working with such a towering talent, but the first day at work that we came back to set on Season Four, you know we are dealing with that aftermath."
Fabian also added: "I always felt like no matter what, the scene is going to be good because Michael McKean is in it. I didn't realize how much I thought that until the first time I was doing the scene and I realized he's not coming back."
Odenkirk agrees. "I think that when you do a couple of seasons together as a cast and whenever a character gets killed off, especially with someone with the stature and status of Michael McKean," he began, "it not only affects, I think, everything in the writing room because that character is gone, it affects the characters as well as it affects us, the actors. You feel that there is some kind of a real loss of someone that we really like that is no longer around."
One reporter later asked Gould and Gilligan if it makes it easier or harder writing the show, knowing that eventually, Jimmy McGill becomes Saul Goodman, which brings its own type of grief (in the Hall H panel for the show later that day, Odenkirk said that Jimmy's change into Saul "breaks my heart").
"I thought that this was the easiest thing in the world," Gilligan stated. "I thought this was going to be a cake-walk because I go back three or three-and-a-half years when I thought, 'You know, we don't even know where this thing is going.'"  This was exponentially harder […] because when you had to back-fill in to it and you had to get all the details right—it dawned on us that we really don't know the end. We know at a certain point it becomes this bright-red story, but what happens after that?  Saul Goodman/Jimmy McGill/Gene of Omaha goes on?  What of that?  What angle is that?  What would you say?" he said, turning to Gould.
"It is like the world's most complicated crossword puzzle mixed with trying to stay true to the characters." Gould responded. "We started the show with 62 episodes of Breaking Bad history and many, many episodes of  Saul Goodman who spoke a lot and told a lot of little anecdotes about his life, some of which, I think that we always thought that it was more fun if they were true. But if we had known that every little thing that he said was going to come back to us—we are still chewing on some of those, I will be honest with you, but it was really tricky."
Gould credits Vince for lessons learned while they worked on Breaking Bad. "What we learned from the show was we look really carefully at what we have already done, whether it is ahead in time or behind in time, and we ask ourselves a lot of questions: 'Why did this character do this?  Why are there two chickens in the Pollos Hermanos logo?  Who is the other chicken brother?" he joked.
"If his name is McGill, why did he change his name to Saul Goodman?" Gould added. "Is that explanation that he gives to Walter White the whole story? Why would anyone design an office like that? These may all sound like unanswerable questions, but I will say that this season, you learn more about some of the answers for those questions. Obviously the chicken brothers we know about, but you learn a lot. Each season, I think, the characters have started answering some of the questions that we started with. The biggest one, for me anyways, was always how does this guy, who I am starting to really like, Jimmy McGill, how does he become Saul Goodman who I am fascinated by, what happened to him? I think, last season, if course, you saw what happened with Chuck and in this season, I think that you start to understand it all."
Gould added one final note: "Bob and Rhea created these two characters. In this very adult, empathetic relationship between these two, there is a connection between Jimmy and Kim that I find fascinating and also very touching. The idea that he is going to become Saul Goodman after having this open-hearted relationship with a woman who is as wonderful as Kim Wexler kind of breaks my heart."
Part II can be found by clicking on the button:  [button color="blue" size="medium" link="http://www.thenerdelement.com/2018/08/06/better-call-saul-part-ii-how-better-call-saul-calls-back-to-its-roots-on-breaking-bad/" icon="" target="true"]Better Call Saul Part II[/button]