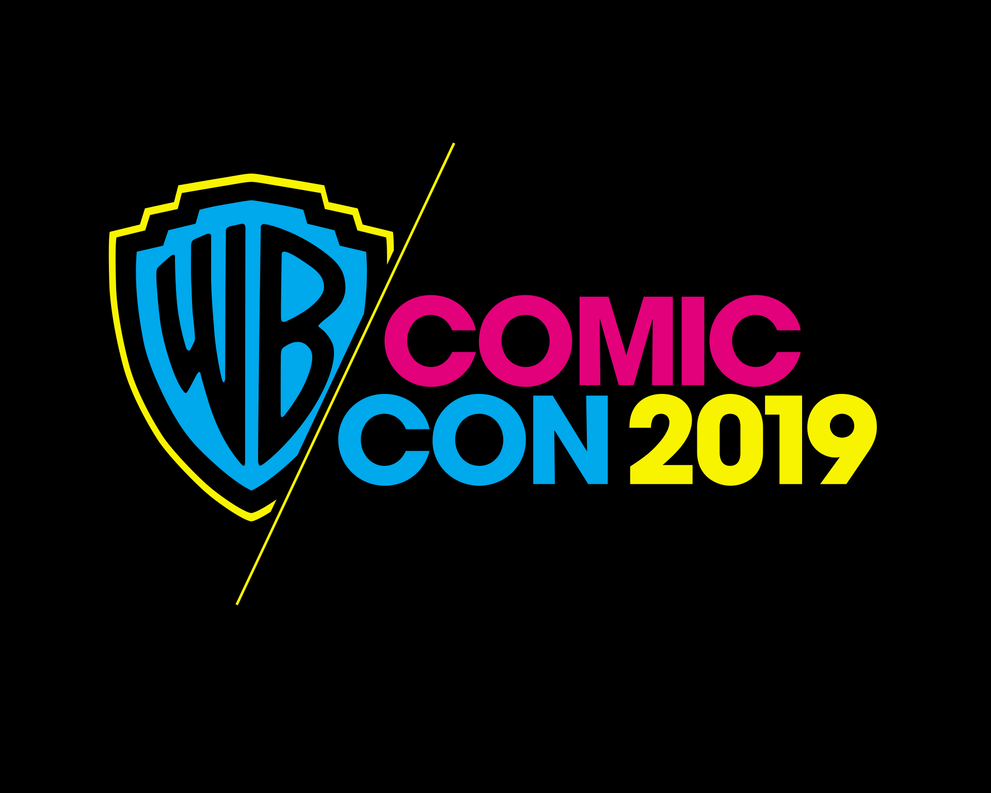 DC and Warner Brothers have joined forces to bring some amazing content to SDCC 2019. See below for the latest information on what is shaping up to be a massive presence at Comic Con 50.
BURBANK, Calif. (July 12, 2019) — For the first time ever, Comic-Con titans DC and Warner Bros. will join forces on the convention floor in a digitally revamped, two-story combination DC Warner Bros. booth (#4545, located near Artists' Alley). With more than 6,500 square feet across two levels, this iconic space produced by Vision Events will host nearly 40 signings featuring not only the stars and creative teams from Warner Bros., HBO series and New Line Cinema films, but also almost 50 legendary DC writers and artists, proving to be the ultimate DC and Warner Bros. fan destination.
Utilizing constantly evolving digital signage on towers and screens, the DC Warner Bros. booth will serve as a must-experience environment, including an Arkham Asylum Activation that delves into the world of Harley Quinn; a re-creation of one of Riverdale's Pop's Diner booths; an Instagram-worthy station with the Central Perk couch fromFriends; actual costumes and props from The Dark Knight film trilogy, in celebration of Batman's 80th anniversary,and more! Always a destination for Comic-Con fans, the DC and Warner Bros. booths will now unite to become a one-stop shop delivering constant activities for fans to enjoy, including talent appearances, autograph signings and more.
Here's a closer look at this year's DC Warner Bros. booth areas of interest:
CENTRAL PERK AND POP'S DINER RE-LOCATE TO SAN DIEGO
WITH RIVERDALE AND FRIENDS SETS!
Celebrating its 25th anniversary throughout 2019, Friends will be "there for you" with the iconic Central Perk couch. The ultimate 'gram-worthy destination, the Friends couch will be available for fans to take photos and post to social (hashtag #WBSDCC or #Friends25). But if coffee's not your thing, and you're more of a milkshake type…
…grab a booth at Pop's Diner! Elements from the popular Riverdale set have been meticulously re-assembled for fans to get together for another unforgettable photo op. Entering season four Riverdale returns October 9 and airs Wednesdays at 8/7c on The CW.
THE DARK KNIGHT COSTUMES & COLLECTIBLES!
Sure, Comic-Con turns 50 this year, but DC is celebrating 80 Batman-worthy years of crime fighting in Gotham City (#Batman80)! Get up close and personal to actual costumes, props and more from Warner Bros. Pictures' The Dark Knight Trilogy. Whether it's Ra's Al Ghul, Scarecrow, Bane, Selina Kyle or Batman himself, you'll find all these plus photo ops and more on display in the DC WB booth!
In addition, there will be a number of DC Collectibles and fan merchandise on display from Warner Bros. Consumer Products.
HARLEY QUINN ARKHAM ACTIVATION!
As previously announced, DC UNIVERSE will take fans into the comically twisted realm of DC's criminal "queenpin" Harley Quinn with an Arkham Activation that gives visitors an immersive, interactive glimpse into the highly anticipated adult-animated comedy series Harley Quinn.
The upcoming Harley Quinn series premieres later this year, exclusively on DCUNIVERSE. Featuring the voice of The Big Bang Theory's Kaley Cuoco as the Divine Ms. Quinn, the animated adult comedy series from Warner Bros. Animation is executive produced by Cuoco, WBA's Sam Register and iZOMBIE's Justin Halpern, Patrick Schumacker and Dean Lorey.
DC UNIVERSE MEMBERS EXCLUSIVES!
One year after DC UNIVERSE launched its membership program at Comic-Con, the ultimate DC fan destination is back with a slate of members-only fan events and exclusive giveaways.
DC UNIVERSE members will have access to a fantastic line-up of exclusive events and giveaways, including members-only signings, screenings and private gatherings. DCU members will not want to miss out on opportunities such as the premiere of DC Spotlight: Shazam; VIP tickets to Batman's induction into the new Comic-Con Museum's Hall of Fame; members-only signing with DC's Jim Lee; a private yacht brunch with talent; and more. Visit the DCU Redemption Area for more information.
Current DCU members will also have the opportunity to collect an original series print every day in the Redemption Area of the booth. New members of DCU who purchase an annual membership onsite and online will receive an exclusive gift set of four limited-edition comic books with new variant covers.
For more information about exclusive DCU member events and benefits, click here.
STARS & SIGNINGS AND MORE!
From Thursday through Sunday, a stellar roster of talent — including DC writers and artists, producers and stars from Warner Bros. Television shows, Warner Bros. Animation, Warner Home Entertainment, New Line Cinema, HBO and Rooster Teeth — will be signing for fans at the Warner Bros. booth. Talent to be announced.
Please note: Wristbands are required for all signings at the DC Warner Bros. booth. DC and Warner Bros. follow Comic-Con's ticket drawing/wristband distribution procedure. For more information on signings, please visithttps://comic-con.org/cci/exclusive-signings-faq.
Additional signing times will be posted at the DC/Warner Bros. booth.
THURSDAY, JULY 18, 2019

10:00–11:00 a.m. IT: Chapter Two
11:15 a.m.–12:00 p.m. Todd McFarlane
1:00–2:00 p.m. Greg Capullo
2:00–2:45 p.m. Teen Titans GO!
2:45–3:30 p.m. His Dark Materials
3:35–4:05 p.m. The Banana Splits Movie
3:35–4:05 p.m. Critters Attack!
4:00–5:00 p.m. Tom King & Mitch Gerads
6:00–7:00 p.m. Jim Lee, Scott Williams & Alex Sinclair
FRIDAY, JULY 19, 2019

10:00–10:45 a.m. The 100
10:30–11:15 a.m. Legacies
11:15 a.m.–12:00 p.m. DC Super Hero Girls
12:00–1:00 p.m. Tom King, Mitch Gerads & Nick Derington
1:00–1:45 p.m. Krypton
1:15–2:00 p.m. Pennyworth
2:00–3:00 p.m. Frank Miller, John Romita, Jr., Danny Miki & Alex Sinclair
2:15–3:00 p.m. Veronica Mars
3:30–4:30 p.m. Game of Thrones
4:30–5:15 p.m. DC's Legends of Tomorrow
4:30–5:30 p.m. Jim Lee, Scott Williams & Alex Sinclair
5:45–6:45 p.m. Rooster Teeth RWBY
6:00–7:00 p.m. Greg Capullo & Scott Snyder
SATURDAY, JULY 20, 2019

10:00–10:45 a.m. Doom Patrol
11:45 a.m.–12:30 p.m. Westworld
12:30–1:15 p.m. Titans
1:15–2:15 p.m. Greg Capullo & Scott Snyder
2:15–3:00 p.m. Arrow
2:45–3:30 p.m. Batwoman
3:00–3:45 p.m. Supergirl
3:45–4:30 p.m. Black Lightning
4:30–5:15 p.m. The Flash
5:45–6:30 p.m. Young Justice
6:00–7:00 p.m. Tom King & Mitch Gerads
SUNDAY, JULY 21, 2019

12:00–12:45 p.m. Supernatural
12:45–1:30 p.m. Greg Capullo & Scott Snyder
2:00–2:45 p.m. Riverdale
3:00–4:00 p.m. Tom King
For continuing info on DC and the Studio's plans at Comic-Con, please visit comiccon.thewb.com, and follow @warnerbrostv and @dccomics on social media (Instagram, Twitter, Facebook), hashtags #WBSDCC and #DCSDCC.