SpongeBob and Foodies Unite!!! Well sort of, Spongebob virtual pancake cooking party is coming to Comic-Con@Home via FutureTech Live and The Food Channel/Sugar Geek Studios! The full press release is below. Will you be creating some colorful pancakes? Make sure you register (link is at the end of the article)
SPONGEBOB VIRTUAL PANCAKE COOKING PARTY PART OF THE VIRTUAL WORLD EXPERIENCE OF COMIC-CON@HOME!
This Saturday and Sunday at 10am Pacific Time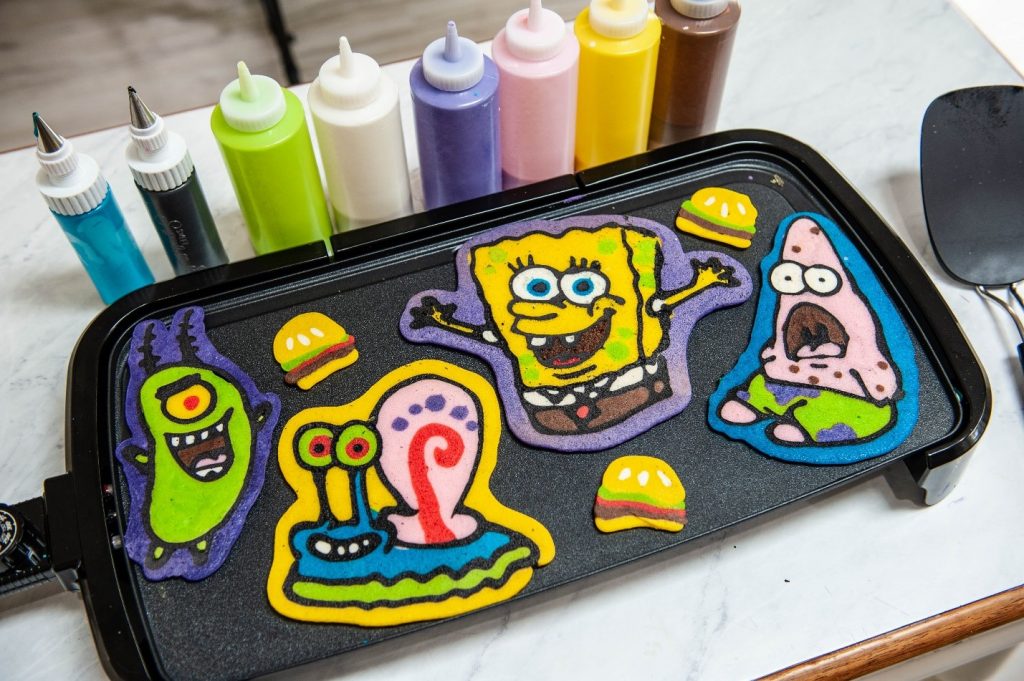 SAN DIEGO (July 24, 2020) – As part of the world builders celebration of Comic-Con@Home taking place this weekend, there is a special treat, literally, scheduled for this Saturday and Sunday.
FutureTechLive!, the official entertainment-meets-tech pavilion of Comic-Con the past five years, and now virtually, is presenting live from The Food Channel & SugarGeek Studios: "SPONGEBOB VIRTUAL PANCAKE COOKING PARTY!"
Attendees will join, from their homes, in a live virtual cooking get-together in which cake master Liz Marek will have you make delicious pancakes that look like favorite SpongeBob characters. People are welcome in even if they just want to watch the culinary fun.
This is a FREE EVENT, and open to any one worldwide.
There are two options: Saturday, July 25 at 10 a.m. PT and Sunday, July 26 at 10 a.m. PT
After the zoom session, participants will be able to post photos of their creations, and have a chance to win prizes from Sugar Geek Show and Food Channel.
This event is part of the FutureTechLive! World Builders Experience taking place now during the first-ever virtual Comic-Con — which resulted from the physical show being canceled for the first time in over 50 years due to Covid-19.
There is a Sugar Geek / Food Channel lounge inside of this virtual world. To experience that, go to: www.comic-con.org then look for the FutureTechLive! Virtual World Builders square on the home page there, click on it, then download the file (or go to: https://parallux.co/comic-con and then download the file). Then "walk" around this very cool virtual world, and find the Sugar Geek / Food Channel lounge area.
SpongeBob is indeed quite the example of world building. SpongeBob, Patrick and co. make up a motley crew of characters in a land under the sea. SpongeBob SquarePants is an American animated comedy television series created by marine science educator and animator Stephen Hillenburg for Nickelodeon. The series chronicles the adventures and endeavors of the title character and his aquatic friends in the fictional underwater city of Bikini Bottom. The fifth-longest-running American animated series, its popularity has made it a media franchise. It is the highest rated series to air on Nickelodeon and ViacomCBS Domestic Media Networks' most distributed property.
Now people can have fun with these characters in the kitchen.
If you are going to make pancakes during the live zoom, then here's the list of ingredients you want to get from your local store or wherever before the zoom:
•             pancake mix
•             food coloring
•             large non-stick pan or griddle
•             spatula
•             hand-mixer (optional)
•             plastic bottles for piping or piping bags
TO REGISTER FOR THE FUN!
TO REGISTER: attendees need to email their name, which party they want to join (Saturday's or Sunday's), and their email address to: info@foodchannel.com