The latest Netflix comedy series comes in the form of History of Swear Words, the synopsis is as follows:
An education in expletives: the history lesson you didn't know you needed. History of Swear Words, hosted by Nicolas Cage, is a loud and proudly profane series that explores the origins, pop culture-usage, science and cultural impact of curse words. Through interviews with experts in etymology, pop culture, historians and entertainers, the six-episode series dives into the origins of "F**k", "Sh*t", "B*tch", "D**k", "Pu**y", and "Damn". 
View the trailer for History of Swear Words:
Each of the six episodes is only 20 minutes long and they pack in a lot of information in that limited run time. History of Swear Words is directed by Christopher D'Elia (Brockmire, @midnight) and written by Bellamie Blackstone (I Love You, America, @midnight). It's a well put together show despite the high number of shots of people sat in front of a greenscreen. The graphics are well designed and add value to the show to make it more than just talking heads.
Nicolas Cage (Face/Off) is a great host for this light yet informative series about the history and usage of swear words. Cage has a fairly extravagant set from which to present and he is exactly what you would expect. He is odd and makes for an entertaining host.
The show isn't all Cage though. Experts from the worlds of cognitive science, lexicography (compiling dictionaries) and more give you actual knowledge about the swear words. But this is a comedy series so they have comedians and actors liven it up so the show isn't too dry.
Sarah Silverman (The Sarah Silverman Program.), Nick Offerman (Parks and Recreation), Jim Jeffries (The Jim Jeffries Show), Patti Harrison (Shrill), Zainab Johnson (Upload) and Nikki Glaser (Trainwreck) are just some of the famous faces that appear. Isiah Whitlock Jr is heavily featured in the 'Sh*t' episode for his now famous way of drawing out the word, as seen on The Wire.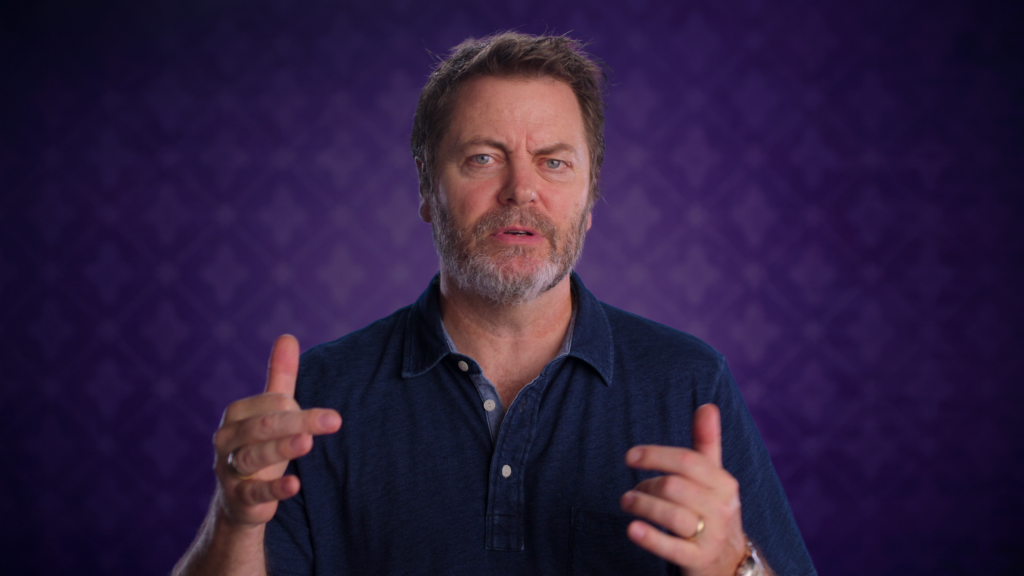 Each episode gives you the origins and use of the six featured words, "F**k", "Sh*t", "B*tch", "D**k", "Pu**y", and "Damn". There are also random facts thrown in such as the effect swearing has on your pain threshold. As well as which actor swears more in the movies than any other (no it's not Samuel L Jackson).
Interesting that they include an episode on damn, which is not really considered a swear word anymore but could be considered the original swear word. Its religious origins have been forgotten/discarded somewhat but it has an interesting history.
This isn't a show I thought I needed but it is surprisingly good. They timed it right at 20 minutes an episode, any longer and it would probably drag a little. Each episode is fast paced, alternating between facts and nonsense it keeps you entertained. Nicolas Cage presenting the History of Swear Words sounds ridiculous, and it is, but in all the right ways.
History of Swear Words will premiere globally on Netflix on January 5 2021.