Pretend It's a City is a new Netflix documentary series presented by Martin Scorsese; synopsis is as follows:
Fran Lebowitz knows what she likes—and what she doesn't like. And she won't wait for an invitation to tell you. For decades, the critic and essayist has been expressing her opinions, sometimes grouchily, always riotously. A New Yorker to the core, Lebowitz has raised straight talk to an art form, packaging her no-nonsense observations about the city and its denizens into a punchy running commentary, one that spares nobody.
Shaping Lebowitz's thoughts into the furiously funny guidebook every New Yorker has at one point wished for, PRETEND IT'S A CITY checks in with a classic urban voice on subjects ranging from tourists, money, subways and the arts to the not-so-simple act of walking in Times Square. (There is a right way to do it.) Along the way, Lebowitz's own past comes into focus: a life marked by constant curiosity and invigorating independence.
Directed by Lebowitz's longtime friend Martin Scorsese and peppered with his own witty takes on a town he knows best, PRETEND IT'S A CITY is a double dose of NYC attitude that sparks pangs of delight, fury and recognition among those who love the place as deeply as they do.
The trailer for Pretend It's a City is below:
The series is split into seven 30-minute episodes, each is loosely built around a theme. There are episodes about money, public transport and health for example. It is a good attempt to group the ramblings together but ultimately, it's a little random and Lebowitz goes where she wants to with the conversation.
Pretend It's a City is made up of clips of various Q&A events with Scorsese and Lebowitz, as well as events featuring Lebowitz being questioned by others such as Spike Lee and Alec Baldwin. There is a main interview with Lebowitz being questioned by Scorsese and EP Ted Griffin. This is all made to look cohesive with shots of Lebowitz wandering around New York City and clips of movies that fit the subject matter at hand. It is a very well shot show that does its best to create a narrative thread for something that is inherently all over the place.
The title of the show is Lebowitz's advice to tourists in New York, pretend it's a city, basically meaning get out of the way of people trying to live their life. The series is very much about New York but anyone who has lived in a major city can relate to many of Lebowitz's rants. She complains about pretty much everything yet clearly loves the city and the city is a part of her. Lebowitz has become a prolific public speaker and it's easy to see why, she has a way of telling stories that is captivating and entertaining.
However, the series does lag at times. Although the total runtime is relatively short, it is nearly all Lebowitz talking. After a while this becomes a little tiresome and if you're not fully invested in a topic she's talking about, you may find yourself disengaging from the series. I don't think it's best to binge the whole series but rather watch an episode here and there.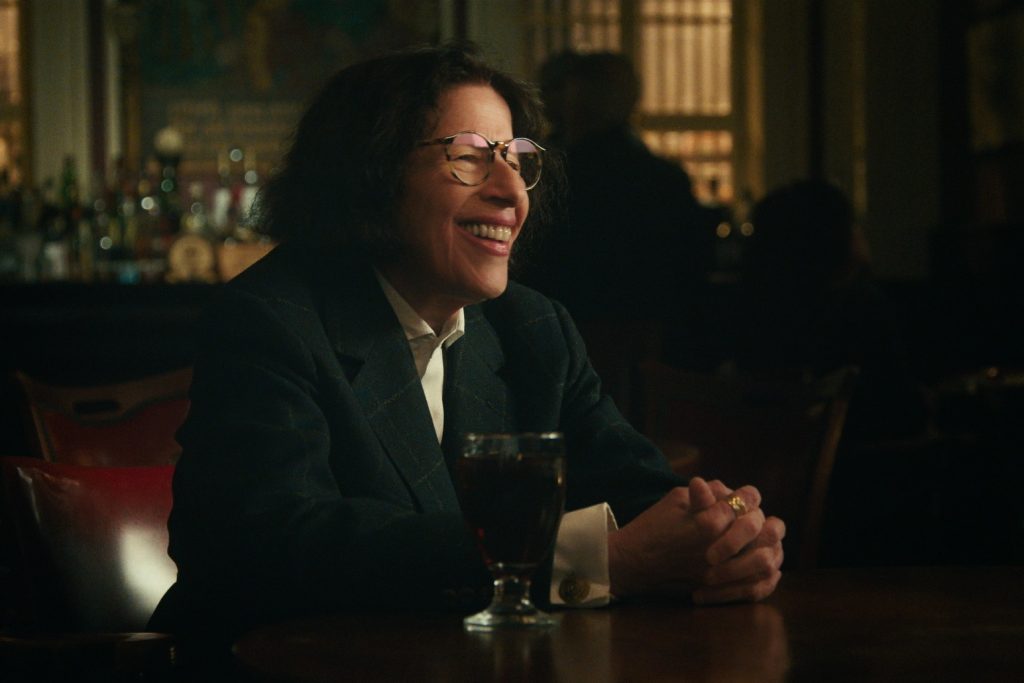 Martin Scorsese or Ted Griffin should have pushed back against Fran Lebowitz's comments to make for a more stimulating debate. It would have focused proceedings and ultimately would have made for better television. As humorous as Lebowitz is, someone telling pre-prepared and oft-repeated stories only has so much appeal. She is also somewhat inconsistent in her opinions, probably because she is just rambling on and on.
Pretend It's a City is the second documentary Scorsese has done featuring Lebowitz after Public Speaking in 2010. His affection for her is clear, you hear him laughing throughout. I struggle to see how Pretend It's a City fits on Netflix, I'm not sure where the audience is for it on such a mainstream platform. Public Speaking was an HBO documentary, Lebowitz feels like a better fit for the HBO audience than a Netflix one.
It's an entertaining watch for most of the runtime but I felt like it ran out of steam over the last episode or two. I would have preferred a more conversational piece rather than a series of monologues but that is Lebowitz's thing and Scorsese is clearly an admirer of her. His closeness to her is probably a detriment to the piece as I don't think he watched this back impartially. There will be people out there that find the show and Lebowitz herself annoying, but it's worth watching one episode. If you don't get into the first episode then skip the rest as it's more of the same.
Pretend It's a City is available globally on Netflix, January 8th 2021