John David Washington stars in the manhunt thriller Beckett, available globally on Netflix today. Check out the synopsis and trailer:
While vacationing in Greece, American tourist Beckett (John David Washington) becomes the target of a manhunt after a devastating accident. Forced to run for his life and desperate to get across the country to the American embassy to clear his name, tensions escalate as the authorities close in, political unrest mounts, and Beckett falls even deeper into a dangerous web of conspiracy.
Beckett is the English language directorial debut of Ferdinando Cito Filomarino, who was the second unit director on Call Me by Your Name and Suspiria. Produced by Luca Guadagnino (director of Call Me by Your Name, Suspiria). Written by Filomarino and first-time writer Kevin A. Rice.
Beckett is a bit of a throwback; political manhunt thrillers aren't as popular as they once were. And I'm not sure this is the film to put them back on the map. The film starts off with John David Washington's (BlacKkKlansman, Tenet) Beckett on vacation with his girlfriend April, played by Alicia Vikander (The Danish Girl, Ex Machina). Washington doesn't sell the relationship at all; Vikander does a good job but he isn't giving her much to work with. It's only about 15 minutes of the two of them before the action really starts, but it feels like a long 15 minutes.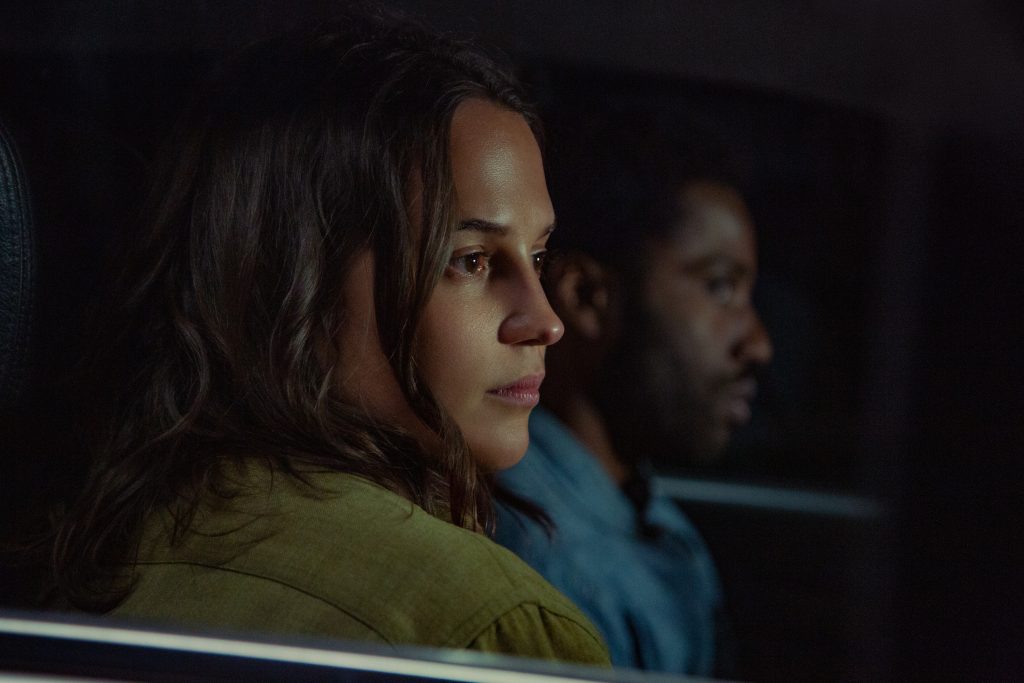 After they are involved in an accident, Washington becomes a target of the Greek police. He has no idea why, although there can only be one reason for him to become a target. Beckett then starts a long journey to the US embassy in Greece. A journey that involves a lot of running through the Greek countryside, it gets a little repetitive.
Greece is shot beautifully by director of photography Sayombhu Mukdeeprom (Call Me by Your Name, Suspiria), it's a side to the country we aren't often shown in English language movies. The beauty of the landscape is juxtaposed with the messy situation Beckett has found himself in. The film has been bleached out somewhat, making the movie feel like something of a classic.
When we are finally given answers to the conspiracy element of the thriller, it's a little disappointing. It doesn't really unfold until the very end so there is a lot of walking and running in the middle that isn't the most riveting. A thriller should be more thrilling than this.
John David Washington is not a strong enough actor to carry this film. There are so many silent moments of reflection, even the best actor would struggle to hold the audience's attention. The dullness of Beckett isn't all on Washington, the script is a problem. There just isn't enough action or intrigue to sustain the 110-minute runtime.
Vicky Krieps' (Hanna, Phantom Thread) activist Lena is one of the supporting players who really stands out. There aren't many characters other than Beckett who actually get many minutes, Krieps definitely makes the most of her screentime.
Ryuichi Sakamoto's (The Revenant, The Last Emperor) score is beautifully restrained. Sakamoto builds the tension without being overbearing. He gives the performances chance to breathe. The score fits nicely with Filomarino's filmmaking style.
Beckett isn't a bad film but it's just ok. Washington struggles in the lead role with what is a tough assignment. Ferdinando Cito Filomarino is definitely one to watch but this is a far from perfect film. The script has problems but his visual style is strong. Beckett isn't exciting enough for a thriller but as it's on Netflix, it may be good enough to pass a couple of hours on the couch.
Beckett is released globally August 13th 2021 on Netflix