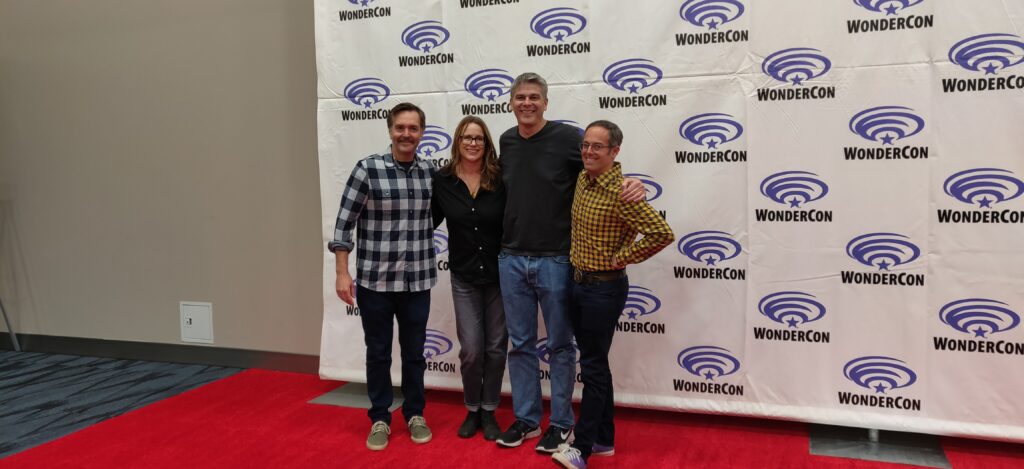 By Désirée Guzzetta (Dezbot)
In "HouseBroken," a group of neighborhood pets and strays get together to have therapy sessions with Honey (Lisa Kudrow), a standard poodle with issues of her own. The animated comedy was created by Gabrielle Allan, Jennifer Crittenden, and Clea DuVall. Its humorous look at the inner lives of animals was popular enough to secure a second season, which airs on Fox networks and replays on Hulu.
Some of the gang behind "HouseBroken" came to WonderCon 2023 to share behind-the-scenes stories and a peek at the new season. The panel was attended by co-creator/co-showrunner/executive producer Crittenden, as well as director Eric Koenig, writer and co-executive producer Elliott Kalan, and star Will Forte, who voices the ancient and pervy tortoise, Shel. The cast also includes co-creator DuVall as Elsa, the Corgi; Nat Faxon as Honey's mate, Chief, the sweet-but-somewhat-dim St. Bernard; and, Timothy Simons (everyone's favorite punching bag, Jonah, on "Veep") as a sassy wild raccoon.
Among the fun tidbits shared at the panel: They all learned a lot about animal anatomy ("Don't Google tortoise anatomy – it's disgusting!" the panelists warned the attendees). Forte shared that sloths "crap out a third of their body weight a day," and also noted that sloths can travel 14 miles an hour when motivated.
Koenig shared that aspiring animators should study silent films, including the Mary Pickford-starring classic, "Sparrows" (1926), because silent films have to communicate a great deal through images. Koenig's first job was with storied animators Chuck Jones and Maurice Noble, and Jones, he said, was friends with silent film giants Charlie Chaplin and Buster Keaton.
The Nerd Element had a chance to speak at WonderCon with all four panelists, gathering intel on upcoming guest stars and episodes and…um…animal anatomy. We also had a chance to ask Forte a couple of questions on camera about Shel and MacGruber, which you can enjoy on our YouTube channel.
The first pair we spoke with is Koenig and Kalan, who followed up on their writing and directing processes mentioned during the panel, including Koenig's storyboarding technique. We also got a little more detail on an upcoming episode that references the "Evil Dead" horror series. In addition to "HouseBroken," Koenig has worked on "The Simpsons" and for Disney on various projects. Kalan's credits include writing for "Mystery Science Theater 3000" and comic books such as "Spider-Man & The X-Men," as well as hosting podcasts including "The Flop House."
Second up was Crittenden and Forte, who, we have to admit, we sidetracked into a discussion of which animal's anatomy was "worse," the duck's or the tortoise's. In our defense, Crittenden and Forte's ensuing discussion is delightful. Crittenden started out writing for David Letterman, and has written for "The Simpsons," "Seinfeld," and "Veep." She also shares a 2012 Emmy for Outstanding Comedy Series for "Veep."
Forte is an alum of "Saturday Night Live," where he created memorable characters such as MacGruber (star of film and TV and blowing up real good!). Forte also co-created and starred in television series "The Last Man on Earth," has been nominated for three Emmys, and had a starring role in the Academy Award-nominated film, "Nebraska" (2013). He also voiced Lincoln in nerd favorite "The Lego Movie (2014), and currently voices Wolf on "The Great North," also on Fox.
Listen and watch and enjoy!
"HouseBroken" airs on Fox Sundays at 9:30 p.m. Pacific.