I know it seems like the Christmas holiday shopping season starts earlier and earlier every year, but let's be honest: The sooner we can knock out getting those special items for our loved ones, the sooner we can go back to reading comics, or watching movies and TV, or whatever our preferred nerdy pursuits are.
We're here to help you gear up for the holidays ahead of Black Friday to suggest some presents your fellow nerds may like. This list will grow as we get closer to the holidays, so check back periodically to see what else gets added!
Movies & TV on Blu-Ray/4KUltraHD/DVD
For the film and/or television buff in the family, Blu-Ray/4KUltraHD/DVDs are a good buy. In addition to never having to worry if your preferred streaming service removes the film/series you want to see from existence (because let's face it–it's happening far too often lately!), you get lots of extras, whether it's director or cast commentary tracks, behind-the-scenes featurettes, or even exclusive posters! Okay, you also get a code for a digital copy, but that's besides the point! Program your own festival in the comfort of your own home without having to worry if your wi-fi connection is strong! Here's some ideas to get you gifting:
1. The Barbenheimer Bundle
Barbie (Warner Bros. Pictures)
Oppenheimer (Universal Pictures)
Okay, this doesn't actually exist, but there's no stopping you from making your own! Treat yourself or a loved one to the best double feature of the summer. Our recommendation is to start with Oppenheimer, director Christopher Nolan's triumphant film about the father of the atomic bomb, J. Robert Oppenheimer, played brilliantly by Cillian Murphy. The film traverses time as it shows a young Oppenheimer listening to the "music" in his head as he develops his theories, through the Manhattan Project and Trinity nuclear test and beyond. The implications for humanity were and continue to be devastating. Nolan doesn't let anyone off the hook as he takes a deep dive into one of the most complex minds of our time.
Finish your Barbenheimer double feature with the bubbly Barbie, co-written and directed by Greta Gerwig and starring Margot Robbie, Ryan Gosling, and America Ferrera as Barbie, Ken, and Gloria, respectively. Everything in Barbie Land is perfect until one day, Robbie's Barbie starts thinking about death. One doll's existential crisis leads to major changes and a journey of self-discovery. It's fun, it's weird, and it's thoughtful. Beneath the shiny pink veneer beats a heart full of intelligence and emotion and horses. Yes, horses.
You can find Oppenheimer at the links here starting at $19.95 and up: https://watch.oppenheimermovie.com/ (click on "Disc" for physical media) Bonus content includes: The Story of Our Time: The Making of Oppenheimer, Trailers, Innovations in Film: 65mm Black and White Film in Oppenheimer,
Meet the Press Q&A Panel: Oppenheimer, and To End All War: Oppenheimer & the Atomic Bomb.
You can find Barbie at the links here starting at $19.95 and up: https://www.barbie-themovie.com/ownitnow/ (scroll down for retailers that carry physical media). Bonus content includes It's a Weird World, All-Star Barbie Party, Musical Make-Believe, Becoming Barbie, Welcome to Barbie Land, and Playing Dress-Up: An Extended Look at the Costumes of Barbie.
Make it a true gift bundle and add an "I am Kenough" T-shirt to the mix: https://creations.mattel.com/products/barbie-the-movie-i-am-kenough-unisex-shirt (or check Etsy, Tee Public, or one of numerous shirt outlets with their own Barbenheimer designs), or even a copy of American Prometheus: The Triumph and Tragedy of J. Robert Oppenheimer by Kai Bird and Martin J. Sherwin here: https://www.barnesandnoble.com/w/american-prometheus-kai-bird/1008414292?ean=9780375726262
2. Blue Beetle
(DC/Warner Bros.)
Xolo Maridueña starts as Jaime Reyes, just your normal college graduate hoping to get a good job to help out his loving family. When an ancient scarab "chooses" him and transforms him into the Blue Beetle, Jaime's life becomes chaotic and dangerous. Maridueña is completely charming as the reluctant superhero who has to navigate his new reality while protecting his family. The movie is big, brash, and full of humor and warmth. Plus some epic superhero fights! There's also some very specific humor Latine audiences may love (especially if, like me, you had a Nana like Jaime's).
You can find Blue Beetle at the links here starting at $19.95 and up: https://www.dc.com/bluebeetle. Bonus content includes: Blue Beetle Generations: Origins, Blue Beetle Generations: Production Begins, Blue Beetle Generations: In Full Flight, Blue Beetle Generations: A Hero's World, Scarab Vision: Episode 1: Initiation, Scarab Vision: Episode 2: Mastery, and Blue Beetle's Nana Knows Best.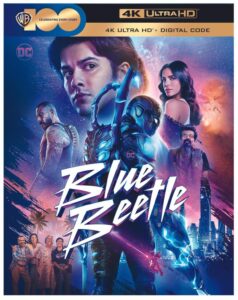 3. Rick and Morty – The Complete Seasons 1 – 6
(Warner Bros. Discovery Home Entertainment)
Seven seasons in and Adult Swim's "Rick and Morty" is still going strong. In advance of the new season, the first six seasons are collected on a nice box set for your favorite Rick, Morty, Summer, Beth, or yes, even Jerry. The six-disc set includes all 61 episodes and an extensive and impressive set of extras, plus an exclusive poster. Animation nerds will especially appreciate the animatics (including deleted scene animatics). The total viewing time tops out at a whopping 1,342 minutes of OOH! WEE! and a little wubba-lubba-dub-dub. NOTE: The extra features include uncensored content with mature themes and explicit and vulgar language.
The set is pricey ($114.99 retail for DVD and $124.99 for Blu-Ray), so for nerds on a budget, we recommend checking out sites such as DeepDiscount.
4. Succession: The Complete Series
(HBO)
HBO's original series, Succession, gets the box set treatment. The 12-disc set includes all four seasons of Roy Family treachery, power, and avarice, and over two hours of special features that have appeared on the individual season sets. The series stars Brian Cox as Logan Roy, whose health issues trigger his four children into jockeying for position as the heir apparent to the Roy media and entertainment conglomerate. Succession won several awards, including multiple Emmy® awards for Outstanding Drama Series.
The set retails for $89.99. You can find the set on sale at DeepDiscount.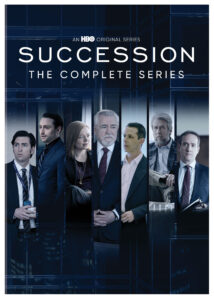 5. Other ideas: We highly recommend the Blu-Ray/DVDs of Venture Bros: Radiant is the Blood of the Baboon Heart and Metalocalypse: Army of the Doomstar (click the links to read our reviews of both films), as well as the DVD set of Adult Swim's Smiling Friends.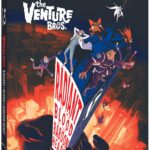 Figures/Toys
For Godzilla fans, 2023 has brought many blessings, including the new Toho film, Godzilla: Minus One, and an Apple TV+ series, "Monarch: Legacy of Monsters." So what do you get the Godzilla fan who has everything? More Godzilla, of course! Head to the Godzilla store at https://godzilla.com/pages/store for your favorite kaiju collectibles. While there are plenty of items to choose from, we recommend shopping the exclusive collectibles straight from Japan (available for pickup in-store if you happen to live somewhere like Los Angeles where that's possible, too). Our top picks:
1. The Movie Monster Series Hibiya Square Godzilla Statue ($20) from Bandai: https://godzilla.com/collections/exclusives/products/movie-monster-series-hibiya-godzilla-square-statue Godzilla is fearsome and frozen and here to guard your square (until he thaws out!). Stands 170mm tall and comes with poseable arms and legs.
2. The Shin Godzilla Second Form Keychain ($8):
https://godzilla.com/collections/exclusives/products/godzilla-2016-second-form-key-ring Known as Kamata-kun in Japan, Shin's second form is a cute, viscera-spewing monstrosity with big soulful eyes. Made of PVC resin.
Themed Fun
Mystery Science Theater 3000 fans are also having a happy 2023, what with more MST3K in the Gizmoplex, MST3K and Rifftrax channels on Twitch, and 14th season of MST3K getting kickstarted. But wait, there's more, and it's at Dumb Industries, home of shows such as The Mads Strike Back, The Mary Jo Pehl Show, and new horror host Ichabod yelling at movies during The Witching Hour. Whether you're signing up to watch live events with Q&As, or showing your pride with a swanky Dumb Industries t-shirt, you have plenty of choices for gifts.
We recommend getting a Clubhouse subscription to The Mary Jo Pehl Show:
https://dumb-industries.com/store/the-mary-jo-pehl-show Known to many MSTies as Dr. Pearl Forrester and Magic Voice, Pehl is an accomplished writer, comedian, and actress.
You can also pick up this awesome t-shirt and book bundle on sale for the Pehlie (Pehling? We fans have many names for ourselves!) in your life: https://dumb-industries.com/store/p/mary-jo-pehl-t-shirt-book-bundle The book, Dumb, Dumb, Dumb: My Mother's Book Reviews, celebrates Mary Jo's relationship with her mother and is a joy to read.