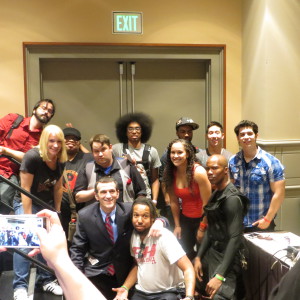 I like martial art movies and I've noticed there have not been too many TV shows out there about a fight school. A few minutes before the panel started Jason David Frank aka the original Green Ranger from Mighty Morphin Power Rangers stopped by and talked with the cast and took pictures! I became even more excited about this panel because if Jason David Frank heard about this show then it is worth keeping an eye out for it.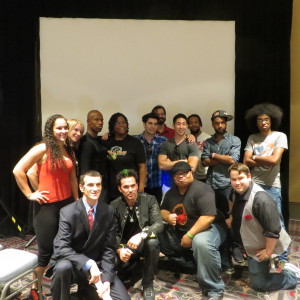 Fighter's High is about Tommy Kane (Eric DePrince), who enters J.D. Oliver's Academy (Fighter's High) to follow in his father's footsteps but also carve his own path in being the best fighter at the school. He learns that he has a long way to go before reaching that goal. He quickly gets a rival in the form of Ryon Denabreo Jr (Nick Capuozzo). Coincidentally Ryon is trained by a rival of Tommy's father. While training he becomes friends with Cassie Cabrera (Raquel Romaine) who also has something to prove by attending the academy and others. We saw teaser clips of the show with profiles of Tommy and Ryon and the show as a whole.
According to Christopher Ryons, one of the creators, he did a few episodes of the show in 2007 but stopped at the untimely death of co-writer and show partner Kevin "Otaking" Siter. Ryons took a break then decided to continue what he started with improvements to the show.
The main cast was part of the panel as well as director Mat Sterling and creator Ryons. Several other cast members were in the audience. Each of the stars discuss how they got their role. DePrince connected with the character Tommy, who has "daddy" issues, despite the fact that he has a good relationship with his father. With the help of Master Chris Dyer DePrince auditioned for the role. Master Dyer-Grugan is apparently the funny backbone of the show as his sense of humor just kept appearing throughout the panel. Apparently a friend told Romaine about the show and Ryons and Dyer saw her at a martial art competition. Capuozzo had a similar experience where Ryons saw him at a competition in 2012 for breaking and approached him about the part.
The stars demonstrated their skills to the audience. Seeing them made me even more excited for the show as the fight choreography will just be gorgeous. I'm not an expert by any means, but I felt like I was watching some of the scenes in Mighty Morphin Power Rangers where Trini, Jason, or Tommy were going through their exercise. I was hoping that Master Dyer would give us a demonstration but alas there wasn't enough time in the panel for it.
I like that this show focuses on a martial art school instead of a regular high school that may have sports like football or baseball as the main attraction.
Definitely support the show by donating to their Indiegogo campaign. Lets' get this show picked up. Here is the link to their campaign: https://www.indiegogo.com/projects/fighter-s-high–3#home
Here is where you can also find info on Fighter's High:
YouTube Channel: https://www.youtube.com/user/FightersHigh
Facebook: https://www.facebook.com/fightershigh
* Three photos of Cast martial art skills credit to Fighter's High FB page.