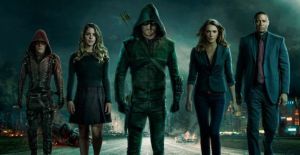 This summer I had the pleasure of attending the Stephen Amell panel during Nerd HQ. I was struck by how completely humble and grateful he is for the opportunity to do Arrow. As a fan I also follow him on Facebook (if you don't you should). This man is passionate about Arrow and takes such pride in the storytelling and his role. I have to admit that I had no intention of watching Arrow when it first aired. As a DC comics fan the character just didn't speak to me. Through a lot of peer pressure I added Arrow to my queue where it sat for quite some time. Then I started to watch and I was immediately hooked.
The season 2 premiere started off with Oliver doing what he does best..catching the bad guys. With a short time jump several things become apparent: Oliver is still broke, Detective Lance is alive, Diggle is having a baby, Felicity is working retail, and Roy is still angry.  There was a slight time jump but nothing too dramatic. Detective Lance has been promoted and promptly dismantled the task force bent on taking down "The Vigilante."
With the heat off his team Oliver is free to continue his task of cleaning up Starling City, regaining control of Queen Consolidated. Everything seems to be going great. Olicity is in full force and then…Ray Palmer. Palmer dazzles the board and Oliver watches his chances to return the family name go up in smoke.  With their dinner date in ruins (literally) Felicity dodges Oliver's attempts to have the "it's too dangerous for us to be together talk," and concentrates on catching the bad guys. Towards the end Ollie gets a little help from Black Canary and then…..
Arrow is a great show full of drama, angst, romance, and everything you'd expect from a superhero show. New episodes air Wednesdays at 8pm on the CW.