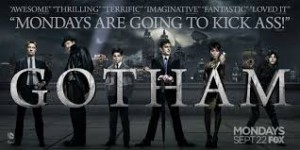 Gotham's first season finale airs tonight at 8:00 p.m. on FOX and all I can say is it will be a roller-coaster ride!
Things are changing in Gotham, with characters becoming villains like never before, the mob presence as prevalent as ever, and heroes fighting on all fronts to keep the city from its evil elements. Tonight's season one finale will keep fans on the edges of their seats and screaming at their screens!
The series began with the murder of Bruce Wayne's (David Mazouz) parents and the process of the te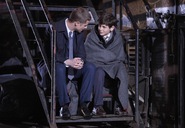 nder 12-year-old dealing with the loss. Throughout the season we've seen him delve into his parent's murder, as well as family business Arkham and along the way he's learned some disturbing things he's not willing to let slide.  I'd say this personality trait is key in the makings of the hero he will become.  He's learned how to face his fears, toughen up not only physically, but also where his heart is concerned.  In the finale episode, he'll remember something about his father that even Alfred (Sean Pertwee) didn't know about.  What they discover will set something in motion that will forever change Bruce Wayne and what he will become!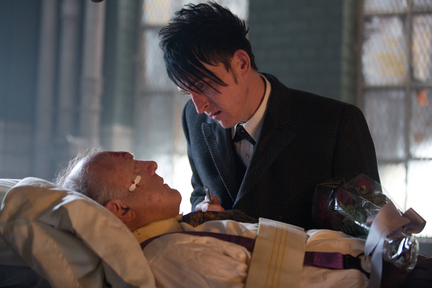 I don't want to give too much away but as we've seen, the mob war between Falcone (John Doman) and Maroni (David Zayas) has been escalating all season.  There will be a surprising moment that even I didn't see coming and a huge change that will affect Jim Gordon (Ben McKenzie) in a big way!  Of course if you'll remember it was our favorite bird Penguin (Robin Lord Taylor ) who gleefully revealed that he really put things in motion. He's very proud of it too!  Not only that but as we've seen Penguin do all season, which is weasel out of his many scrapes, don't be surprised to see it again in a shocking moment!
Of course then there's our Riddler Edward Nygma (Corey Michael Smith), pining for his girl Kristen Kringle (Chelsea Spack) enough to do away with her abusive boyfriend.  Things will get a little hairy when she suspects foul play and questions Eddie! All I will say is the true mechanisms behind the Riddler begin to seep out of this villain-in-the-making and it's very cool how it's done.
Gotta say, I was missing our girl Fish Mooney (Jada Pinkett Smith) in last we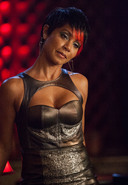 ek's episode, wondering where she went after her epic escape from doctor cray cray!  Have no fear Fish friends, she's baaaccckkk and in rare form!  Question is, what is her game plan?  Look for a few new recruits and a reunion with her beloved Butch (Drew Powell), who has been brainwashed by Penguin.  How will he be affected by this in a pivotal moment?
We started the season seeing our hero Jim Gordon begin as a good but naive cop upon arriving at Gotham Police Department.  He's seen the corruption of the department and politics, trying to beat both to a certain extent.  What happens when he and Harvey (Donal Logue) get in hot water, then side with a mobster? As I tweeted out a couple of days ago, Jim Gordon kicks ass and a few other things in trying to find a way out of a jam! Kudos to Ben McKenzie!
When we first meet Jim, he's engaged to Barbara Kean (Erin Richards) and last week, we saw her go to the dark side with The Ogre (Milo Ventimiglio) by killing her parents!  Of course the police believe he did it but things will get really dicey when Jim's new girlfriend, Dr. Leslie Thompkins (Morena Baccarin), gets a handle on the ex-girlfriend via a therapy session.  I know in the comics Jim and Barbara get married but I'm thinking after tonight's episode, there is no way in hell the series is going in that direction— EVER!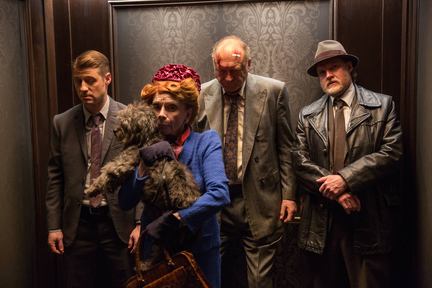 I must confess I've never read any of the Batman comics, however LOVE all the new Batman aka The Dark Knight movies.  The freshman year of Gotham has had me riveted and it was a brilliant move by FOX to create a show with a new angle, giving fans a glimpse into the origins of all the heroes and villains we've grown to love.  It's been so much fun tweeting with everyone online, having the opportunity to interview some of the cast and write about the show in its inaugural year.  I think fans will be thrilled with the season one finale and anxious to see what's in store for season two!
*Missed an episode? Catch up now on FOX and don't miss the season one finale tonight at 8:00 p.m.!
Photos courtesy of FOX/Jessica Miglio