Ubisoft just lobbed an Assassin's Creed grenade into the ranks of gamers worldwide today.
With the official announcement of Assassin's Creed Syndicate, along with the release of the first trailer, the developer has shown that they still have plenty of story to tell in a saga that, until a few hours ago, many have been saying is tired and needs to rest. Those voices seemed to have been, for now, silenced and replaced with the sounds of drool hitting the ground.
The new trailer shows a world set in a sooty, coal and smoke covered, Victorian era London in the year 1868. A world filled with steam engines and new inventions. The industrialization has now hit Assassin's Creed. If this doesn't drive the steampunk kids wild, I don't know what will.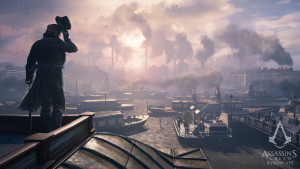 Our new assassins are a brother and sister named Jacob and Evie Frye. Almost immediately, we see how the assassin's robes how been updated to fit the time. We now have one character wearing, what looks to be, a trenchcoat and top hat. While the other wears a updated robe and hood that looks right at home in the squalor and riches of the era.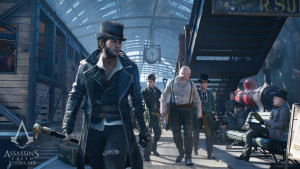 Assassin's Creed Syndicate will be released on PS4 and Xbox One on October 23rd