What happens when two people hiding for different reasons, unexpectedly meet each other under drastic circumstances?  Who lives in the "haunted house" deep in the woods and why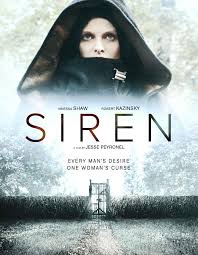 does the entire town believe the woman residing in it is a witch? Who is Guy, how did he stumble into Leigh's life and why?
These are the questions one will ponder in the mystery/thriller Siren, written and directed by Jesse Peyronel, set to be released August 18 from Osiris Entertainment.
The flick stars Pacific Rim hunk Rob Kazinsky and Eyes Wide Shut's Vinessa Shaw, who's chemistry is felt immediately upon their first scenes. What sets this fairy-tale romance apart from the usual boy meets girl, is the circumstances and unique flaws of the two characters.
Leigh (Shaw) suffers a rare condition, where men that cross her path see their heart's desire, which has effectively ostracized herself from any kind of relationship. Meanwhile war veteran Guy (Kazinsky) lost his ability to taste and smell thanks to a bomb during his time in combat.  Why is this important? You'll have to watch the movie to find out!
Leigh is clearly a recluse, unable to live a normal life because she attracts men who immediately "fall in love" with her. It's an interesting twist on an age-old formula.  The film is a bit confusing in the beginning leaving the audience wondering what the hell is going on, but it's intriguing enough to keep watching.  It definitely hits its stride as more details about Leigh's history and Guy's (Kazinsky) true motives bubble to the surface.
While the characters bond, there is another underlying story that begins to unravel involving a married couple, whose husband believes he's in love with Leigh.  Although this obstacle creates a bit of drama, honestly it was kind of unnecessary and took away from the main plot.  I would have liked to see the threat over Leigh's head more developed to create greater suspense of exactly why and who Leigh is hiding from.  Of course fans of Kazinsky will not be disappointed, doling a dose of sexy as Guy begins to fall in love with Leigh.
Dressing in black from head to toe, in a hooded cloak, townsfolk believes Leigh is a witch, conjuring spells to entice and seduce every man in sight.  Guy learns just how much Leigh is hated when he heads into town for supplies and is attacked- verbally, as well as physically. I liked the fact that the kids in town think Leigh lives in a haunted house and wished more of that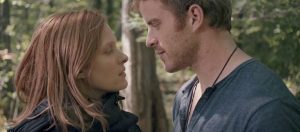 was explored, which I think would have heightened the mystery and intrigue.
The film is beautifully shot, with incredible sweeping views of the landscape that gives the viewer a complete picture of just how isolated Leigh is on the outskirts of town.  One of the scenes by a lake is breathtaking and sets the tone as sexual tensions rise between Guy and Leigh.
Overall I'm giving it a B and say the film is worth watching, as Kazinsky and Shaw truly make us believe the struggles both characters are going through, giving the audience enough emotional investment to care.  If you are like me and are a sucker for fantasy-romance, together with danger, mystery and suspense, check out Siren!
Siren will be available via digital and DVD August 18, 2015.  Watch the first trailer: