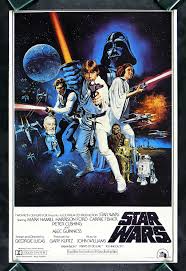 I was only 8 years old when I first saw Star Wars: A New Hope in the theater with my dad, who leaned over to read the screen as the story scrolled, then seeing those big space ships literally seem to come over my head- it was epic. Like most fans, it was the moment that changed my life forever.
I remember being in awe of it all and wanting to be Princess Lea (Carrie Fisher) so that Luke (Mark Hamill) could save me! I had such a crush on him, then in Empire Strikes Back fell in love with Han Solo (Harrison Ford) with women of all ages across the globe! Of course hundreds of kids donned the familiar costumes that Halloween, both my sister and I were dressed as Princess Leia, braided buns and all, while my brother dressed as Luke, proudly brandished his lightsaber ready for a battle at any moment. Suffice it to say, my brothers and I have deeply embedded lifetime ties to the outer space saga that is now ingrained within every fan's being, generation to generation.
Star Wars was probably the biggest draw at this years San Diego Comic-Con. Lucasfilm had a huge section of the exhibit hall that successfully conjured nostalgia for the epic space saga, with clips from the original films playing in the background, C3PO and R2D2 greeting excited fans of all ages. Taken over by Disney, the seventh installment Star Wars: The Force Awakens, is set to hit the big screen December 18. As a die-hard fan of the legendary series, it was a real treat to see the incredible exhibits and art created by several different companies. Collectibles were in high demand as fans gathered the coveted "SDCC Exclusives".
When I heard George Lucas sold the franchise to Disney, I have to say I was nervous. Seeing the man that created the galactic opus handing the keys over to anyone was scary to me, however, after watching the trailer and the Star Wars Panel at the San Diego Comic-Con, I have faith in J. J. Abrams. One of the my biggest concerns was that too much CGI. (Computer Generated Images) was done in Episodes I, II & III that took away from the original films. J. J. Abrams and his team have actually created new creatures and models, much like they did in the first three films, which I feel will give it an authenticity lacking in the newer films.
I had the privilege of chatting with Brian Chanes, Consignment Specialist at Profiles In History and Project Manager Monty Shook, who currently works for McCune Masterworks, about the upcoming auction, as well as how McCune Masterworks has met legendary status within the film industry.
Profiles in History made its mark in Hollywood thanks to their first memorabilia auction in the mid-1980's and it has grown into the largest auction house in the country. Dedicated to entertainment memorabilia, they deal with anything from costume designs to old scripts to building miniatures, hand props, pretty much anything used in a movie, they've got it. Chanes reports the company has done over ten Comic-Cons throughout the years, which has served them well in getting coveted buyers interested in unique movie memorabilia.
So why have they partnered with McCune Masterworks? Though Grant McCune, academy award-winning visual effects master, died a few years ago the company still goes on. Chanes explains he was very excited by the union, which marries the auction house with designers of unique movie memorabilia for collectors. "The heritage of the company lives on and they still work on commercials, films, visual effects projects, [but] also make custom collectibles, animatronics, space ships, wonderful fantastic things. We wanted to let people know and the comic con demographic is perfect."
One of the featured models on display was the very first ship seen in Star Wars: A New Hope, the 'Blockade Runner' chased by the Galactic Empire in the opening sequence. What fans may not know is that the team behind creating a lot of the on-screen props used in the original films were designed by Grant McCune, founder of McCune Masterworks and one of the greatest special effects visionaries of our time.
McCune Masterwork's current Project Manager, Monty Shook, has worked on numerous television series and films over his 30-year career. He also collaborated with Oscar winning visual effects legend Gene Warren. Although Shook did not work on the original Star Wars movie with McCune, he brings years of design experience creating incredible pieces such as animatronics, sculptures, props of all sizes, that have been seen in many movies we all know. Some include Battle in Los Angeles, Flightplan, Terminator 2, Batman Forever, Batman Returns, U571, Open Water, to name a few. He is also responsible for hiring the talent and being very selective to ensure designers fit the McCune employee profile, as some projects last months, sometimes over a year.
While McCune Masterworks does a lot of custom orders for that rare client who may need 100-500 pieces of a one-of-a-kind creation, Shook explains they are now working with mainstream consumers. "We are also doing consumer type projects for people who collect different scales of star ships or space crafts. There's modular pieces [that people] can buy one-five or ten pieces to add to it, [models] can go floor to ceiling, we have a table option or if they want to hang it from the ceiling we can do that." Another cool service they provide is if a client has an idea, Shook and his team will sit down, pencil sketch it and take it all the way to completion. "If [a client] doesn't have an idea, we'll conceive it for them, develop and create it", Shook adds.
It's safe to say that with computer animation, creating everything the mind can imagine and taking it to whatever level or dimension one can conjure, has catapulted film in all formats to amazing new heights. What's the biggest difference between what was created for Star Wars: A New Hope and Star Wars: The Force Awakens? Shook describes now, his team would look at reference photos or drawings, ask the creative on the project what they want something to look like. At this point, they'd "hand render it, then go to digital to generate a 3-D model, print it out and then create the molds to make a model, whether it's break away or flying model, motion control. We'd make it like we used to." Back in the mid-1970's, they didn't have the luxury of computers, so it was all done manually, from concept to finished product.
Obviously the late Grant McCune and George Lucas worked closely together on the original films to bring to life what Lucas had in his head. The epic battle scenes between the Millennium Falcon and Tie Fighters sent by Darth Vader was very similar to dogfights during WWII, which Lucas envisioned and described as an example over the years during interviews. One of the crucial things is getting the right on-screen shots of the models to make it look realistic. According to Shook, the model must be shot at a high rate of speed. "You have to shoot it at high-speed. There's actually a formula- it's the square root of the scale x 24 and that determines your camera speed which works across the board except for water shots. Water you have to run tests. Generally you don't want to do smaller quarter scale for water shots. Now we got away with it in U571 using twentieth scale, which only worked in smoke and fifth scale, which worked in Open Water, that worked fine. It's right on the border of what works for water shots." What does this all mean? The smaller the model, the tougher it is to make the shots work and look realistic.
In Star Wars Episodes I and II, I was disappointed because there was clearly too much CGI that really affected the continuity, look and feel of the series. Chanes agrees "There's this point where it looks almost like a cartoon, lacks an organic three dimensional quality and even cartoon physics were applied.  It looks like it's on a flat screen which doesn't work with the forces in play. [That's the] reason J.J. Abrams is going back to the practical. People like it. People cut that corner and do CGI because they can do it in post-production. Creating miniature models takes more time prepping, there are more variables in play for doing [that], filming on camera with miniatures."
Working as a designer for over 30 years, what were some of of Shook's favorite films he worked on? "That'd be hard to pick.  I did Terminator 2, spent a long time working on that. Did all of the sequences with the truck turning over, breaking in half. The Batman movies were very fun to work on, Batman Returns and Batman Forever. Did the model for the X-Men 2 movie."
Speaking of X-Men 2, one of the pieces on display was a gigantic, 65′ wide, break-away 'X-Jet' created for the flick by Shook and his team of six designers, who reverse engineered the model. However, after three months of work, the studio decided to create it in CGI. So why would they do CGI vs Model?  "They can add it in post-production, however, there are a lot more people involved in doing CGI. When we first started doing CG, the techniques were more primitive, so making models was easier. But now they create and run it through software programs for shots, reanimate it over and over, write the program for the software for each shot. Their are programmers, analogs, map guys, etc.. It's more expensive because there are more people involved." Shook said they did their own test scenes with it, which actually looked phenomenal, just as good as the CGI in the movie. He said one of the best early CGI creations done was when they first tried to do the King Kong movie, figuring out how to make it look good in the wind, make it move fluently and look real. I'd say they definitely succeeded!
Interestingly, as we continued to chat about models versus CGI, Chanes talked about Jurassic Park, which is one of my all-time favorite movies. He revealed that while the Brontosaurus shot of the mild-mannered dino eating leaves from a tree in that first moment is CGI, the Velociraptors are not! Created by Sam Weston, the Velociraptors in the terrifying kitchen scene when they're chasing the kids are real-life sized models. A famed skateboarder and visual effects guru Mark 'Crash' McCreery is actually part of the creature. Apparently his fellow visual effects experts immediately recognized his huge calves!
So when is the next auction where you can get your hands of some of the most innovative creations made for television and movies? Profiles In History is providing collectors a once-in-a-lifetime chance to purchase the legendary 'Blockade Runner' miniature, the very first ship ever to be seen in the saga! There are many other pieces set to be auctioned over the four-day event and right now it looks like the Blockade Runner will be auctioned on either day three or four. The auction event will run September 28 to October 1, at the Profiles In History Auction House, located at 26662 Agoura Road, Calabasas, CA, 91302. Don't live in California? No problem! Qualified bidders can participate either in person, by telephone (310) 859-7701, submit absentee bids or participate online in real time from anywhere with internet access across the globe.
*For more information, go to Profiles In History website. Follow Profiles In History on social media via Twitter, Facebook
*For more information on McCune Masterworks and their services, go to their website.
*Be sure to follow this blog for unique interviews with celebrities, writers, directors, producers and designers in television and movies, as well as coverage on fan events including Comic Cons, PaleyFest, screenings and more! Follow RHeart Network on Blogtalk Radio, Twitter, Facebook, Instagram, YouTube, Pintrest