Kim Delaney, award winning actress and producer, has been in the entertainment industry for many years, most recently in Army's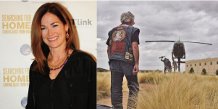 Wives. She is extremely invested in shedding a light on veterans with PTSD (Post-Traumatic Stress Disorder), a condition that PTSD Foundation of America reports one in three returning troops will be diagnosed with Post-Traumatic symptoms. However, their statistics indicate that less than 40% will seek help. It further reports that in 2009, 245 soldiers committed suicide and on average, one in five active-duty troops attempt suicide each day.
Monday night the cast of Army's Wives reunited for the premiere screening event in Los Angeles for Link TV's Searching for Home: Coming Back from War".
Directed and edited by Eric Christiansen, Executive Produced by Anthony Edwards and Produced by Bruce Spears, the documentary chronicles Veterans who have touching, yet horrific stories as victims dealing with PTSD, a condition that affects those they love the most.
Built on the "pillars" of The Truth – The Healing – the Hope, Searching For Home: Coming Back From War is a multi-generational study of the often perilous journey from battlefront to home front. From World War II, Korea, and Vietnam to modern-day conflicts, the documentary film honors the men and women, who have left "home," only to return to new and difficult challenges as profoundly changed people. The film captures, up close and personal, the lives of veterans struggling with issues of grief and trauma, some for as many as 60 years. Unprecedented access allows the viewer to personally witness the hidden wounds, disturbing memories and the devastating impact of PTSD.
KCETLink Media Group has partnered with New Directions for Veterans to raise awareness for veterans suffering from PTSD and to provide resources for their recovery process.
The film kicks off season two of LINK VOICES, KCETLink's weekly series of diverse, provocative, globally-sourced documentaries that inform, inspire and challenge viewers to impact change.
Searching for Home: Coming Back From War offers viewers a window into how these brave men and women can begin healing and regain hope utilizing myriad treatments and activities and, above all, helping others along the healing path.
Critical to the making of the film were a variety of organizations that include The Battle Buddy Foundation, David Westphall Veteran's Foundation, Heart 9/11, Mid America All-Indian Center, Etkin Lab at Stanford University, Veterans Airlift Command, Achilles International, Wounded Heroes Program of Maine, Purple Heart Homes and Run For The Wall.
"KCETLink is proud to present Searching For Home: Coming Home From War and partner with an organization so vital to this cause so we can recognize the difficult journey of our nation's heroes and understand the challenges they face once they are home from war," said KCETLink Media Group's Senior Vice President of Broadcasting, Programming and Syndication Bohdan Zachary. "This film is a significant undertaking representing the hearts and minds of the many diverse communities impacted by PTSD. We are truly grateful for this opportunity to bring this important project to viewers across Los Angeles and into the homes of Americans across the nation."
New Directions For Veterans hosted its 7th annual "Honoring Our Heroes" gala on Oct. 4 at the Beverly Hilton Hotel in Los Angeles, where actor John Savage ("The Deer Hunter") introduced a sneak peek of Searching For Home: Coming Back From War. The LA-based organization is committed to building a national community in which all at-risk veterans and their families lead lives of honor, dignity, well-being and respect, by helping veterans transition out of homelessness, find jobs, obtain homes and reunite with loved ones.
Beginning mid-October through Memorial Day 2016, a dedicated online hub at kcet.org/veterans and linktv.org/veterans will feature an ongoing series of short vignettes that highlight some of the veterans and organizations featured in Searching for Home, provide an in-depth look at these heroic individuals and their personal stories.
"Searching for Home has been a six-year odyssey for me, one of love, friendship and most of all, empathy," said the film's director Eric Christiansen ("Homecoming: A Vietnam Vets Journey"). "I have always believed my work is so much more than just making a film."
It has also received rave reviews from the New York Times and NYC Movies Guru:
"Searching for Home is strikingly photographed by Mr. Christiansen and is sure to give comfort and support to countless veterans and their families." -Anita Gates, New York Times
"A well-edited, well-organized and heartfelt doc that provides hope for anyone dealing with PTSD." -Avi Offer, NYC Movie Guru
Searching For Home: Coming Back From War is part of KCETLink's 'Link Voices,' a weekly presentation of globally-sourced documentary films. Link Voices airs nationally on Link TV and KCET Wednesdays at 9 p.m.
The documentary, Searching For Home: Coming Home From War, will nationally broadcast its premiere on Link TV's KCET Media Group, a national independent non-profit public broadcast in Southern California and via their digital network nationwide, appropriately on Veterans Day, November 11 at 9 p.m. ET/PT.
For more information on how you can help, be sure to check out KCET's website and follow them on social media: