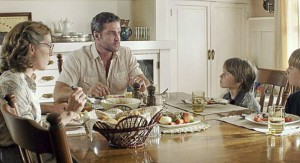 Ben Reed plays Wayne Kyle, Chris Kyle's father in American Sniper.
He grew up in Bisby, Oklahoma doing the things most young guys do, getting into athletics and not much acting. A football scholarship took Ben to West Virginia as a quarterback. During summer session, he snuck away to get an audition and he got the callback. He then moved to LA for acting and it was what he wanted to do and he enjoyed the heck of out it.
Ben said it was a pleasure to work with Clint East and Brad Cooper. As Wayne Kyle, he taught Chris Kyle his values and discipline, taught him about sheep, wolves and sheep dogs and who leaders and followers are. To prepare for this role, he talked to his own father because Ben's brother was in the military as well – his brother actually joined special forces and had a similar situation with Chris Kyle.
In one scene, Ben Reed plays a deacon at the church, who is always stern and teaching lessons so that he can educate his family. And in another scene, he takes a young Chris Kyle deer hunting, and explains to him that he has a gift for shooting and that he will make a fine hunter.
Ben thinks the film is great, a solid script and story with some of the biggest stars in Hollywood and he has great hopes for the success of the film.
Currently Ben Reed is finishing up his own film, Star-Crossed, about a young writer. He produces the movie as well as stars in it. He enjoys producing more than acting, he says its fun to run the show and creativity as a producer is great!
Interested in American Sniper? Please check out our review here
*photo courtesy of IMDB.com