As an avid convention goer I've always wanted to be privy to what goes on behind the scenes, especially with the actors that we love, adore, and obsess over.  Using parody, some tongue-in-cheek humor, and a slew of guest stars, Con Man (the brainchild of Alan Tudyk) answers those questions and many more.  Tudyk stars as Wray Nerely, a struggling actor and star of the defunct fictional sci-fi show Spectrum (Firefly anyone?).
Through the eyes of Nerely we are taken on a ride through the world of Comic/Sci-Fi conventions with hilarious accuracy.  Wray is consistent in his attempts to free himself from convention obligations as he searches for his next big break.  Guest stars read like a who's who of our most beloved TV/Web cult personalities including Firefly alums Gina Torres, Nathan Fillion, Jewel Staite and Sean Maher.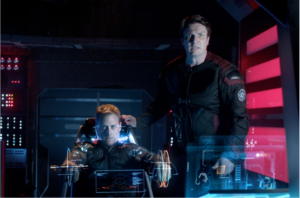 Con Man was thoroughly enjoyable, and I don't feel that my own financial contributions to the Indiegogo campaign were in vain. The set design and overall production was superbly done. Was it perfect? No, but the series is good enough for repeat viewings as well as second season.  This vehicle was the perfect opportunity to really let Tudyk shine as writer and producer, while also fully displaying the power of fandom.
Con Man raised $1 million in 24 hrs. and $3.2 million overall through their Indiegogo campaign, by offering a wide array of perks from wallpapers to producer credits.  This project is only going to get better over time, and I'm excited to see where it goes next.
Last week we got the news a lot of us were waiting for…Season 2 of Con Man is coming!
Here's the press release info from its new home on Comic-Con HQ
"The second season of Con Man, premiering in late 2016, focuses on Wray's attempt to propel himself from B-movie sci-fi actor to esteemed mainstream leading man, while maintaining the respect of his Spectrum fans, former co-stars and Jack in the process. Tudyk and Fillion reprise their roles as Wray and Jack, with several other familiar faces to be announced.
Season 1 will be available via Comic-Con HQ next month, following the platform's beta launch on May 7th, Free Comic Book Day. Fans who join Comic-Con HQ during the first two weeks of beta launch will be entered to win an all-expenses paid trip to San Diego Comic-Con 2016. For more details and to sign up for free beta access, visit Comic-ConHQ.com"