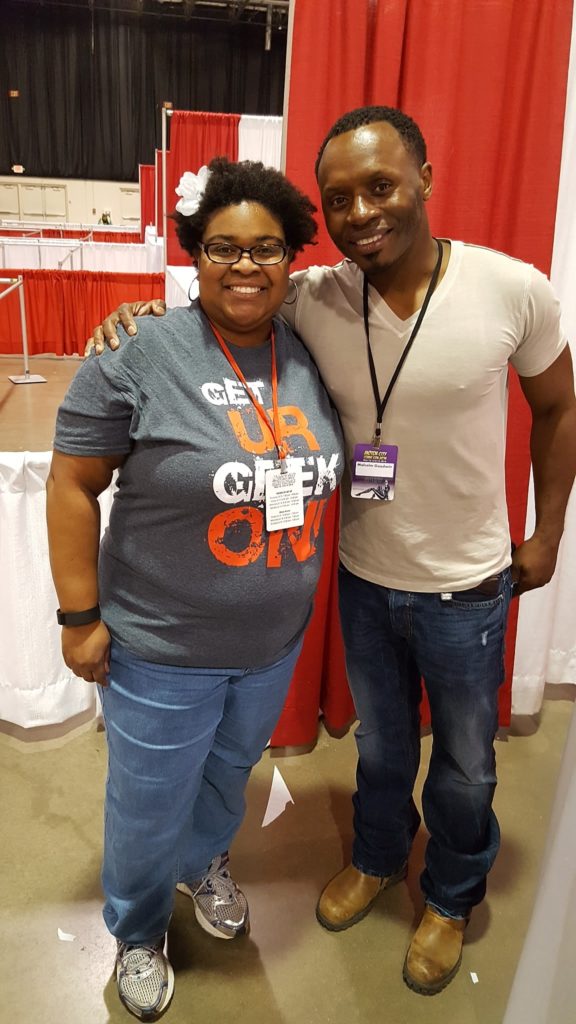 Unfortunately I have not watched iZombie on a regular basis.  I enjoyed the pilot, but because it usually came on at the same time as Marvel's Agents of SHIELD on Tuesdays, it's been hard to catch up.  However, after meeting Malcolm Goodwin, who plays the character Clive Babineaux on the show, interviewing him, as well as going to his panel with Keith Allen, I want to make more of an effort to watch the show.
It was a pleasure talking with Goodwin at Motor City about the movies he directed.  One of the movies, A True Story, is already on Netflix so I have to add that to my watchlist to view soon.  As a fan of musicals, I feel like I would enjoy Construction as well. Pass the Light is coming out approximately in September of this year, which I think is timely considering the movie is dealing with a 17 year old trying to run for president and this year is the presidential election. No worries, iZombie fans, I did ask a few questions related to the show, thanks to Michelle and James, who do talk about the show on our DCTV podcast.
Goodwin  also did a panel on Sunday, May 15th called "Z is for Zombies" panel with Keith Allan, who is on the show Z Nation.  I even got to ask both of them a question about zombies which was cool.   I thought the questions the audience had as well as Allan and Goodwin's answers made both shows tempting to add to the already long list of shows that I watch.
For Goodwin fans, what other characters have you enjoyed him playing? What are you looking forward to for next season of iZombie? Did you also meet him at Motor City?  Sound off in the comments below!