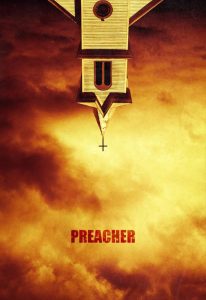 Preacher….where do I begin…hmmm
I saw the premiere episode during WonderCon along with a few hundred other fans and we seemed ecstatic after we saw it.
The episode was slow at times, but it had to be as there was a lot of character building/introduction that had to be done in the first 45 minutes. The show is not devoid of violence (as one who had the read the comic would hope would be the case). It combined the violence and character introductions with a bit of humor (really? Blowing up Tom Cruise…yes they went there).
Now lets talk about some of the introductions why don't we.
Jesse Custer (the Preacher, played wonderfully by Dominic Cooper, who is no stranger to comic book adaptations having played Howard Stark in the Agent Carter series) is introduced as a small town preacher (hence the name of the series), who has in the past done some pretty bad things. But it seems like he doesn't do them any longer…unless he's pushed into a situation like he was at the bar. I hope the series delves more into his past so those who aren't familiar with the comics can see why he is the way he is.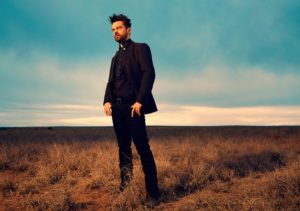 Cassidy (the Irish vampire, played by Joe Gilgun) is introduced aboard a plane and right away shows us his fighting skills…and humor at the same time. Great use of a wine bottle by the way.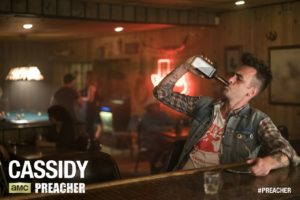 Tulip (played by Ruth Negga, who like Dominic, has worked on a comic book series before on Agents of S.H.I.E.L.D.) was a great choice for this role. She is introduced in a pretty violent encounter, but has a great sense of humor in her next encounter on the show. What a great use of army men. Can't wait to see more of her backstory.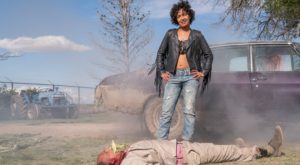 Rounding out the main cast (so far, there will be more as the series progresses..) is Arseface (or Eugene, played by Ian Colleti under a lot of makeup), we aren't really shown much of his backstory, but I'm sure we will later on. His introduction makes me wonder how much they will go into his backstory, as it was kinda brief.
All in all I loved the first episode, and can't wait (but have to) for the next episode to air. AMC (along with Seth Rogen/Evan Goldberg who are no stranger to hits, albeit on the big screen) has a hit on their hands with this show, and the fans hopefully keep turning out. The first episode pulled in 2.38 million viewers in the US. If it keeps pulling out those numbers, we are in for a long run for this wonderfully done show.