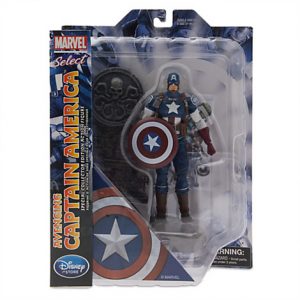 HISTORY:
Captain America first appeared in 1941 (pre Marvel Comics). He was envisioned to be a patriotic super soldier who often fought the Axis powers of World War II. He was brought back by Marvel Comics in 1963 and as been a regular member of their storylines since. While the original Captain America was Steve Rogers (who this figure is), there have been a few other characters that have held that mantle over the years.
FIRST GLANCE:
When we saw this package, we instantly liked it, from the artwork on the outside, to the Hydra stand it came with it's a great package and a figure we were excited to own.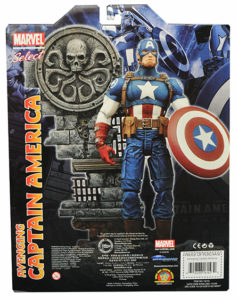 DETAILS:
The figure is 7″ and features 16 points of articulation. The figure comes with a removable shield as well as a Hydra stand (which considering what recently happened in the comic book is kind of interesting/funny). The figure was released in February 2016 as a Disney Store Exclusive
ARTICULATION :
-Single direction for elbows, wrists, knees (both upper and lower portion of knee), upper leg.
– 360 degree movement for all other points of articulation. (Head, shoulders, upper arm, wrist, waist, bottom portion of upper leg, lower leg, feet)
ACCESSORIES :
Removable shield, Hydra stand
This figure was released in February 2016 and is currently available through Disney Store (as it is a Disney Store Exclusive) as well as on the secondary market through sites like Amazon and eBay. The MSRP for the figure is $24.95 USD.
Overall I give this figure the following ratings (out of 5)
Appearance: 5
Quality: 4.5
Overall: 4.75