The soundtrack for one of the most anticipated graphic novel adaptions is being released soon. Batman: The Killing Joke soundtrack features a score by score by Lolita Ritmanis, Kristopher Carter & Michael McCuistion as well as "I Go Looney" sung by Mark Hamill as The Joker. More information including album cover below courtesy of their press release.
  BATMAN: THE KILLING JOKE – ORIGINAL MOTION PICTURE SOUNDTRACK
TO BE RELEASED JULY 22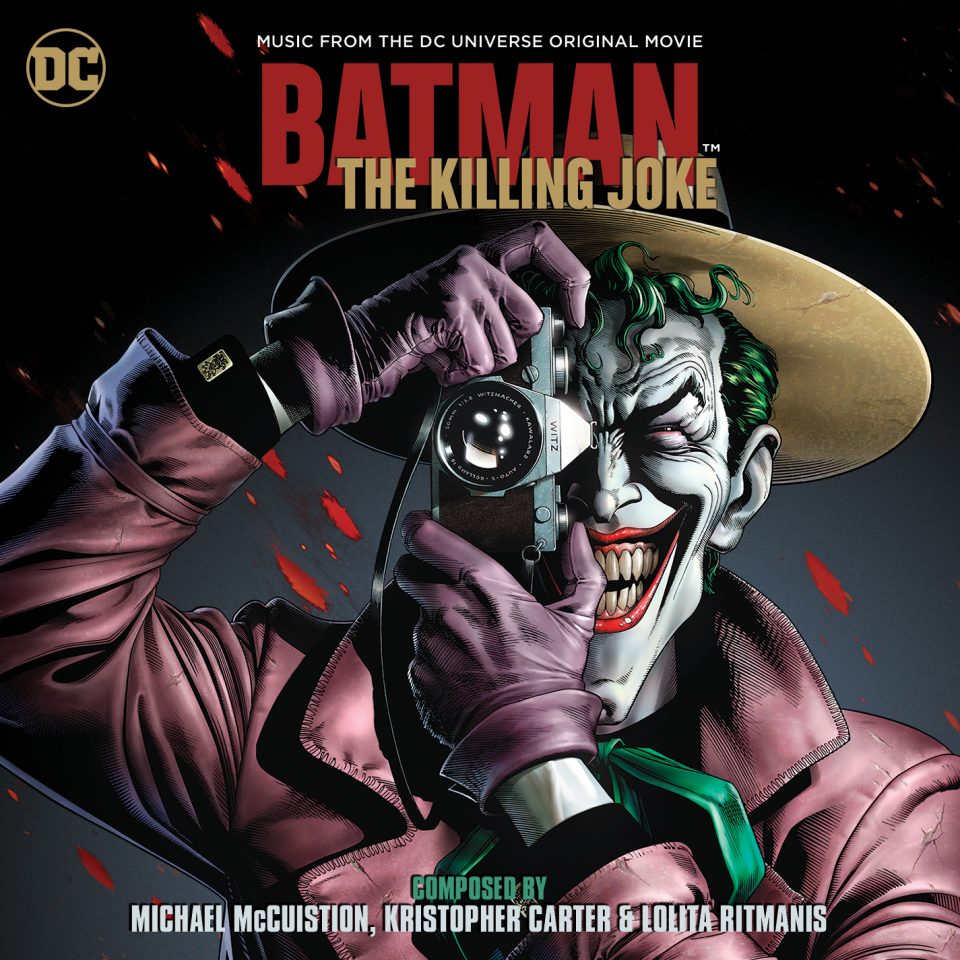 Featuring Original Music By Lolita Ritmanis, Kristopher Carter & Michael McCuistion
(JULY 15th, 2016 – Los Angeles, CA) – WaterTower Music and La-La Land Records announced today the July 22 release of BATMAN: THE KILLING JOKE – Original Motion Picture Soundtrack, both digitally and on CD. The album features the film's lush original orchestral score by Lolita Ritmanis, Kristopher Carter & Michael McCuistion (JUSTICE LEAGUE, BATMAN BEYOND, YOUNG JUSTICE) and the highly anticipated song "I Go Looney" sung by Mark Hamill as The Joker.  BATMAN: THE KILLING JOKE is directed by Sam Liu, with Bruce Timm and Sam Register as Executive Producers.
"Bruce and Sam are deeply sensitive to the effect of music on the scenes," says Kristopher Carter. "During our meetings, we would discuss what was happening not only onscreen, but also what was NOT onscreen that the music can support. Communicating what the characters are thinking and feeling is one of the most powerful uses of music in film, and it was a joy to collaborate with film makers that want to find just the right tone to help tell the story."
Michael McCuistion adds, "We knew right off the bat we were going to hire live musicians for this score—we wanted the level of nuance and expression that only live performance provides. We were especially excited to be able to reunite with many of the finest Los Angeles studio musicians who originally played our scores for BATMAN: THE ANIMATED SERIES to record THE KILLING JOKE. The legacy that we all shared became a catalyst for some truly unforgettable recording sessions!"
"Cinematic, psychological, introspective, and melodic are words that come to mind as to how I would describe what we were striving to achieve musically for this deeply complex and frankly amazing film," Lolita Ritmanis comments. "It is great to have room to breathe, to allow for themes to be heard in their entirety, to be in full-on feature film mode, and to be able to draw inspiration from the story, the beautiful artwork and the stellar vocal performances of Mark Hamill, Tara Strong, Kevin Conroy, and the rest of cast."
Based on the acclaimed graphic novel of the same name, BATMAN: THE KILLING JOKE takes a journey into the dark psyche of the Clown Prince of Crime – from his humble beginnings as a struggling comedian to his fateful encounter with Batman that changes both of their lives forever. Years later, and now escaped from Arkham Asylum, The Joker devises a plan to prove that one bad day can make anyone as insane as he is – setting his sights on Commissioner Gordon. It's up to the Dark Knight to put a stop to The Joker's latest scheme and save one of Gotham City's finest. Following a gripping prologue introducing Barbara Gordon's heroic adventures alongside Batman as Batgirl, BATMAN: THE KILLING JOKE stays true to the authentic tale that has held fans' imaginations for nearly three decades – spotlighting the birth of a Super-Villain, the fortitude of a Super Hero and the punchline that will leave you speechless.
Emmy Award-winning composers Lolita Ritmanis, Kristopher Carter and Michael McCuistion, mostly known for their work within the DC and Marvel Universe, have created custom music for a variety of different projects including TV series, films, video games and live performance events.  They have collectively earned twenty-eight Emmy Award nominations and six Annie Award nominations as composers for BATMAN: THE BRAVE AND THE BOLD, JUSTICE LEAGUE, TEEN TITANS, BATMAN BEYOND, THE ZETA PROJECT and THE NEW BATMAN SUPERMAN ADVENTURES.  They each received the Emmy Award in Music Direction and Composition for their music for BATMAN BEYOND, and the score to their feature film YESTERDAY WAS A LIE won a Gold Medal at the Park City Film Music Festival.
Original concert works and suites of their scores have been performed in festival and special events from New York's Lincoln Center to The Hollywood Bowl – their music has received critical acclaim.  This remarkable and very contemporary trio of composers and performers is a perfect example of creative collaboration, business savvy and artistic expression.
Produced by Warner Bros. Animation and DC Entertainment, Batman: The Killing Joke arrives August 2, 2016 from Warner Bros. Home Entertainment on Blu-Ray™ Deluxe Edition, Blu-Ray™ Combo Pack, DVD and Digital HD. Fans can also own Batman: The Killing Joke on Digital HD on July 26, 2016 via purchase from digital retailers.
BATMAN: THE KILLING JOKE – Original Motion Picture Soundtrack will be released on July 22, 2016.  The track list is as follows:
How the Story Begins*

We've Got a Robbery**

Uncle Not Pleased***
Narcissist and Sociopath**
Hit on Yacht***
Serious Business*
Bats and Babs Cross the Line***
Rooftop Regrets***
The Abyss**
 Batman Was Right*
Storage Unit Corpses***
The Halls of Arkham**
Joker Imposter***
Making a Killing**
Jeannie Flashback*
Looking for a Clue**
Broken Books***
Hoods Present the Hood***
Nothing Will Be the Same**
Trapped in a Nightmare*
Jeannie Is Gone*
Bats Pummels for Clues***
Throw the Book**
Horrifying Images**
Bats Receives Tickets***
Ghost Train Stops*
Chemical Factory Heist***
Batman Arrives at the Carnival*
Merry-Go-Round Source**
By the Book**
All It Takes Is One Bad Day*
Let Me Help You**
Oracle Is Here***
End Credits§ 3:07
35.
"I Go Looney" §§  Performed by Mark Hamill
*                composed by Lolita Ritmanis
**              composed by Michael McCuistion
***                        composed by Kristopher Carter
§                composed by Michael McCuistion, Kristopher Carter & Lolita Ritmanis
§§              music by Michael McCuistion, Kristopher Carter & Lolita Ritmanis