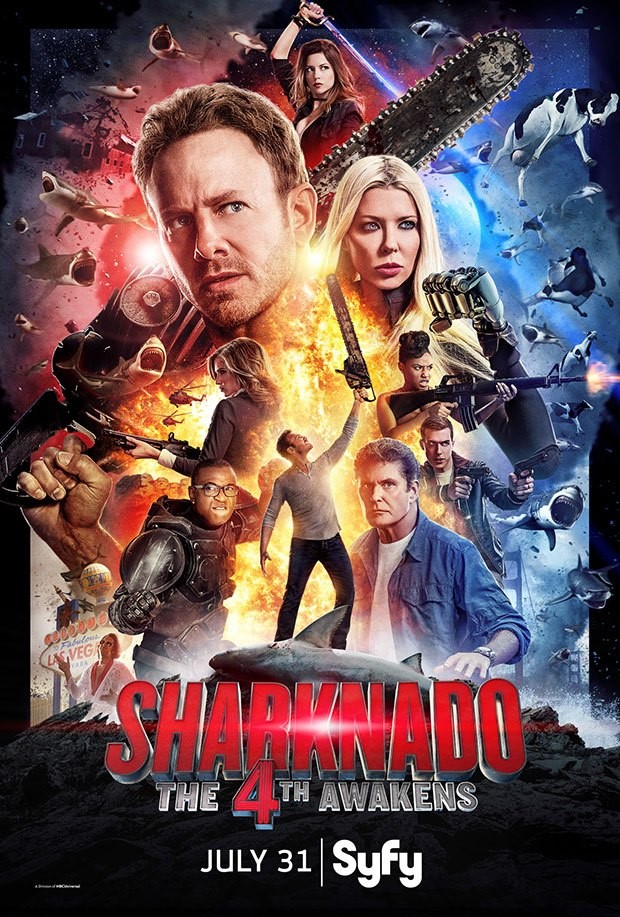 When the first Sharknado movie premiered on Syfy a few years ago, I thought it would be a one-off like the other movies the channel has done.  The fact that it became such a cult hit that three sequels have been made so far just boggles my mind!  However there seems to be a cameo in Sharknado 4 that would tempt me to watch it and that is Tommy Davidson. Yes, the same Tommy Davidson that I grew up watching on the comedy sketch show, In Living Color and in movies like Booty Call, Strictly Business, and Ace Ventura, When Nature Calls! The fact that In Living Color just celebrated 25 years is just showing my age.
As with the last few years Sharknado will have a presence at Comic Con International San Diego (SDCC) this weekend. I got a chance to chat briefly with Tommy Davidson about his role in the latest sequel in the Sharknado verse and the fact that he has been to SDCC before. I felt very blessed and honored to talk with an actor and comedian who just happened to grow up in Montgomery County, MD like me.  That tidbit had me geeking out a little bit.
TNE:   You're one of those people that like to stay busy, right?
Tommy Davidson:   Yeah. Yeah. Because if it isn't one thing, it's another. It's not, like, a compulsion. There's just a lot of good stuff to do. You know? I think I'm back to being a kid. Remember that?
TNE:  Yes.
Tommy Davidson:   You know how you used to run outside?  Be like, "Let's go! Let's go! I don't know what we're doing but we're doing it." You know? Remember that?
TNE:   Yes, I remember that feeling and I definitely miss it. I miss just playing double-dutch outside and just not worrying sweating and being funky. I would just be a kid.
Tommy Davidson:   Yeah. Go, just go!
TNE:   Yeah.
Tommy Davidson:  Yep. Just have fun.
TNE:    So did you always want to be a comedian?
Tommy Davidson:  No. Heck no!
TNE:  (Shocked) Really?
Tommy Davidson:  Heck no! I always wanted to be a singer. Always wanted to be a musician. As a kid, that was what I wanted to do. The comedy thing happened. It was one of those things that just happened. And I'm so glad it did!   It brought the best, you know, universe strike of lightning thing that a person can ever have. You know?
TNE:   Yeah.
Tommy Davidson:  It's like Newton's apple. It just happened to hit him on the head. You know?  Even though the Africans knew about gravity. He did it before. Even though he credited the Africans for three things that preceded his work.
TNE:    Can you describe your first stand up experience? Was it true that you were a chef at one point?
Tommy Davidson:  Well, I was an assistant chef. I think it stands to reason now – on these cooking shows, people tell me how bad I am of a cook. But, yeah, yeah, I was an assistant chef and a friend of mine called me and asked me to go to the comedy club. So I did and here I am.
TNE:  And that was in D.C., was it not?
Tommy Davidson:  That was in D.C.
(This was when we compared notes living in Maryland)
TNE:      Wow, that is freaky!
Tommy Davidson: Mm-hmm.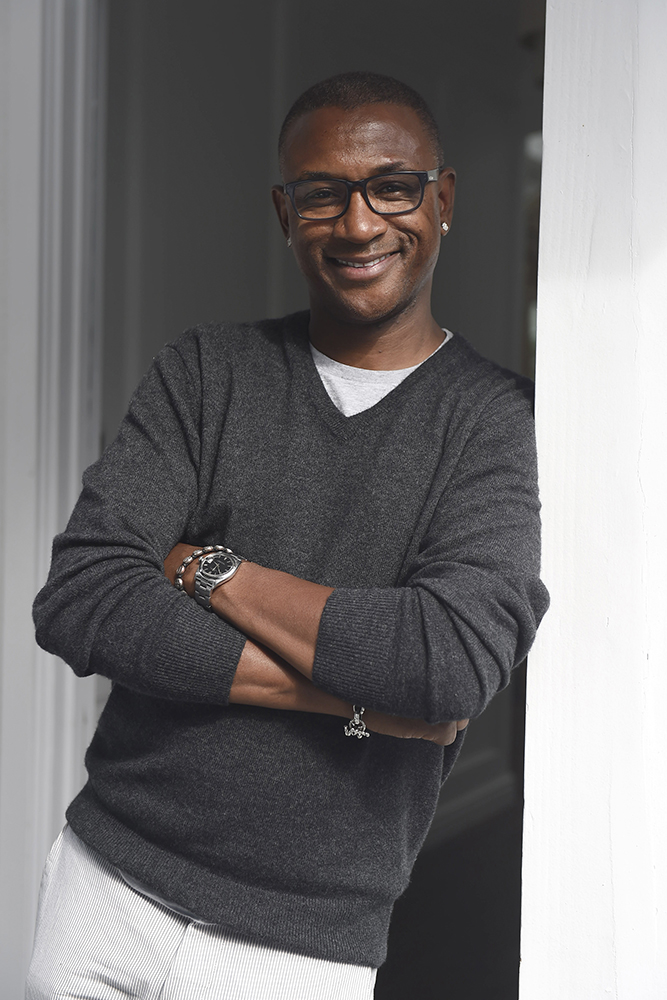 TNE:  So you've parodied some famous artists like MC Hammer, Michael Jackson. Did any of them make comments about your parodies or your sketches about them?
Tommy Davidson:  The only person that really had a problem with the stuff that I – no one ever had a problem with stuff I did. (Thinks some more)
No. Everybody loved it. I mean Sugar Ray Leonard looked at me for two seconds like he was gonna punch me in my face when we first met. But other than that, we did well.
TNE:  So which guests were your favorite over the years on In Living Color?
Tommy Davidson:  There were sooo many. I can't… I couldn't even …Whoopi.
TNE:  Whoopi?
Tommy Davidson:  Yeah, Whoopi was my other favorite guest on the air. And Tupac.  Tupac became legendary after he left that show. But everybody loved him. You know what I mean?
TNE:      Yeah.
Tommy Davidson:  He was bad ass!
TNE:  So what would a typical day on the set of In Living Color go? Because you did a lot of sketches with Jamie Foxx. How – when you first started, did you immediately gravitate toward each other and y'all just had that natural chemistry? Or was it just kind of like you paired up with other people first and then eventually –
Tommy Davidson:  Jamie came to the show after the show was on the air.   When Jamie came in, Jamie was already just a talented dude that was really kicking ass. You know?
TNE:  Mm-hmm.
Tommy Davidson:  We got with each other and his rhythm is my rhythm. And we really, really clicked. So naturally, when he showed up – I already knew about his talent. I couldn't wait to work with him! So we were instant!
TNE:      How often did you want to become a singer on the show? You did a few sketches where you actually sang. So was it kind of like living your dream of being a singer when you were on the show?
Tommy Davidson:  Oh yeah. Definitely. To do all the things that – I could do anything that I wanted to do on that show. That's what made the show pretty damn special. Yeah.
TNE:  Despite some of the tragedies (mass shootings, police shootings, just the violence) that have happened over the last several years, how do you think comedy can help bridge the gap between the races, so to speak?
Tommy Davidson:  Well, you need to get someone – people of faith to go and get together – people of all colors to go and get together and just be together in the spirit of joy and happiness. I think it's very important that when we assemble, that those assemblies are harmonious. And they're love-filled. You know? But where's that going to happen? At the post office? You go to a comedy club and everybody has one singular purpose. Right? To go there and to be laughing.  And we can't do it sad. If we can't do it out in the street – get along with each other – looks like the comedy club is the last bastion. Or you just have to wait until Sunday at church. You know what I mean?
TNE:      Yeah.  (On to brighter topics) What's the story behind you being a part of Sharknado 4?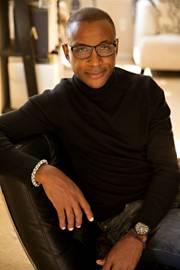 Tommy Davidson:  I just got the call. And it was just one of those things where they considered me.  I look[ed it] up and I like[ed] the project and I got the job. It was really cool [that] he might've wanted to work with me – it's got to be a really bad, bad project for me not to do it because I just love what I do.
TNE:      Describe your character on the movie.
Tommy Davidson:  Oh, my character is called Aston Reynolds. He's a multibillionaire and he actually comes along with our main character and joins in because the Sharknado threat is back. So I actually use my tech company, which is one of the top tech companies on earth, to help solve the Sharknado problem. I don't die and I save the world. How you like that?
TNE:      Yes!  How did it feel actually trying to kill sharks?
Tommy Davidson:  It was cool, it was cool! I'm glad I didn't have to get in the water.
TNE:   Right.
Tommy Davidson:  You know? So I kinda like that angle.
TNE:  So what was your weapon of choice?
Tommy Davidson:   I actually was using nuclear blasts. Bombs? Oh yeah. Oh yeah. I was nuking them from the sky. I was sophisticated.
TNE:      Okay! You were up the ante as far as weaponry was concerned!
Tommy Davidson:  Oh yeah, yeah, yeah. I upped the ante, man!
TNE: If you can describe the movie in one word, what would it be?
Tommy Davidson:  I hate to – this sounds corny. Zany.
TNE:   Zany? C'mon, let's be for real. Sharknado just wasn't something that caught my eye. I was like, "Okay. This is like a parody or just like a fun movie that I just…" For some reason, I just wasn't turned on to it. But I can see how people would love it just for the corniness.
Tommy Davidson:  Me too.
TNE:      So this is your first time going to San Diego Comic Con?
Tommy Davidson:   [No] I've been there [before] and it's one of the best things ever!  I've been there like three times. I was there with Black Dynamite. Remember Black Dynamite?   The movie and the cartoon.
TNE:      Okay. Alright. So you've had that Con experience?
Tommy Davidson:  Oh, it's crazy! Have you been there?
TNE:   Yeah, I've been. I started going in 2012. But I'm not going this year.  I have experienced San Diego and it's just crazy! But it's fun!
Tommy Davidson:  Yeah, it's – oh wow, it's something else!
TNE:   So you're really excited about going again?
Tommy Davidson:  Yeah, I am! I really am!
TNE:   Would you consider going to experience other conventions where you're at least doing autographs and photo ops with fans? Or doing your own panel maybe?
Tommy Davidson:   I've done my own panel and I'd love to do my own panel [at other conventions]. That's what I'm all about. I'm all about panels. That's me! Panel dude!
TNE:   So you're a very busy man. What do you try and do to relax and just breathe and just take a breath?
Tommy Davidson:   Oh, I watch movies. I'm a big movie buff.
TNE:  What was the first movie that you saw as a kid that you were just like, "Wow…"?
Tommy Davidson:   Planet of the Apes. You know what I mean?
TNE:   Oh! With Charlton Heston? Okay!
Tommy Davidson:  Because I didn't know what it was. (At this point we were overlapping interviews, tears)
TNE:   One more question about Black Dynamite.  How involved were you with the changes made to the back-story once Black Dynamite spun off into the animated series?
Tommy Davidson:    I was involved all the way. I was one of the main characters. Can't do a cartoon without me. I did the Proud Family. C'mon now!
TNE:      Well, thank you, Tommy, for taking the time to talk to me.
Tommy Davidson:           Thank you, sweetie.
For those Sharknado fans the panel will be on Friday at 7:15 pm in room 6A.  Here is a sneak peek to the new movie.
http://qlnk.io/ql/5762d469e4b0a8c4f2efa856