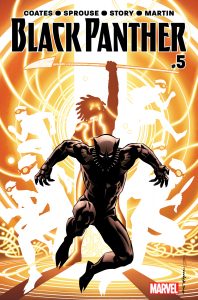 Marvel Comics released part 4 of their monthly series Black Panther: A Nation Under Our Feet, a video series that incorporates music talent with Marvel Comics' Black Panther. Full information, pictures and video clip all courtesy of Marvel Comics.
MARVEL COMICS PROUDLY PRESENTS  "BLACK PANTHER: A NATION UNDER OUR FEET – PART FOUR" FEATURING "KINGS" BY KWEKU COLLINS
Innovative Marvel Video Series Bridges Marvel Comics with Top Music Talent
New York, NY—Aug 10th, 2016 — Today, Marvel Comics continues to present this year's breakout Marvel Super Hero – the Black Panther – through a monthly video series that continues to link the world of comics and hip-hop blending animated comics along with commentary from Black Panther writer, Ta-Nehisi Coates.  Additionally, "Black Panther: A Nation Under Our Feet – Part Four" is paired with Kweku Collins' harmoniously mastered "Kings."
This new video series is designed to present the world of Black Panther to a whole new audience and will offer fans a monthly recap of the best-selling comic book series prior to the latest issue being made available and on sale.
Within Marvel Comics' Black Panther, written by The Atlantic national correspondent and National Book Award winner, Ta-Nehisi Coates, Black Panther confronts a dramatic upheaval in Wakanda that will make leading the African nation tougher than ever before! When a superhuman terrorist group calling itself The People sparks a violent uprising, the land famed for its incredible technology and proud warrior traditions will be thrown into turmoil. If Wakanda is to survive, it must adapt — but can its monarch, one in a long line of Black Panthers, survive the necessary change?
Continuing the excitement surrounding Marvel's celebrated Super Hero T'Challa, the Black Panther, the latest episode of this revolutionary multi-artist hip-hop-inspired video series samples, "Kings" by Kweku Collins.
"It's a very surreal experience to see my music accompany the story of a Super Hero that represents a part of my identity previously under-represented in the comic world," says Collins. "The strength and perseverance I've observed in Marvel characters since I was young continues to inspire me as an artist and a person."
This new video series has already reached global proportion and will further emphasize how Marvel is the premiere name when it comes to story-telling, and now, a brand new platform for musicians to launch new music.

Black Panther #5 is available digitally through the Marvel Digital Comic Shop and at all local comic book retailers. To find a comic shop near you, visit www.comicshoplocator.com or call 1-888-comicbook.