Today Kidrobot along with Clutter announced that for the 3rd time they'd be bringing The NYCC DTA Dunny Show to New York Comic Con. More details and pictures below courtesy of Kidrobot's press release.
 Clutter and Kidrobot Announce the NYCC DTA Dunny Show!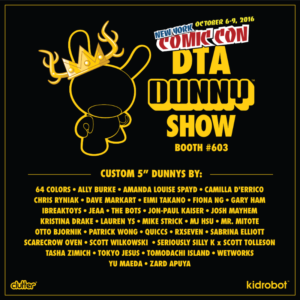 Celebrating the launch of the 5″ blank Dunny platform, and the 6th Annual Designer Toy Awards, Kidrobot , Clutter and The Designer Toy Awards have once again teamed up to bring collectors a visual treat! Bringing together some of the industries top artists from around the globe, we are excited to announce the third installment of the DTA Dunny Show, "The NYCC DTA Dunny Show!"
With the aim to expand the market reach of Designer Toys, and to celebrate the effort of all involved, Kidrobot (long time supports of Clutter and The Designer Toy Awards) have once again donated all proceeds to fund the annual awards ceremony.
The list of participating artists include:
64 colors • Ally Burke • Amanda Louise Spayd • Camilla D'Errico • Chris Ryniak  • Dave Markart • Eimi Takano • Fiona Ng • Gary Ham • ibreaktoys • JeAA • The Bots • Jon-Paul Kaiser • Josh Mayhem • Kristina Drake • Lauren YS • Mike Strick • MJ Hsu • Mr. Mitote • Otto Bjornik • Patrick Wong • Quiccs • rxSEVEN • Sabrina Elliott • Scarecrow Oven • Scott Wilkowski • Seriously Silly K x Scott Tolleson  •  Tasha Zimich • Tokyo Jesus • Tomodachi Island • wetworks • Yu Maeda & Zard Apuya.
Artists will be using the hashtag #NYCCDTADunnyShow as they post images of their works-in-progress leading up the show.
A mixture of 5″ and 8″ Dunny  will be on display at New York Comic Con, October 6th – 10th at booth #603. Remaining pieces will be displayed at The Clutter Gallery (163 Main St., Beacon, NY), for the remainder of the month. Pieces will be first available on the floor of NYCC, then online at shop.cluttermagazine.com.