Tenacious Toys today released their 5th wave of exclusives for New York Comic Con 2017. All information and pictures below courtesy of their press release.

NEW YORK, NY, Sep. 21, 2016 — NYC-based online art collectible retailer Tenacious Toys has revealed another wave of their NYCC Exclusives. This wave includes the following pieces:
• Blue Zen Panda 2.75″ resin figure by TobyArt. 5 pieces, $35 each.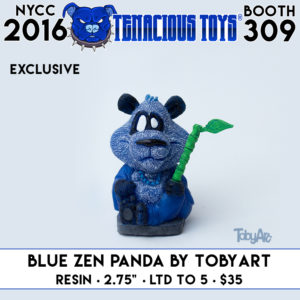 • Big Step 1.5″ resin figures by TobyArt. Tenacious Blue Edition, limited to 5, $7 each.

• Touma Pico Mao Figure Tenacious Exclusive. 1.5″ tall, limited to 50 pieces, $15 each.

• Clear Blue Feeling Cocky by Rufus. 2″ resin figure, 10 pieces, $35 each.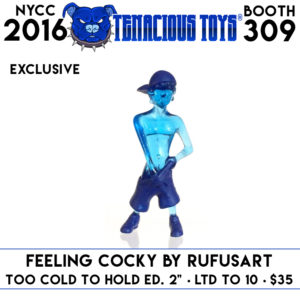 • Zuurn Pin by ValleyDweller. 1″ tall, limited to 10 in Tenacious Blue, $10 each.
More NYCC Exclusive will be revealed daily in the run up to NYCC. All Exclusives will be posted on the Tenacious Toys NYCC 2016 page with the "Sold Out" designation. Any leftover items will be made available immediately after NYCC on that page.
Tenacious Toys Booth 309
New York Comic Con
Jacob Javits Center
655 W 34th St, New York, NY 10001
October 6 – 9, 2016
___
About Tenacious Toys
TENACIOUS TOYS is an NYC-based online designer toy shop specializing in vinyl art toys, handmade resin collectibles and one-off custom toys.
___
Links
Tenacious Toys NYCC 2016 page
http://www.tenacioustoys.com/collections/nycc-2016
Tenacious Toys homepage
http://www.tenacioustoys.com
Add Tenacious Toys to your NYCC Show Planner
http://www.newyorkcomiccon.com/en/Exhibitors/2009740/Tenacious-Toys
New York Comic Con website
http://www.newyorkcomiccon.com/