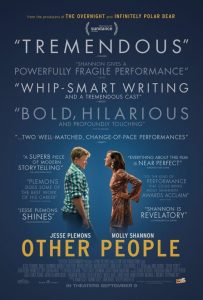 Recently I had a chance to attend San Diego International Film Festival's opening night and see their opening film. The film they chose this year to open the festival was Other People directed and written by Chris Kelly (making is debut as a movie director) and starring Jesse Plemons, Molly Shannon, Bradley Whitford, Maude Apatow, Madisen Beaty, John Early, Zach Woods, J.J. Totah, and June Squibb.
The film is about David (played wonderfully by Jesse Plemons) who goes home to care for his mom who is in late stages of leiomyosarcoma (an extremely rare form of cancer) and how the family deals with things after Joanne (played by Saturday Night Live veteran Molly Shannon) decides to stop her chemotherapy.
The supporting cast is great and features quite a few primetime veterans either in larger roles, or blink and you'll miss it roles such as Matt Walsh (Brooklyn Nine-Nine, Veep), Kerri Kenney (Reno 911!), Retta (Parks and Recreation), among others.
All the performances in the movie were terrific, but J.J. Totah despite only being in 2 scenes totally stole the spotlight when he was on camera…his second scene reminded me of a certain scene in Little Miss Sunshine with a very young Abigail Breslin. Those who have seen that movie may have an idea of what I'm referring to.
I thought overall the movie was terrific, mixing drama and comedy wonderfully.
4.5/5 stars