Since the beginning of the Magicians I've taken a special interest in Fen. Her story has deviated greatly from the novels, and it's been interesting to note the differences in the televised version.  The show however has grown on me. This is due in part to the innocence Brittany Curran brings to Fen's character.
Her situation has been difficult to say the least.  She is trapped in a loveless marriage to High King Eliot (Hale Appleman), with her questionable ally Margo (Summer Bishil) who shares a closeness with her husband that Fen has not been able to crack.  Also, her husband likes men…and they're having a child. Complicated to say the least.
Fen has a tough road ahead.  As revealed a few episodes back, before her marriage she was part of a rebel group called the Fillorian United, whose goal was to have a Fillorian on the throne. During last week's musical number, "One Day More" (Les Miserables) I realized how much Fen's situation is like the character Eponine.  She too had unrequited love and felt left behind by the character Marius.
I had the privilege and opportunity to ask Brittany Curran questions about her portrayal as Fen.  She had some wonderful insights as you will see below.
What was your reaction upon learning that you will be singing in [last week's] episode?
I was so psyched! The only thing was, I'd never actually sung professionally before, but had taken lessons here and there. So basically all I knew was that I could carry a tune, I just didn't know how elegantly that tune would carry. One of our producers, Mitch Engel, emailed me and asked me on a scale from 1-10 how good of a singer I thought I was. I said 6.5. Needless to say, I really surprised myself when I showed up to the recording session a couple weeks later. In that time leading up to the recording, I was back in LA for a week and worked with a vocal coach, Laura Dickinson, a couple times and would practice on my own for hours every day. She really brought my voice out, I never knew I could sing like that.
Do you think "One More Day" from Les Miserables was a good one for the battle to come?
It was perfect. The lyrics encompassed the love triangle between Fen, Margo, and Eliot so well, while also highlighting the imminence of the upcoming battle. When we got to set the day that we filmed the musical number, it just all fell into place. Being there with Hale [Appleman] and Summer [Bishil], everything just came together. We're living out our character's lives to the fullest and the lyrics felt right. The heightened reality of doing a musical number really brought out a lot of the unsaid angst between our three characters that had been building up over the whole second season. At least that's how I felt from Fen's perspective. She feels like an outsider in her own world and this number really brought that loneliness out into the light. And for this passionate musical sequence to lead up to a great battle that's being fought for the land Fen has grown up in, and then for Fen to not be invited, literally the only one left back at the castle, was the ultimate insult. A lot of times, music and song can express things that can't be fully expressed in words, so being left alone in that hallway, singing the words, "I did not live until today, how can I live when we are parted?" was a particularly poignant moment for Fen, especially in light of the fact that the future of her land is currently being fought for, and she's not there. Also, they all looked so damn fierce and fantastic marching out into the battlefield, singing their hearts out. Everyone put so much of themselves into that number and did such an amazing job.
 If you had to select a song from the musical what would it have been and why if different?
I'd have selected One Day More. If not that one, then I would have chosen Red and Black. In part because I think the chorus fits our situation perfectly, and also in part because I'm obsessed with that song and listen to it over and over in my everyday life already.
Have you had a chance to see the musical live on Broadway or even the movie with Hugh Jackman?
I haven't seen it live on Broadway, unfortunately. I'd love to though! But yes, I've seen the movie and I loved it. I always had a soft spot for the One Day More sequence (as I'm sure a lot of people do). When Eddie Redmayne and Amanda Seyfried harmonized during that song, it was pure magic. Fun fact, I met Hugh Jackman at my dermatologist's office like 8 years ago. Well, not so much "met" as "he smiled at me and I almost melted."
It looks like Margo and Eliot's bond will be tested soon considering Margo made the deal with the Fairies.  What would be the long term impact of their relationship because of that decision?  Could Eliot become closer to Fen as a result?
There's so many complicated feelings and such a vast amount of deep love involved between these three people (not saying it's always 100% reciprocated) that makes it difficult to say. Nothing is cut and dry, but trust and feelings are definitely going to be tested.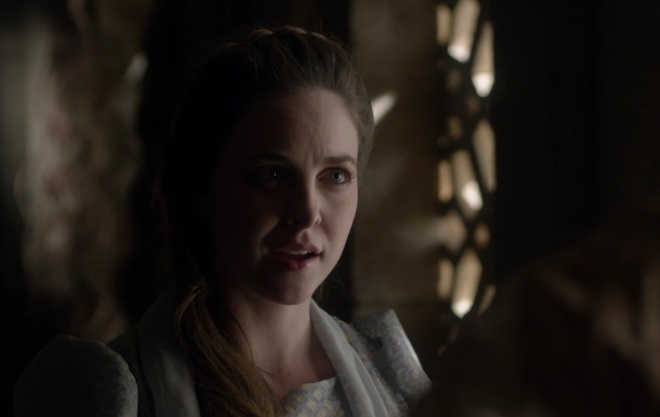 Could Margo's deal prompt Fen to become a rebel again?
Fen has never been one for holding personal grudges, or for acting based on emotion. For lack of a better word, Fillory is Fen's first love. She would never let a personal dispute with Margo determine how she proceeds with such big matters concerning Fillory. Now, of course, it's getting even more complicated, considering the recent heart-to-hearts between Margo and Fen. Fen is forming a new found respect and affection for Margo. I'll just say it's going to be a rough road when Fen catches wind of the deal.
 If there is another musical number on the show, what play and song would you choose to do and why?
Touch Me from Rocky Horror Picture Show, because I think we all know that after all those years as an innocent farm girl, Fen is secretly a freak and needs to break out of her mold. I'm kidding. Kind of. Honestly, I'd pick a Disney princess song because I'm basically obsessed and never fully grew up. That or The Sound of Music because Fen is so positive and so filled with childlike wonder and love for Fillory. I could see her prancing around the countryside or the Flying Forest singing, "My heart wants to beat like the wings of the birds" just having the time of her life.
Thank you, Brittany!  In the opinion of this humble fan, Margo needs to fix the deal she made with the fairies. Fen needs a win (Keep the baby)!  I'm glad we are exploring Fen's character in a different way, as the book version left me wanting more!