The Fox show APB came as a pleasant surprise.  The show is about Gideon Reeves (Justin Kirk), billionaire engineer who revamps Chicago's 13th district to a technically advanced police force after the death of his best friend.  The police officers he works with closely include Captain Ned Conrad, played by Ernie Hudson.  Each week we see Gideon and the department become more of a cohesive unit using updated tech and becoming more engaged with the community they serve.
Capt Conrad begins as a skeptic but then turns around over the course of the season to Gideon's vision for the department.   I had the honor and privilege to talk with Mr. Hudson about his current role as the Capt. Conrad and the last few episodes before the season finale, airing Monday April 24 at 9 pm Eastern.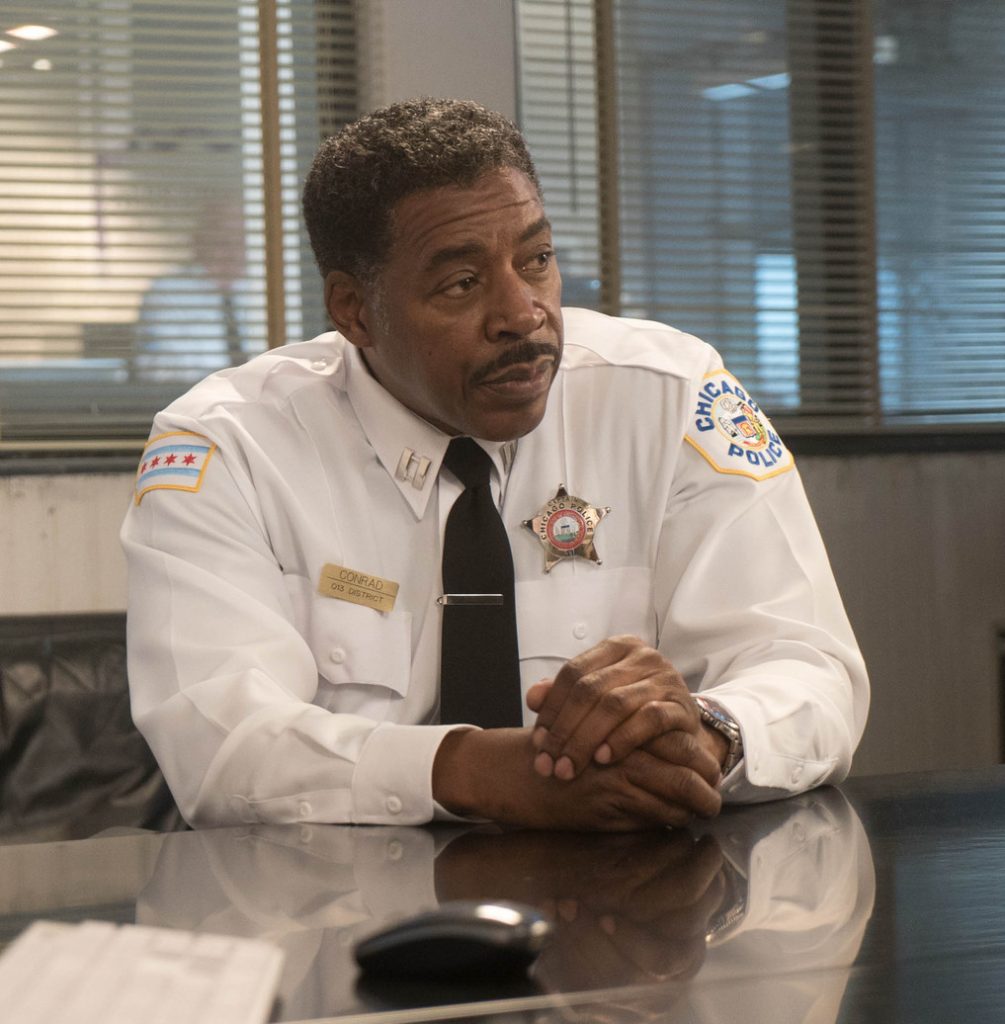 TNE:  The season finale is coming up soon. How do you feel about that?
Ernie Hudson:    We did 12 episodes and they were a lot of fun. I think it took us a little bit to kind of get our groove and figure out what we were doing, but the last two episodes were very exciting, I think. We showed what technology can possibly do on the positive and then we began to see the other side of it, which is a little bit scary, but definitely very exciting.
TNE:      How has Ned Conrad changed from the beginning of the season to the end of the season?
Ernie Hudson:    Well, I think at the very beginning, Conrad, he's a Sergeant with the Department, he's sort of accepted things are the way they are and the likelihood it's not going to get any better. Suddenly this guy comes in and he's promoted to Captain and now the buck stops with him. He begins to imagine that possibly we can make things better. Yeah, it's a little bit scary for him because he doesn't understand this technology either, but he also recognizes that there's a need to prove that something better.
TNE:      In last week's episode, the 13th Precinct worked with gang leader Andre to find a serial rapist, who turned out to be a probation officer. Do you think gangs and police working together to solve crimes could help the rapport between the police and the community or is there like a case-by-case basis for that?
Ernie Hudson:    Well, there's probably a case-by-case basis, but I think the reality is the gangs sometimes have much more of a network within the community than the police do. The police a lot of times are considered an outside force. I think to be effective, we need to recognize that not all the gang members are gang members for the reasons that we think they are. I think in the case of Andre on the show, we see that he does care about his community.
I think once again, the old way of doing things would just lump everybody into well, he's a gang member, so he's obviously had bad intentions, to going no, these are members of the community and they're concern for the community and our concerns protect and serve that community. Otherwise, who do we protect and who are we serving? So I think we're going to have to broaden our ideas and thoughts to include these people. And it's people, as opposed to adversaries. Some of these gang networks have a lot to offer in terms of making people safe. I think that's something that needs to happen.
TNE:      You've played characters that were police officers, captains, wardens in prison. Have you noticed over the years a difference in not only the way that police officers are written, but the story lines that are tackled over the years? Or are there elements that are the same?
Ernie Hudson:    Well, I think it's a little different. There was a time when my character would just be going, "You get your butt in here!" We don't know anything about this guy except he's very agitated. I mean, with "Starsky and Hutch", you get to know the two characters, but the other people are just sort of these caricatures. Not to put anybody down, but we don't get to know very much about them. I think what we need to begin to understand is that we're all just people out here trying to do the best we can.
I think television, when it's done correctly, we begin to see that because if we don't see the humanity, then we just put them in boxes and we make these judgments which may or may not be true. But I think in that sense, there's a little bit more integrity of truth in the work than what we used to do in the past.
TNE:      How often have you visited Chicago, since that's where the show takes place?
Ernie Hudson:    Well, I'm from Michigan, which is right across the lake from Chicago. I've got family in Chicago. My whole life I've been in and around the Chicago area.
TNE:      Does the show actually film in Chicago or does it film someplace else?
Ernie Hudson:    No, we film in Chicago in the neighborhood. We're out in the community.
TNE:      Cool. Do you recognize a lot of the places where you guys shoot?
Ernie Hudson:    Yeah, sort of. It depends. Chicago is a big city, and we shoot all over it. So some of the places, I do, but some of the places, I try to recognize the feel of it, which is pretty much the way it feels in a lot of the bigger American cities.
TNE:      If you could describe the season finale in three words, what would they be?
Ernie Hudson:    Exciting, scary, and challenging.
Here is more of a preview:  "You begin to see what happens once someone who has the capability of wreaking havoc can do and how do we put ourselves against people who somehow understand this stuff at a level that most of us can't. DV8 I think is a good character, but events unfold in a very scary way."
I'm looking forward to the finale, although from some of these photos here, looks like the Capt is in trouble!