Earlier today SEGA Networks announced that Crazy Taxi Gazillionaire would launch today  App Store for iPhone and iPad and Google Play Store for Android devices. More information below and screencaps/artwork courtesy of their press release.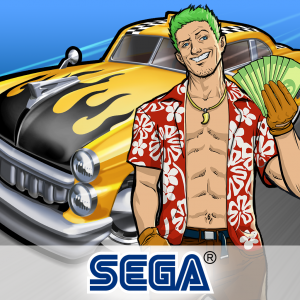 CRAZY TAXI GAZILLIONAIRE™ HITS THE STREETS!
It's time to take back the city with your own Crazy Taxi company
San Francisco, London, June 1st 2017 – SEGA Networks, Inc. is providing hope to local taxi companies around the world in their battle against PRESTIGE MEGACORPORATION and its infamous CEO, Edelbert Von Güber, as it launches Crazy Taxi Gazillionaire this Thursday.
Developed by SEGA Networks, Inc.'s Boston (MA) studio, Demiurge StudiosTM, Crazy Taxi Gazillionaire fuses the chaos of the Crazy Taxi universe with the very popular mobile genre of idle clickers. Boasting songs from the Offspring, 12 unique districts, dozens of distinct taxis, and 60 drivers including characters from the game's first release alongside new faces, it is globally* available to download for free (with rewarded ads and in-app purchases) on the App Store for iPhone and iPad and Google Play Store for Android devices.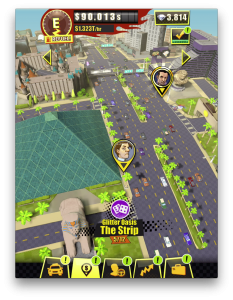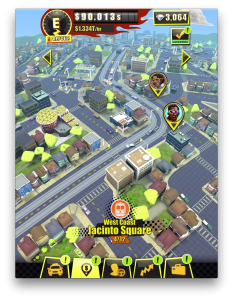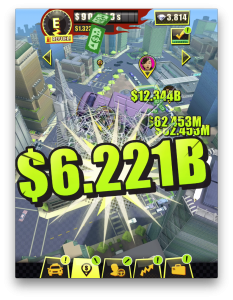 As of today, people everywhere can reclaim the streets and defend their turf against the ridesharing hordes. Download and play Crazy Taxi Gazillionaire and prove that you have what it takes to grow your local (if not slightly crazy) taxi firm and make millions, billions, and even gazillions of dollars.

For those who prefer the driver's seat, the original Crazy TaxiTM Classic is also available to download for free (ad supported) on mobile as of last week.
Good luck making craaazy money!
*Crazy Taxi Gazillionaire is not currently available in Japan, Korea or Mainland China
Download now for iOS or Android
Follow all Crazy Taxi news on Facebook, Twitter, and Instagram
©SEGA. All rights reserved. SEGA is registered in the US Patent and Trademark Office. SEGA, the SEGA logo, DEMIURGE STUDIOS, CRAZY TAXI GAZILLIONAIRE and CRAZY TAXI are either registered trademarks or trademarks of SEGA Holdings, Co., Ltd or its affiliates.
About SEGA Networks Inc., SEGA's mobile division in the West:
SEGA's mobile division in the West has its headquarters based in San Francisco with dedicated studios across North America and the UK. Focused on creating fun, compelling and engaging games, SEGA Network Inc.'s games feature iconic intellectual property as well as original innovative content for mobile and tablet devices. Since 2008, it has been a leader in the smartphone and tablet space and continues to be at the forefront of mobile gaming. SEGA Networks Inc.'s studios include Hardlight™ and Demiurge Studios™. For more information, visit www.mobile.sega.com.